Back to Blog
DirectLync Insights
What are the Benefits of CRM for a Small Business?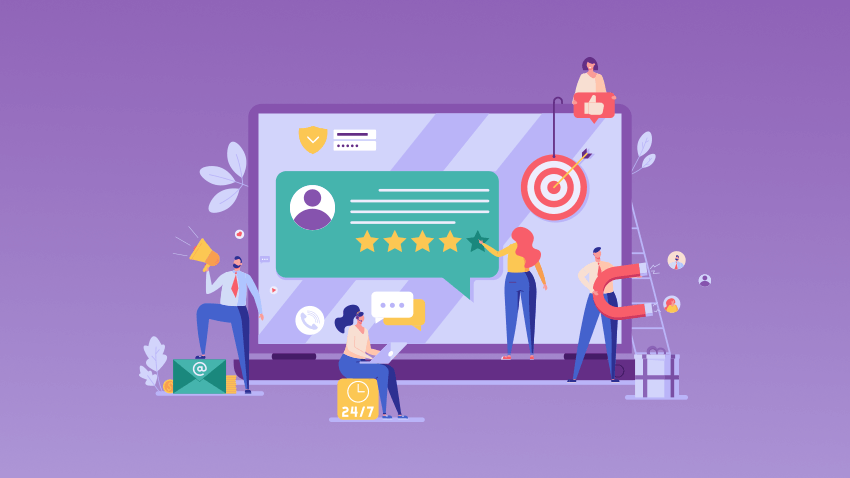 The success of any enterprise is dependent mainly on its ability to anticipate prospects' needs and effectively manage customer relationships. Small businesses are particularly vulnerable because it gets difficult to keep track of all customer-related info as the business grows.
This is where customer relationship management (CRM) technology comes in. CRM allows you to effectively drive revenue, encourage customer loyalty, and find ways to streamline your business operations so you can be more productive. This article explains what CRM is all about and the benefits of a CRM system for small businesses.
What is CRM?
Customer Relationship Management (CRM) is advanced software that brings together customer information and interactions across all channels in one place. CRM benefits a business by providing a holistic view of each customer and their entire history with your business in real-time.
Everything about the customer from your list of deals together, emails, notes, and appointments are cohesively managed live in one interface. It is an all-in-one marketing platform that enables you to organize, track, and manage prospects through the entire sales lifecycle while also helping you get better acquainted with the consumer's buying habits.
Business Teams That Need CRM
CRM is a highly versatile tool that can be utilized by virtually any business type. It is an incredibly powerful and robust software that comes with all the necessary functionalities to cater to the needs of any size organization, whether large or small.
With CRM technology, businesses can confidently rely on their teams to effectively improve business relationships as they grow. Business teams such as sales, marketing, and support teams need CRM technology the most because it helps the organization integrate its marketing, customer service, and sales efforts across offline and online channels.
Reasons why your small business needs a CRM
There are several reasons why a small business will need customer relationship management (CRM) software. Some of these reasons are highlighted below:
Providing insight into your business
With a CRM system in place, you will gain valuable insight into the trends and events that will help you stay ahead of the curve. Through the information obtained from the analytics report, you'll also be able to execute business decisions that are driven by intelligence, rather than guesswork.
Stimulate growth
A CRM solution is also useful in tracking all your clients and in locating opportunities for cross-selling and up-selling. Adopting a CRM will not only help stimulate growth but also help you maintain your customer base to manage churn. It will also help you drive ROI from your limited resources.
Replicate best practices
Small businesses also need a CRM to enable their employees to quickly master best practices and be more effective at their jobs. By creating checklists with key actions for each level of a particular process, you ensure that all bases are covered.
Maximize your productivity
Sales teams need to make sure that they're concentrating on opportunities with the best potential and that they're managing their sales pipeline effectively.
Personalize customer experiences
Studies reveal that consumers are willing to pay more for a better customer experience. A CRM solution provides small businesses with the tools they need to customize their customers' experiences to meet their exact needs.
Features Needed in a CRM
Any reputable CRM solution should provide the following core features:
Contact management
Stores contact information, including names, addresses, and social media, accounts in a searchable database.
Interaction tracking
Add notes and track interaction history to record conversations with specific contacts.
Lead management
Manages the conversion process of prospects into potential customers (leads) by tagging, scoring, and moving leads through the sales pipeline.
Quotes/proposal management
Create and send quotes or proposals to customers.
Pipeline management
Get the big picture of your sales pipeline, including the status/progress of every single stage in the sales funnel.
Workflow automation
Automate monotonous tasks by creating workflows that prompt actions or send follow-up reminders for the next steps.
CRM Benefits for Small Businesses
CRM plays an increasingly important role in the smooth and efficient running of any size business. Below are some ways that CRM software benefits small businesses.
Improve customer satisfaction
CRM systematically organizes all your customer interactions, providing you with detailed information about your clients, their preferences, past purchases, and any other issues, thus allowing you to solve them expediently.
Help organize team collaboration
With CRM solutions, you can easily collaborate with team members online and solve problems in real time.
Better internal communication
Small businesses that adopt a CRM enjoy better and more effective communication between team members. You can share data between departments in just a matter of clicks. As a result, your employees will always stay informed.
Optimize your marketing
You'll be better able to understand the needs of your customers, know when the best is to promote, segment your clients, and determine what group of customers fetches you the most money.
Improved informational organization
Thanks to the extensive features of CRM, you'll be able to store every piece of information and interaction with your customers in one place.
Automation of everyday tasks
CRM allows you to do more in less time and keeps every information about your clients at hand.
How CRM Can Help You Stay Organized
Adopting an online CRM for small businesses will equip your business with the necessary tools and resources it needs to stay organized. It allows you to track, record, and collaborate with teams across various departments, from initial inquiry to a closed deal. You can create scheduled email campaigns, appointment settings, as well as a centralized database for all contact-related information – the possibilities are endless with CRM small business.
How CRM Can Help You Save Time
Online CRM software allows for cloud storage of all customer interactions where you can access it anytime and anywhere you have an internet connection. It stores all your customer details in one place, so you no longer have to spend time splitting your payment, quote, or job records between multiple programs or file folders.
How CRM Can Help You Improve Communication
Being an all-in-one marketing platform, CRM will allow you to see which leads you should follow up on and identify opportunities to reach out to customers who haven't patronized your business in a while. Several customer service functions can also be automated, thus improving communication and ensuring customer satisfaction.
How CRM Can Help You Automate Sales Tasks
Optimizing your sales pipeline is critical to ensuring the success of your business. This can be done by using a CRM to automate select business processes like customer support, lead management, finance management, etc. Most CRMs come with task automation features that can help streamline time-consuming, repetitive tasks.
How CRM Can Help You Scale Growth
A dedicated CRM system can be resourceful in growing your customer base, improving sales efficiency, increasing revenue, and boosting customer retention. It does this by cohesively managing all your company's relationships and interactions with new and existing customers, enabling your team to work toward improving business relationships as you grow.