Back to Blog
DirectLync Insights
Use an Agency to Build Your Small Business Website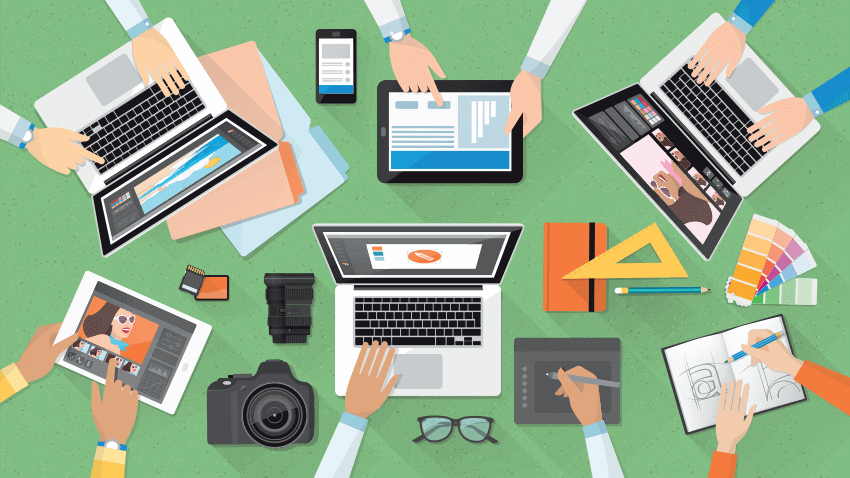 So, you need a new website, but you're not sure what route to take. There are many options out there at varying price points and varying levels of quality. You can take the do-it-yourself (DIY) route by using an online service with a simple plug and play options. Then some freelance designers/developers say they will build you a customized website at a low cost. With either of these options, all you really get is a website delivered in a box, an invoice, and a wave goodbye.
With an agency, you get an entirely different experience. It's like the difference between buying suit separates from a low-end department store vs. a custom-tailored suit made of delicate fabric. I'm sure you're thinking, "I have a budget, and agencies are too expensive." Well, that is not necessarily true. Agencies generally have many different packages to suit many different needs and budgets. Best of all, agencies help you not only build a beautiful website, but they help you to build your brand, which is what you don't get by purchasing from a website template company.
Here's what you get from an agency that you don't get from a DIY site or freelancer:
Custom Made Website
A website that looks beautiful and is built specifically for you. Not a template that's been used by thousands of other businesses.
Brand Building
A website that makes sense for your business supports your existing brand or helps build your new brand.
Project Manager
A real, live person to keep you up-to-date on your account and answer questions. An invaluable resource that you don't get when you purchase a template or a freelancer.
Content Specialist
You're not alone when figuring out what to put on your new website (text, images, call-to-actions, etc.). Content specialists learn your audience and develop the contents of your website to meet the needs of that specific group.
Designer
A designer is a trained, creative professional who learns your business and your needs. You wouldn't hire an electrician to fix a leaky faucet, so why hire anyone but a designer to design your website?
Marketing Coordinator
Whether it's through social media or advertising (both digital and print), marketing coordinators help expand your reach and get the word out about your business to the right audience.
User Experience Specialist
Working alongside the designer, these specialists make sure every pixel is in the correct spot to create the best experience for your user.
Front-end Developer
There are a lot of tricks of the trade that not only help make your website look great and operate smoothly but help improve your Search Engine Optimization at the same time. Front-end developers do that for you.
Goal Achievement
Whether it's increasing your exposure or increasing your sales, agencies support you. Their goal is for you to reach your goal.
Marketing Tools
A new website can only take you so far. The marketing tools provided by most agencies give you the extra push that helps your business to reach your goals moving forward.
Dedicated Support/Training
Your new website is an agency's product. They don't leave you in the dust once the job is complete. You will be equipped with training and a support person once your site is launched.