Back to Blog
DirectLync Insights
4 Ways to Start Using Time-Based Email Automation
Everyone knows about email marketing, but are they doing it the most efficient way?
Email marketing is still one of the most common ways to reach your customers and leads directly; what if you make it even easier? Time-based email automation is going to be your new favorite tool!
What is Time-based Email Automation?
Time-based email automation simplifies the process of sending emails that are triggered by a specific date or time (i.e., birthday, anniversary, billing date, etc.). Essentially, they are timed emails, which means you can send out a series of emails automatically at a specific time. Let's say you send out an email promotion for a customer's birthday to drive them to your store. Now, all you have to do is create that email once, and it will automatically send to your customers based off their birthday in their contact record. You can even create multiple emails – 10 days before their birthday, 5 days before, on the day of, etc. All will send out to each individual automatically without you having to do anything!
Starting to believe time-based email automation will be your best friend? It takes a bit of time to set it up, but once you create a flow, it will free up your time and continue to build deeper relationships with customers. Not only will you gain loyalty with your customers, but engagement as well. The main reason why marketers love time-based email automation is the ability to preschedule your emails without losing that personal connection with your customers.
Time-based Email Automation examples:
How are we doing? 👍🏻
It is always great to hear what your customers have to say about your company. With time-based email automation, you can have regular emails automatically sent out to your customers with a survey to see how your customers feel about your product, service, or experience with your company after a certain time period. To send a survey out regularly, but tailor the survey questions to how long they have been a customer. But remember, customer's sign-up date or purchase date are not all the same. Capture that date in their contact record, create the emails for each timeframe, and voila! Your surveys will go out to your customer based on the date they became your customer!
Happy birthday to you! 🎂
Remaining loyal to customers is the #1 step to gaining their trust. An email that is sent every year before your customers birthday shows the human side of your company. Yes, I know it is just an email saying happy birthday, but no matter who says happy birthday, it makes you feel special. Even more, if there is a discount inside, it will entice them to come to your store or visit your site! With custom date fields like Birthday or Anniversary, you can send out automated birthday emails or "thank you for being our customer" anniversary emails, without the work of you recreating one for every customer.
Product purchase ✔️
The date someone purchases a product is one of the most important days in your relationship with your new customer. With time-based email automation, based off of the date a product is purchased, you can send emails based on refill time, repurchase, or even to ask for a review of the product. By creating a custom field for purchase date, these emails can go out automatically. Aren't you glad that you don't need to set reminders to email people after 30 days of their purchase, because I know I am! Creating an email flow based on purchase time will help you stay connected with your audience and receive reviews and information you may not get otherwise.
Welcome! Thanks for subscribing. 📩
Consumers are always subscribing to newsletters. After someone fills out your form and subscribes to your newsletter, send out a welcome email that says a little about the company and may offer some additional tips and tricks as well. Create a date field that captures the day a person signs up as a subscriber. Then you can send an automated set of pre-built emails that continues to nurture your group. It's a great way to keep your newsletter subscribers engaged and informed!
How does it work in DirectLync?
1. Start with creating a custom field that captures the specific date of your campaign and add one to your customer's information. The automated email will base when it sends on this field information. If you have already done this, skip to the next step.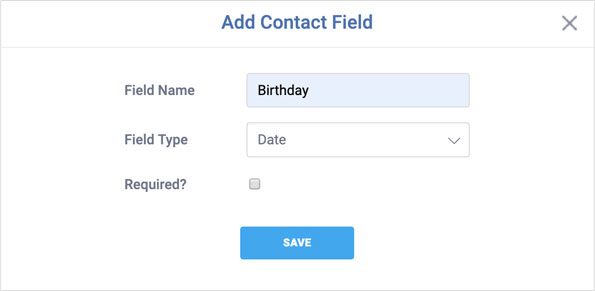 Once you've created your custom field, then you can start the process of creating your time-based email automation.

2. Campaign details: Fill in the details to start your time-based automation. DirectLync walks you through all the features you need before moving to the next step.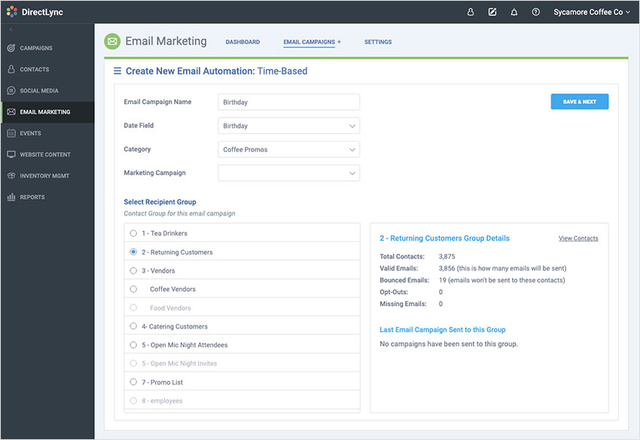 3. Build your automation: Begin by choosing your schedule and then compose your first email. In this stage, you will fill in the usual details of an email (subject, sender, email address), as well as choosing your send schedule. You can decide how long before the date you would like the email to be sent out in the custom fields section, created in step 1. For example, if you want the email recipient to get your birthday promotion 5 days before their actual birthday, you will set the schedule to 5 days before the birthday date. Lastly, select the time of day the email will be sent out. You can create as many emails in the campaign as you'd like.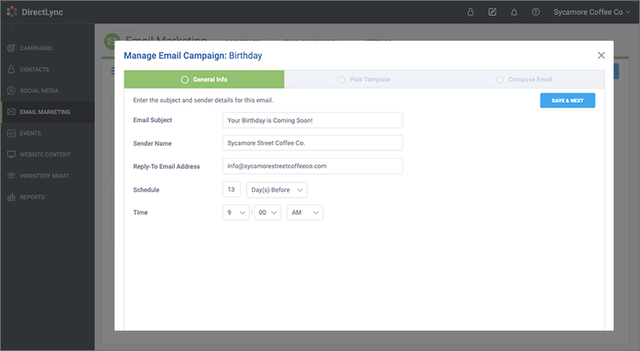 4. Launch: Once all of your emails are in place, hit the "launch" button.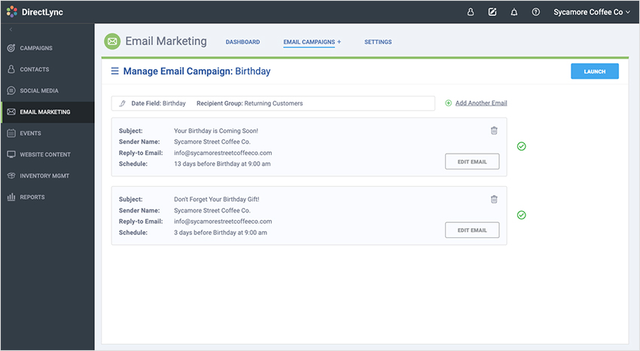 5. Check your results: This is a dynamic campaign, don't forget to check in on your email results.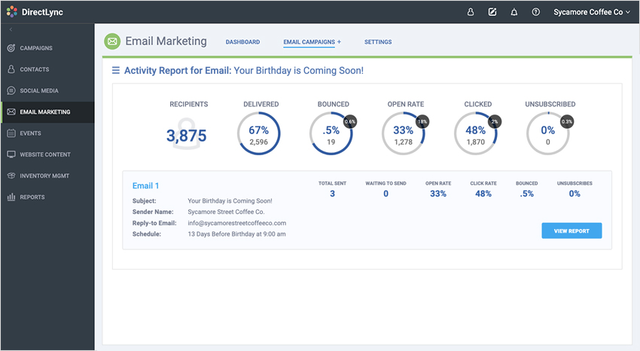 Now is the time
Think about the type of email that works for your organization and turn it into time-based email automation. Test it out and learn how timed emails can create more engagement, leads, and happy customers.
If you want more information on how to use time-based email automation in DirectLync, check out our FAQ or watch this short video tutorial.