Back to Blog
DirectLync Insights
How to Use TikTok for Small Businesses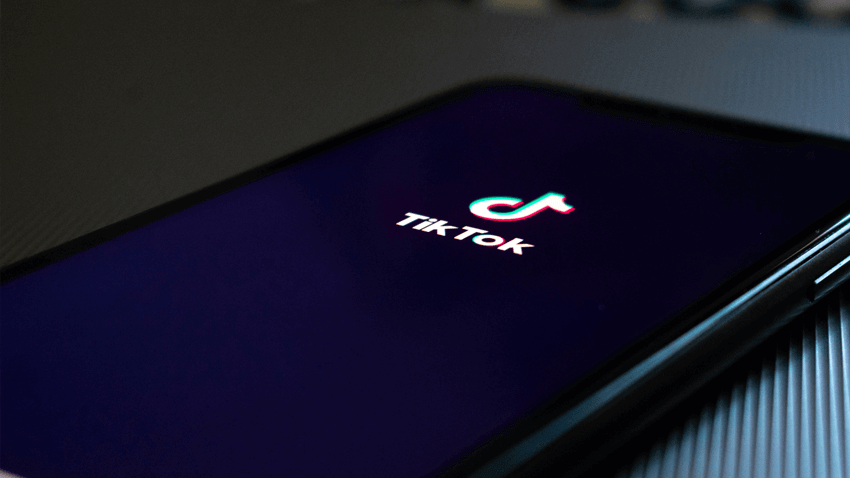 Have you heard about this new trending platform called TikTok?
To give you a preview of what the general public knows about TikTok, I asked a coworker yesterday what he thought TikTok was. He replied, "It's that lip-syncing thing, right?" I'm not going to lie and say he is wrong because that's partially correct, but it's so much more!
For those of you who don't know exactly what TikTok is (like my co-worker), it's a video-sharing social networking service. It's a platform for sharing mostly comedic and fun music, dance, and of course, lip-synching videos.
For businesses, it's another channel to get in front of your audience. InfluencerMarketingHub provided us with statistics on TikTok's popularity. As of the mid-2018s, the app hit 500 million global monthly active users. Can you guess where they are now?
Okay, I'll tell you and not keep you hanging. As of late 2019, the userbase on TikTok users had reached 800 million and is estimated to reach over a billion this year (2020). 🤯
So, what lead to this amazing growth for a video-streaming platform?
I'll go into that next.
What is TikTok?
TikTok is the destination for short-form mobile videos. Their mission is to capture and present the world's creativity, knowledge, and precious life moments, directly from the mobile phone (source: TikTok).
TikTok enables everyone to be a creator and encourages users to share their passion and creative expression through their videos. Collaboration is a huge part of TikTok as well. There is a feature called "duet," which allows you to video reply to someone else's TikTok. It builds a split-screen to show both videos, and from there, it will start a chain of other duets to the video.
With its rapid growth within the last year, TikTok is the fastest growing social media platform in the world. TikTok has done so well for itself because it was built for the Generation Z persona.
That specific persona drives to micro-entertainment due to their shortened attention spans for content. Tiffany Zhong, CEO Of Zebra IQ, said, "TikTok enables users to be their own weird self and still get complimented and go viral for that, whereas on other platforms you're trying to be as perfect as possible and you don't have that level of discoverability."
With TikTok, users feel that the creative process, publishing a video, and building connections with other TikTok users creates a huge self-confidence booster for Gen Z. After all, that's what makes TikTok so powerful!
Why use TikTok for marketing?
If you are looking to attract an audience under the age of 34, then your business should consider using TikTok. Not for dancing or singing, but education and communication.
Almost 50% of TikTok's global audience is under the age of 34. 26% of all TikTok users are aged between 18 and 24.
As a Millennial myself, I won't hide it; I use the app. And I see plenty of businesses using the app to share content that promotes their products or services, educate viewers on topics, and even encourages purchases.
From a marketer's point of view, the main reason to use TikTok is to create hype, engagement, and a following around your brand. As a business, you can quickly come up with a way to use TikTok. For instance, social media experts can educate their viewers on best practices for different social media platforms. A health coach can teach healthy food recipes. And a dentist's office can inform viewers on the best hygiene techniques for your teeth.
Don't miss out on an opportunity to share your business with the world because you aren't sure how your business could thrive on a specific platform. Marketing is all about trial and error, so don't be afraid to give TikTok a try.
How can a business succeed on TikTok?
Every business isn't in the same industry and doesn't have the same audience, but that shouldn't stop you from trying out TikTok. Below, I list a few ideas on how you can create brand awareness on TikTok.
For You Page
The "For You Page" or "FYP" is a stream of videos that are immediately presented to you when you open up the TikTok app. It is curated based on your watch and like history. It recommends videos you may like to watch.
As a TikTok creator, the best way to get more likes and followers is by being featured on the "For You Page." There are two ways to get featured: add the hashtag #fyp to your video or by getting a certain amount of likes on your videos. When you create content, you can add hashtags to your descriptions. If you add the #fyp to your descriptions, it helps the chances of your TikTok getting on the For You Page. Also, other people can comment "fyp" on your post, which helps your chances too.
Influencers
I laughed while writing the title influencers down because many of the influencers on TikTok are younger than you and me.
On TikTok, the influencers are younger because the audience is on the younger side. 60% of the app's monthly active users in the U.S. are 16 to 24 years old. These influencers do not shy away from promoting brands, they love to help, but they also like to establish a relationship with the brand they promote.
If you work with an influencer, provide them with a product or service that aligns with the current content on their page. They will create content and add it to their channel. If done correctly, it won't seem like an ad at all. I was convinced by 19-year-old influencers to buy dry shampoo. Below is an example of a well-known TikToker, Dixie Damelio, who collaborated with Ralph Lauren.
Just remember, TikTok is mostly for a younger audience, and Gen Z and Gen Alpha are not ones who like being "sold to." If anything seems too "salesy" to them, they will turn a cheek and look the other way.
Start strategizing a way to use an influencer for your brand to create brand awareness. If you are a local business, try to find an influencer in your area to promote your product or service. You can search for your location in the search bar. For instance, you can use #philly or #buckscounty, although we can't promise that influencers are using these hashtags. Another way you can find an influencer is on your For You Page. The page tends to pull in local videos as well. So, enjoy your time watching TikToks and wait until you come across an influencer.
Brand Takeovers
A brand takeover is exactly how it sounds. A brand can "takeover" TikTok for a short period of time, usually a day. Every time a TikTok user opens the app during a brand takeover, they are directed to either a challenge or a sponsored TikTok from that brand.
For your business, this enables you to get right in the face of all audiences and spread brand awareness at a fast pace. Consider creating an intriguing short TikTok video that you could use for a brand takeover.
In the video below, Adobe created a brand takeover video showing how easy it is to show your creativity with Adobe Creative Cloud. Not only did they create a video, but they also added in their own hashtag (#MakeTheLeap), promoted music, and a CTA button.
Hashtag Challenges
We all know a little competition is exciting, so why not make it focused on your brand.
A hashtag challenge is when a brand challenges customers or a new audience to complete a challenge. The challenge usually consists of doing something with their brand or about their brand. These sponsored challenges are Gen Z-friendly marketing campaigns where users are prompted to post videos of themselves using a product or participate in some sort of manufactured viral trend. It helps create traffic and engagement specifically to their brand. But, what's a challenge without a prize. Make sure you create hype around an award for the challenge as well.
An example of a TikTok hashtag challenge that received a lot of engagement was Jimmy Fallon's #tumbleweedchallenge. Jimmy Fallon created a challenge in which attendees had to drop to the ground and roll around like a tumbleweed when the western music plays. He encouraged people to get fun with it and show their creative side. The prize was to have your video presented on The Tonight Show.
A hashtag challenge can be created in TikTok's advertising system, which I will get into now.
How to measure success on TikTok's Advertising Platform
With all the ways you can create brand awareness for your business, as I mentioned above, you want to make sure they are working.
TikTok offers businesses an advertising platform where they can keep track of their marketing campaigns, engagement, money spent, and so much more. Below is a list of all the metrics that Forbes has put together that they recommend calculating for your TikTok marketing campaign.
Total views across all UGC videos
Total hearts (equivalent to likes) across all UGC videos
Total comments across all UGC videos
Average engagement rate across all UGC videos
Total shares across all UGC videos
Total reach of a specific hashtag
Number of replays of a specific song
Total of user-generated videos using a specific hashtag
Total of user-generated videos using a specific song
And in terms of conversions:
Increase of song plays on Spotify, Apple Music, etc. (if the product is a song)
Spike of sales on e-commerce (if the product is a physical product)
Within your Business TikTok Ads Platform, you can access your Dashboard, Campaign, Library, Reporting, and Insight. Below I get into what each section offers.
Dashboard – Presents you an overview of your data and track changes in performance.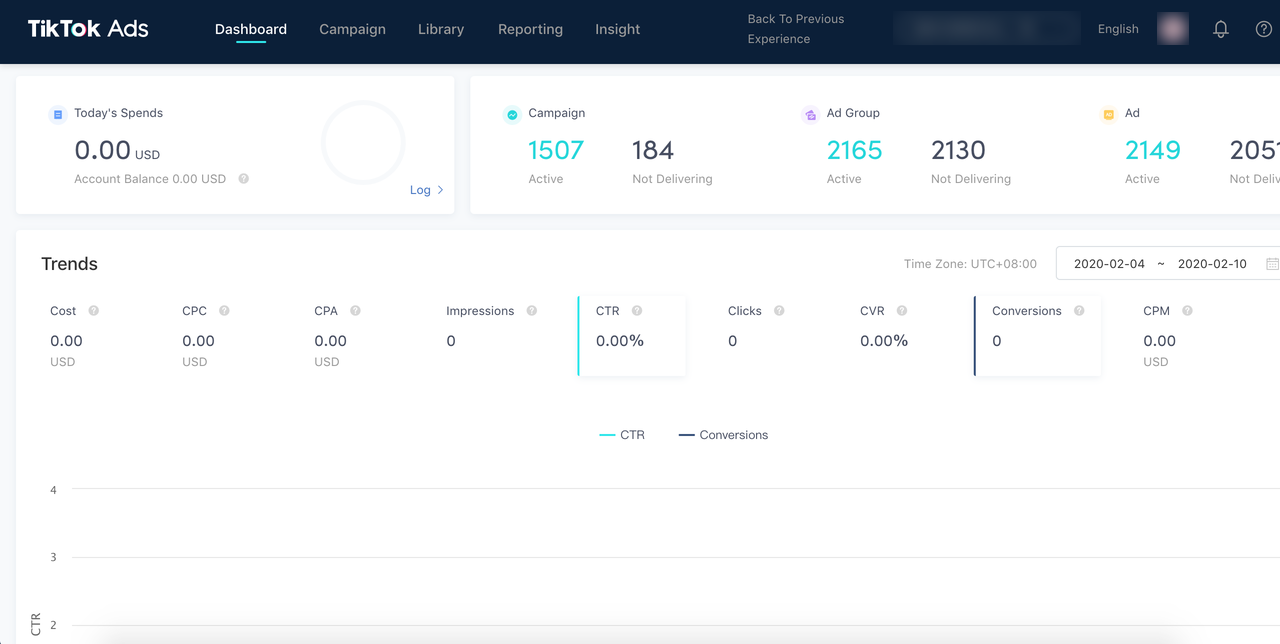 Campaign – See all campaigns, ad groups, and ads you have created and bulk manage them.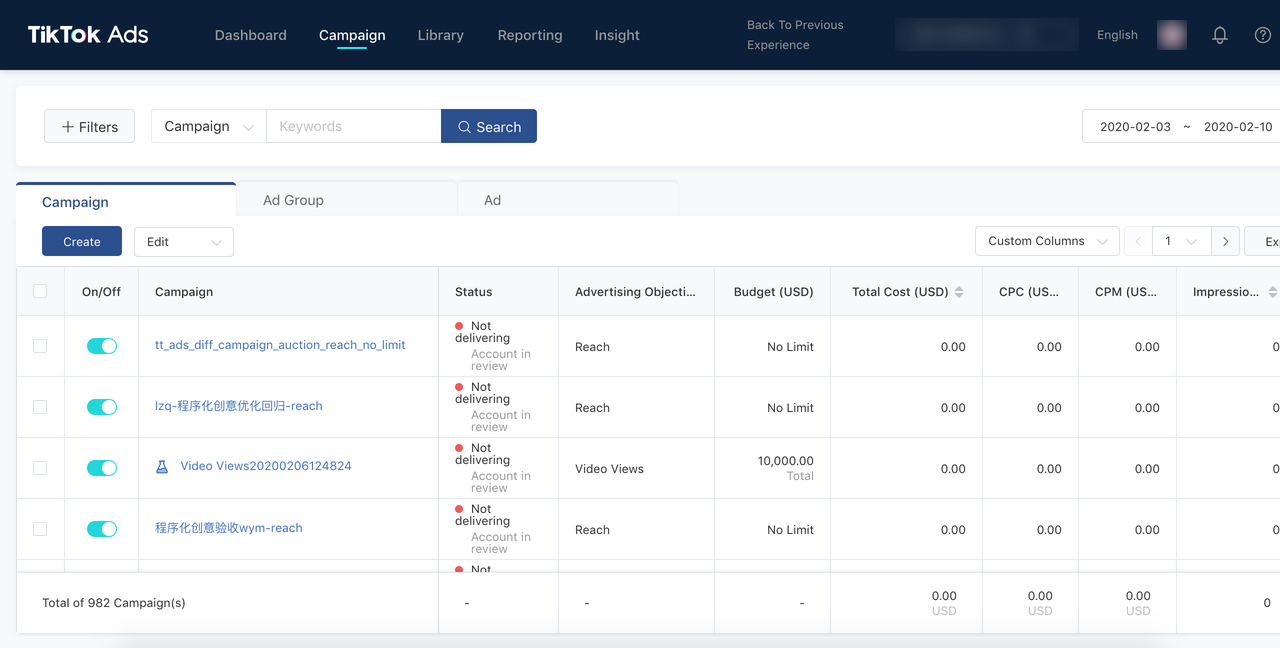 Library­ – Where you store and manage your ad resources – Event, Creative, Audience, and Catalog.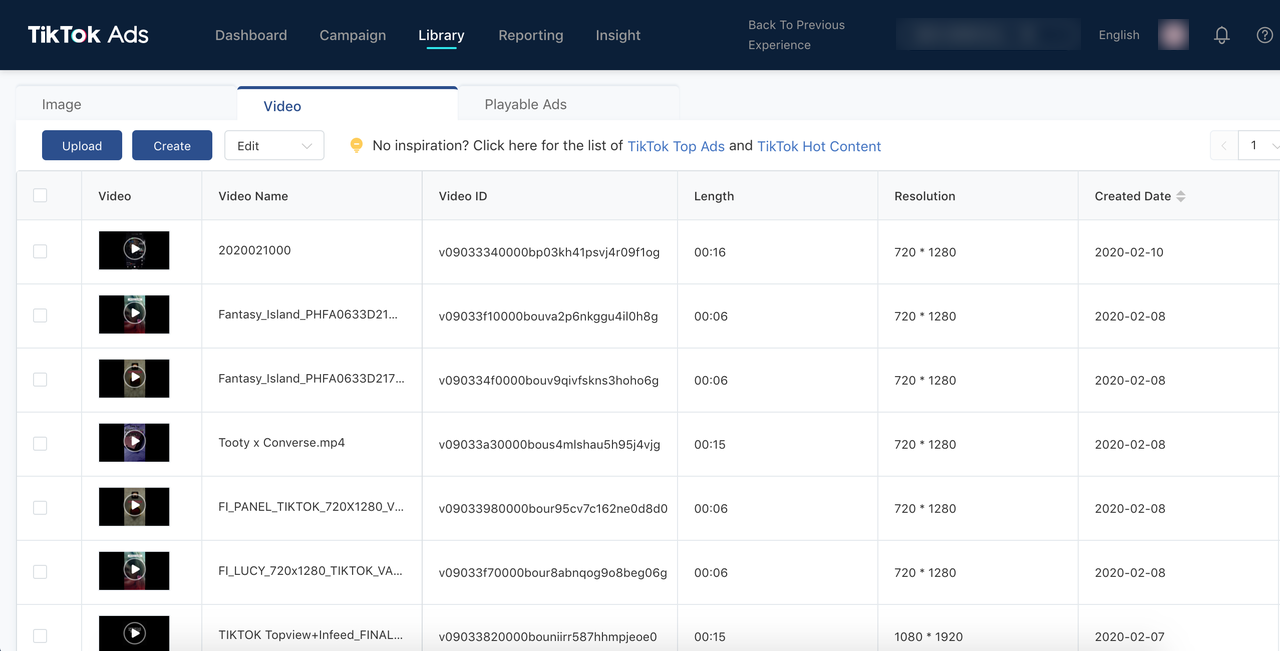 Reporting – Create reports based on what you want to review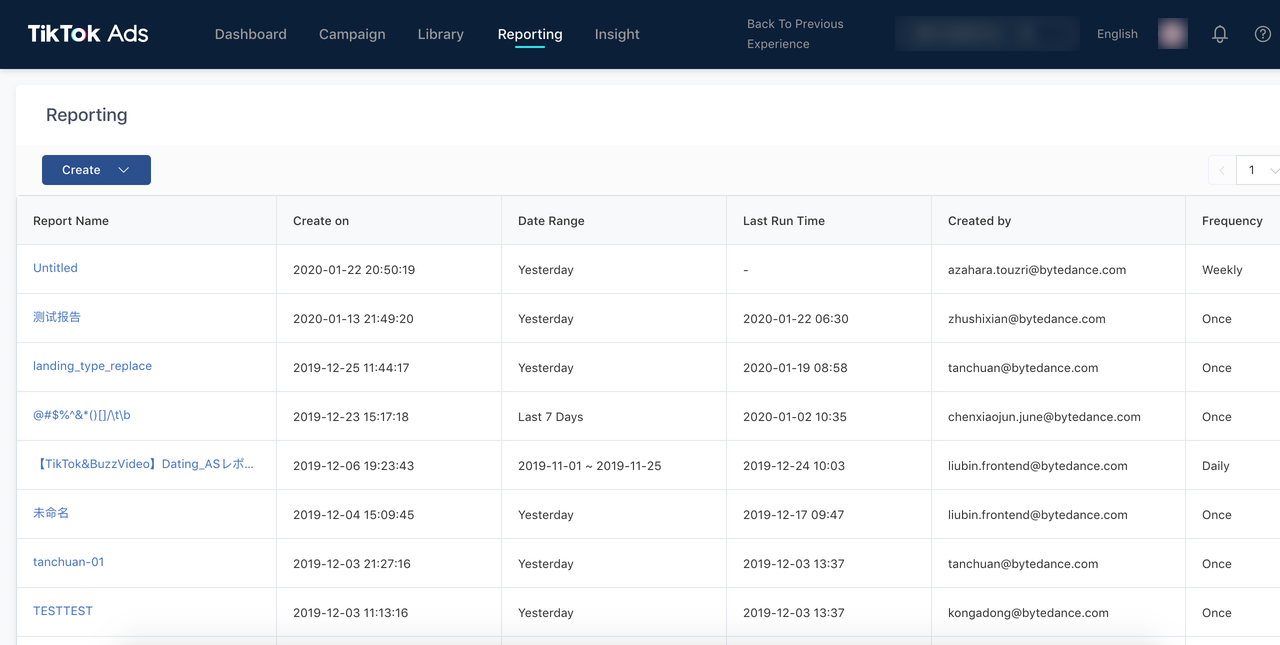 Insight – Receive the big picture of how your target audience stacks up across numerous variables.
TikTok knows that businesses love an excellent outcome. By offering all these tools within your TikTok Ads account, you can connect your brand with a larger audience and create more brand awareness.
I know not all businesses are going to use TikTok Ads so that they won't receive any of these measurements. If you have a normal TikTok channel, you can still track your amount of followers, likes, views, comments, shares, and much more right on your page.
TikTok, it's time to post.
If you are looking to generate more brand awareness with the under 34 markets, TikTok could be your sweet spot. With a little strategy and a lot of creativity, you can generate engagement and recognition of your brand.
Try it out and let us know how it goes! We are always looking to hear how brands are using emerging social channels to their benefit.