Back to Blog
DirectLync Insights
Social Media Platforms To Keep Your Eye On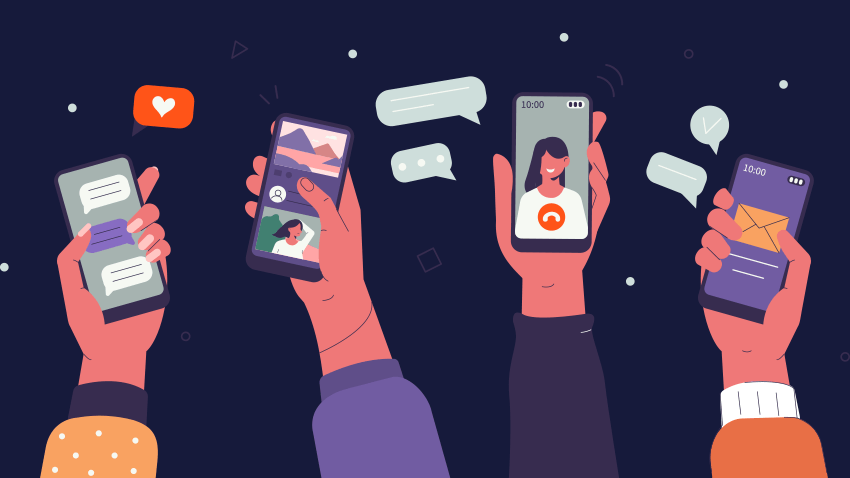 We originally set out to tell you about all the new social networking platforms dominating social media today but after our initial research, we were left with one question: Who knew there were so many social networking platforms!? Maybe it's because when we think 'social media', we tend to immediately call to mind the few that have really dominated much of the market share for the last decade (think FB, Twitter, Instagram). When we take a look at what exactly a 'social network' is, it's a fairly broad definition: an internet-based social media site that allows users to stay connected with friends, family, colleagues, customers, or clients.
If we tried to cover every single social media platform out there, we'd be here all day. We've picked out a few that are key players in the social sphere today and grouped them by theme. Let's jump in!

Ad-Free? It's for me!
Attention social media powers that be. Please hear us when we say we are TIRED of ads. We're tired of our personal information being sold to third-party companies and in turn, being used to target us and our hard-earned money. We took it upon ourselves to scroll Instagram, and out of 100 posts, 24 were ads— almost 25%! We're over it. Here are two platforms that are making a huge splash and really shaking up "go-to" social networks as we know them.

Clubhouse
● Release: April 2020
● Users: 6 million
Currently invite-only, Clubhouse peeked its head into the social platform arena just when we needed it most. It provided a new opportunity to connect and network with others in a different way than what we've recently been accustomed to. The audio-only platform allows members to join various "rooms" hosted by other users based on any topic of interest you can imagine. Many are using Clubhouse to network, learn more about specific topics or careers, provide value to a new audience, or simply connect in this socially distant world.
If we're being candid though, what stuck out to us the most about this app was the seamless user experience due to the fact that there were NO ADS. We're used to getting hooked on these apps only for them to start slowly pumping advertisements into our feeds, but Clubhouse has specifically expressed that they would like to remain ad-free. They are currently focusing on a crowdfunding model that will allow users to pay [for] creators directly while Clubhouse retains a percentage (Source).

Hive
● Released: October 2019
● Users: 340,000
Ok so think Twitter meets Instagram meets Myspace (feeling nostalgic yet?). Users can post photos, videos, and status updates, but one feature we can't wait to use is the ability to add a song to our profile. That's not it though. In addition to the newsfeed being ad-free, it's also in chronological order! That's a bold shift away from the AI-curated news feeds that have become popular today.
Hive's coming-of-age story is very 'gen z'— so 'gen z' in fact that the founder, 22-year-old Kassondra Pop, used Tik Tok to launch the new app into notoriety. In February of 2020, the app had about 14,000 users. Just a week later after a popular Tik Tokker posted about it, it grew to 340,000! Hive presents a new opportunity for brands to build a new, organic following— something that Instagram has worked at all costs to prevent in recent years.
The team over at Hive is thinking what a lot of us are, and that's that Instagram and Facebook's days might be numbered (not to be dramatic or anything). Instagram has chosen a side and that's the side of brands and advertisers rather than consumers and users, and unfortunately for them, we've noticed.

We couldn't have survived 2020 without you!
I'm sure you're tired of hearing how 'rough' 2020 was. We won't even get into it, but let's check out a few social media apps that have helped us not spiral too far into eternal boredom during this new normal of socially distanced interactions.

Zoom
● Released: 2013
● Users: 300 million daily meeting participants
We said it in our last post, but let's give it up one more time for livesteam— in particular: Zoom. Zoom is not simply a conference calling website. It's without a doubt a social media platform and it saved our lives in 2021. If it weren't for Zoom, we could not have attended our BFFs virtual bridal shower, socially distanced happy hours, and for some, Thanksgiving dinner.
In 2019, Zoom reported 19 million daily meeting participants. One year later, the company's numbers soared upwards of 300 million daily meeting participants, and that growth is likely to hold strong throughout 2021 as we continue to adjust to our new normal.

Tik Tok
● Released: December 2016
● Users: 1.1 Billion
It starts on Tik Tok, or so they say in the tagline of their latest campaign! Tik Tok is known for the accelerated rate at which users can go viral. What we do know about their algorithm is that it measures how long users view a particular video, as well as how many likes, comments, shares, and downloads it receives. Once a video matches a certain ratio (believed to be 1 like for every 10 views), the algorithm is triggered to put your video into the feeds of more users. Additionally, it is triggered by "the velocity of the engagement it receives" so if it sees a sudden jump in engagement, regardless of when the video was posted, it will automatically increase reach to more users (Source).
As short-form video continues to gain major traction within digital media, it is not unsurprising that we've seen Tik Tok rise to popularity in the last few years. That, plus we have nothing else to do. More than 90% of Tik Tok users access the app daily averaging upwards of 52 minutes worth of screen time per day— close to Instagram's 53 minutes per day. TechCrunch took a look at the US, UK, & Spain specifically and found that kids are watching 80 minutes worth of Tik Tok per day which is not far off from Youtube's 85 minutes.

Excuse me. Are you hiring?
The landscape of the job market looks markedly different than it did a few years ago. We are slowly (maybe too slowly) starting to see hiring habits tick in a more inclusive direction as gender and racial bias in the workforce continue to be brought to light. Additionally, we've also seen the freelance economy boom as a result of higher demand for creative work and an increase in remote work. Here are a few career networking platforms that are looking to add opportunity, diversity, and access to specific communities.

Creatively
● Released: June 2020
● Users: Unknown
Creatively is the younger, creative, pristinely designed sibling that LinkedIn probably wishes didn't exist. Founded by the fashion designer behind Alice + Olivia, Stacey Bendet, the professional networking site was built for creatives by creatives. It's currently the only job platform for creatives of all skills and mediums. Stacey's goal was to build "a proactive space for opportunities in the creative industry" including but not limited to advertising, fashion, photography, video production, graphic design, animation, branding, UX design, product development— the list goes on (Source). Users are able to upload projects and collaborations forming an extension of their portfolio while also networking with other users and brands.
As we continue to see growth in tech, marketing, and creative spaces, we should expect to see similar growth in the supply and demand of such services. Companies like Discovery Channel, MTV, Netflix, Skims, and Amazon are all using Creatively to find talent. If your company is in need of creatives, this is probably where you want to search!

BYP Network
● Released: 2016
● Users: 50,000
The Black Young Professionals Network is often referred to as "LinkedIn For Black People" by founder, Kike Oniwinde (Source). The platform's mission is to empower people of color to connect with each other and global corporations while also working to reduce bias in the hiring process. So far, the platform has linked users to companies like Google, Accenture, Facebook, AirBnB, Netflix, Adobe, HSBC, + 200 other companies.
The app and website offers users an opportunity to connect and network with other users and brands in their industry. Users can post content to their live feed as well as access podcasts, blogs, groups and a job board (Source).

Marketing Must-Haves
Marketers, especially social media and content marketers, can attest to how overwhelmed we can feel after constantly being inundated with content all day. After managing social media accounts for other companies all week long, the idea of managing accounts for ourselves can feel daunting. Here are two social platforms that we think have become increasingly beneficial to marketers in the last few years and are totally worth your time.

Twitter
● Released: March 2006
● Users: 330 million
Trends might start on Tik Tok (per their tagline), but rest assured they're talking about it on Twitter. As the oldest platform on this list by about 10 years, Twitter has established itself as one of the top social networks along with Facebook, Instagram, and Youtube. If you're looking to be on top of the latest trends, happenings, and news, then you need to be on Twitter. The platform allows marketers to engage in social listening— the process of paying close attention to conversations in certain audiences about certain topics. This allows us to leverage real-time consumer opinion by creating relevant content and engaging directly with the right audience when it matters. Some brands that do a great job of leveraging their social listening with content are Fenty and Adobe— specifically their Photoshop account.
If you're not quite ready to dive into Twitter, try an RSS feed like the one on your DirectLync homepage! Ours pays attention to the top trending topics on Twitter, both local and global, and consolidates them into a neat little list on your dashboard.

Medium
● Released: August 2012
● Users: 100 Million Monthly Active Readers
Medium.com was actually founded by the same guy that founded Twitter, Evan Williams. We promise this isn't a sponsored post. The guy is clearly just very skilled at building sustainable networking platforms. Medium is a social publishing site that allows users to distribute stories, ideas, and perspectives on any given subject. For marketers and written content creators, Medium is a simple way to repurpose and monetize your content! For $5 per month, readers can become Medium Members and have unlimited access to all content that the platform has to offer. That money is then redistributed to the writers whose content they engage with.
Other perks of publishing content through Medium are their outstanding performance on search engines. With a domain authority of 95 and an Alexa rank of 88, it's safe to say that the platform sees a lot of traffic (Source). If your company's written content isn't seeing much web traffic, try adding Medium to your content strategy! Although Medium.com has seen highs and lows over the last 9 years, we think it's here to stay for two reasons: 1) crowd-funded social sites will continue to grow as users grow weary of increased advertisement on other notable platforms and 2) As marketing, creative, and freelance economies continue to grow, more people will look to publish and monetize their work.

There are countless social media apps and sites out there, but based on the marketing trends that we've seen emerge over the last year, we think that these platforms are the ones to keep an eye on. Facebook, Instagram, & Twitter have often been marketers' go-to platforms for reaching their audience; however, as habits change and generations age, we are beginning to see new social media networks emerge in the forefront and existing ones find new purpose in our lives.
What we're learning is that there are so many other places where a brand's audience may be. We are not suggesting going and signing up for every single social media platform that exists, but take thought at what you might want to start integrating into your social media marketing and content strategies! If there's one thing we know, it's that history repeats itself and the same social networks will probably not dominate the space forever. I mean… When was the last time you were on Myspace?