Back to Blog
DirectLync Insights
How to Set Up a Google My Business Profile for Success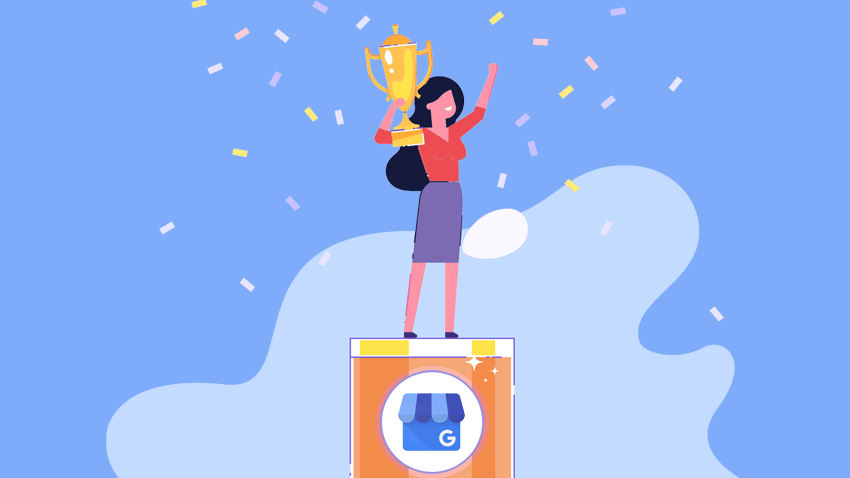 Is it only me, or do you also use Google to find locations, phone numbers, hours, websites, and every other piece of information you need to know about local businesses?
For a business to get recognized and be reliable, they need to be on Google. Think about it: what is the first thing you do when you hear about a new restaurant, clothing store, or even a bank? You Google it. Google is ingrained in our lives and on our minds every single day. If you didn't know that, Google it. 😀
Speaking of Googling…
Did you know the average person conducts 3 - 4 searches every single day? Whether they are searching on Google's search engine, Maps, or via a virtual assistant, making sure your business is active and present on Google My Business is vital to showing up in the results. You want people to be able to find you and any information they need to know about your business.
This blog will help you understand Google My Business: what it is, why it is so important, how to set up your profile, and best practices for managing and optimizing your GMB business profile.
What is Google My Business?
Google My Business (GMB) is a free and easy-to-use tool for businesses and organizations to manage their online presence across Google, including Search and Maps. You can provide your business name, location, hours, website, pictures, contact information, and so much more. Once your business information is verified, your profile helps customers find your business and enables them to share it with their network.
The best thing about Google My Business is it's free! It can't get better than that.
Google My Business can improve your business' visibility through local SEO, give you opportunities to connect with new audiences, and help you understand the online behavior surrounding your business.
Now, you may be thinking, "Great, another tool that I need to manage." Fortunately for you, Google My Business doesn't require constant management or posting each day. You will use your account to respond to reviews, update your business information, and add new pictures. GMB is supposed to provide all businesses an opportunity to spread brand awareness and achieve new goals, not cause stress.
Why does my business need a Google My Business account?
There are many reasons why you need GMB, but the main one is that Google receives over 63,000 searches per second on any given day. Now, wouldn't you want your business to be in those searches?
In this article, I am going to focus on three key reasons why I think you need a GMB account. Once you read these three, I think you will be ready to start building your profile!
Now, let's dive into the three benefits of GMB and why I think it will be a huge asset to your business.
1. Manage your information
You may think, "Why do I need to manage my information when Google crawls my website for all the information it needs on my business?"
Yes, Google does crawl your site, but it doesn't always pick up the most relevant content. Google My Business allows you to determine the message and information that Google shows about your business.
Do me a favor and Google your business. What comes up? Enticing pictures or correct information? Does it look professional? Will it convince someone to call or visit you?
When Googled, this is what DirectLync looks like.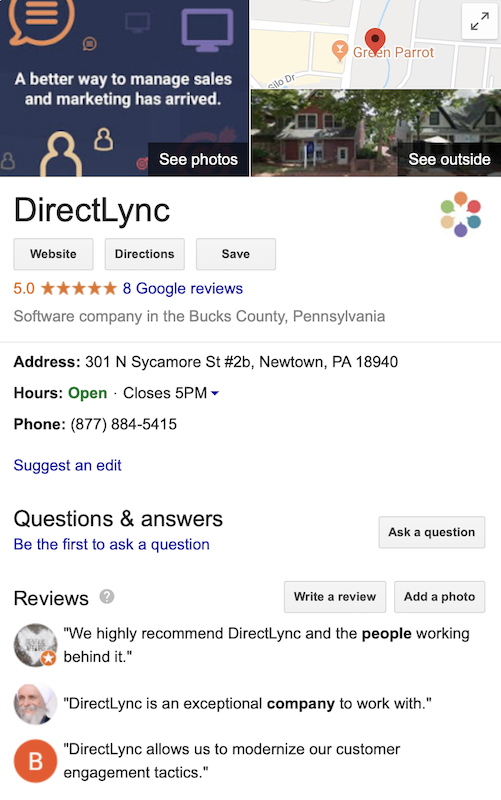 Google My Business allows you to manage what is presented in your business "box." When a company does not have a Google My Business, Google gathers information from all over the internet to present content to searchers. To prevent unwanted information from showing up, create a profile with the correct information, and verify your business. This enables you to share the most relevant, up-to-date information about your businesses, such as hours, website URL, address, location, promotions, photos, and more.
2. Interact with customers
As a business, customer interactions – phone calls, in-store shopping, purchasing, service – are critical. No matter if those customers have a good or bad experience with your product or service, they will leave a review. Those reviews help bring in customers and make sales. A lot of reviews that you see or even read yourself are product and/or service feedback. Those reviews impact other customers to purchase or visit a business. Think about it. When you scroll through Amazon for new products, do you just immediately add them to your cart, or do you check for reviews, ratings, and pictures?
If you answered yes, you are not alone. In fact, 93% of local customers use reviews to determine if a local business is good or bad. Ask your customers to review you on Google to boost your presence and drive more traffic to your business.
Once they write you a review – good or bad – reach out! Google recommends reading and responding to reviews from your customers and post photos that show off what you do. Businesses that add photos to their Profiles receive 42% more requests for directions on Google Maps, and 35% more click through to their websites than businesses that don't.
To make sure you are connecting with your customers, take time out of each day to dedicate to your customers - respond to reviews, comments, posts.
3. Understand and expand your presence
Do you know how customers are getting to your website? Do you know the search terms that trigger your business page to show up in Google's search results?
Google My Business gives you all of these insights. You gain insights into how customers searched for your business and the location of those customers. You can also find information like how many people called your business directly from the phone number displayed on local search results in Search and Maps.
With all of this information, you can use this to your advantage to expand your presence. For example, the keywords that entered to search your business, add those into your blogs, on your website, and in your meta tags. By doing so, it will help Google recognize when to show your business.
When you're ready, you can create and track the performance of Smart Campaigns to spread the word about your business. Smart Campaigns are for small and local businesses that don't have a dedicated marketing staff. The campaigns are almost entirely automated, from ad creatives to delivery optimization, based on the product or service being advertised and the goal the advertiser sets. With a Smart Campaign, you can create a single campaign for your business, or run multiple campaigns to showcase different products or services. A Smart Campaign helps you highlight the selling points of your business and attract customers.

How do I set up Google My Business?
*These steps are taking from Google's directions on how to set up Google My Business.
To add your business listing through Google My Business, follow these steps:
1. On your computer, sign in to Google My Business.
2. Sign in to your Google Account or create one. Then, click Next.
Sign up with your business email domain since this account will be for your chain (ex. Franchise). Enter the name of your business or chain. You can also select your chain from the suggestions that appear as you type (if applicable).
3. Enter your business' or chain's address. You may also be asked to position a location marker on the location of your business on a map. If your business doesn't have a physical location but works in a service area, you can list the city instead. Then, click Next.
4. Choose if you want your business location to appear on Google Maps.
If you serve customers at your business address:

Enter your business address.
Click Next.
Tip: If you also serve customers outside your business address, you'll have the option to list your service areas as well.
If you don't serve customers at your business address:

Enter your business address.
At the bottom, click I deliver goods and services to my customers > Next.
List your service areas, then click Next.
5. Search for and select a business category. You can also choose a more specific category as appropriate. Then, click Next.
6. Enter a phone number or website URL for your business and click Finish.
Tip: You'll also have the option to create a free website based on your information. It's recommended that you provide the specific phone number or store page for each location, rather than a single centralized call center.
7. Select a verification option.
To verify later, click Verify later > later. If you're not authorized to manage the Business Profile for the business, find the person in your organization who's authorized and continue the process.
Tip: If you see a page that says, "This listing has already been claimed," click Request access. Then, follow the directions to claim your business. Learn more about how to request ownership.
How do I manage a Google My Business Profile?
You can manage your profile from your cell phone, Google's search page, or your Google My Business account. From all of these places, you can enhance your profile by sharing photos, creating posts related to your business, and replying to reviews. And that's not the end of it; there is so much more you can do to manage your business, right from Google Search.
To manage your Business Profile from Google Search:
1. Make sure you're logged in with your Google My Business account.

2. Search for your business name on Google

3. You'll see a simple menu right above the search results.
To add or correct your business information, click Edit info.
To post on Google and stay engaged with your customers, click Create a post.
To share photos that make your business stand out, click Add photos.
To view and respond to customer reviews, click Reviews.
You'll also see personalized updates (like newly added photos from customers) and suggestions to help you improve your online presence (like updating your hours or responding to customers).
This dashboard is only visible to owners and managers of the Business Profile.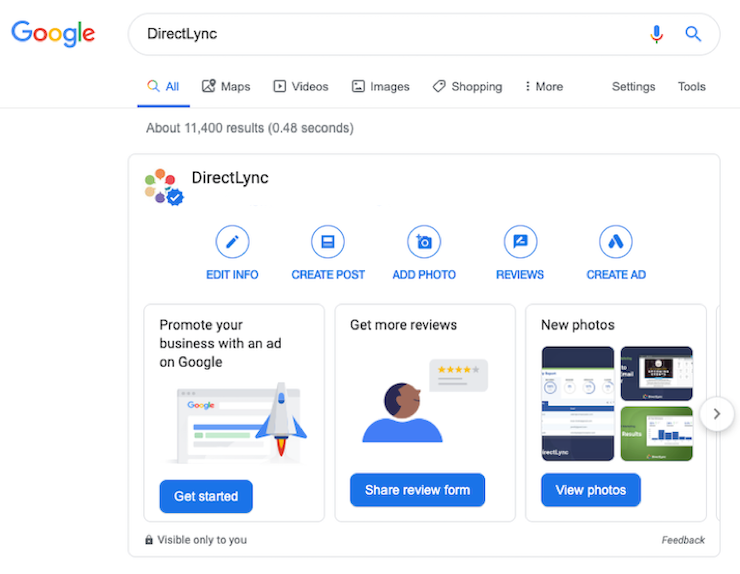 To help you get started on managing your business listing, here are a few ideas on types of posts and photos you could create below.
Events – such as an in-store event or sponsoring a concert
Offers/specials – such as sales and discounts
Product updates – such as new products, merchandise, or services
Announcements – such as "Closing for MLK Day" or "Special guests this week!"
How do I add a manager to my Business Profile?
Many small businesses that don't have a marketing team select one owner of the company on their account. Then, you can add additional users to manage your profile. To add a user to your Google My Business account:
1. Sign in to your account.

2. On the left menu bar, there is a Users option, select that.

3. Once selected, you will be presented with the manage permissions already on the account.

4. To add a user, select the person icon with the + button on the top right corner of the pop-up.

5. Select Invite New User.

6. Enter an email address of the person you want to help manage your account.

7. Choose a role – owner, manager, site manager.

8. Press Invite.
Once you invite a user to your Google My Business account, they will have access to manage the business account, information, and customer reviews.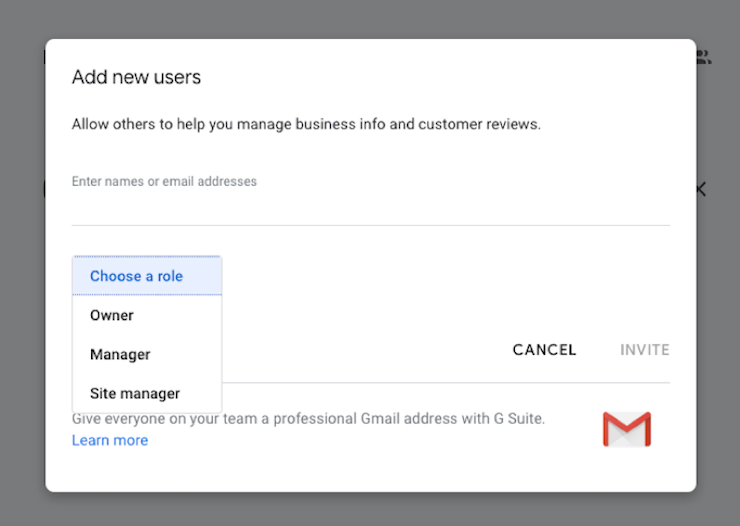 How to optimize your business account?
60% of Americans use smartphones and tablets to search for local products and services. And that number only continues to grow.
With the endless amount of information that Google offers, businesses need to embrace the possibilities. Here are a few ways you can optimize your Google My Business profile.
1. Ensure your information is accurate, comprehensive, and up to date.

2. Ask for reviews (and then respond to them).

3. Speak directly to your customers through Google My Business Messages.

4. Add posts to share business updates.

5. Track customer paths through Google My Business Insights.

6. Create Google Ads (brand awareness, website traffic, product consideration).
Don't let opportunities slip away because you didn't take time to optimize your listing.
Get started with Google My Business
Google My Business is an essential tool for local business owners. You won't regret setting up your account.
With all the fantastic, free features Google offers, you can take your business to the next level.
Google is a powerful search engine and resource for small businesses, take advantage of what it has to offer you. Follow the steps and guidance that I listed above, and you will be on your journey to optimizing your business listing. We hope this post helped you understand Google My Business: what it is, why it is so important, how to set up your profile, and best practices for managing and optimizing your business profile. Now, it's time to start your profile!