Back to Blog
DirectLync Insights
Re-Engage Customers With Email Marketing: Ultimate Guide to Win-back Campaign Emails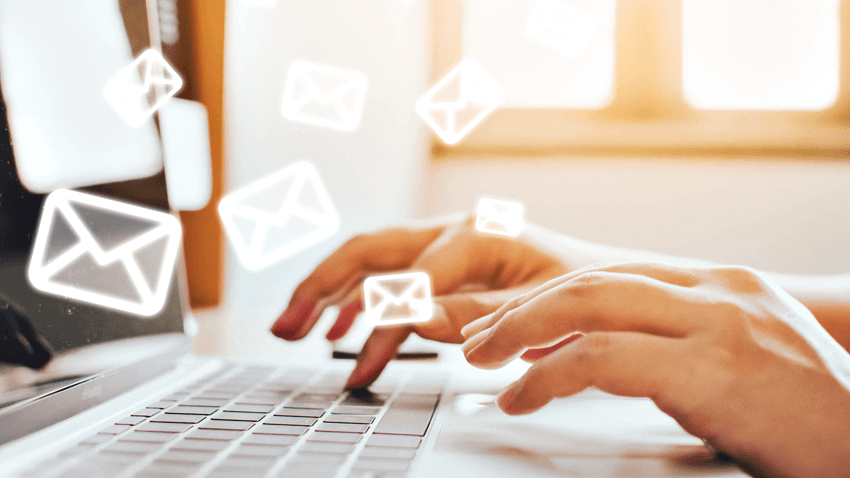 Converting a visitor to a customer is every marketer's goal, but that feat is really only half the battle. Retaining those same customers requires consistent engagement like sending them email newsletters and offers that may span a few months or even several years. Some existing customers will eventually lose interest over time, regardless of your email marketing automation efforts. There are many factors that may be at play here, but the good news is if the customer hasn't unsubscribed from your mailing list yet, there is still time to win them back, and that's what this guide is all about!
What is a win-back campaign?
Each year, an estimated one in four email subscribers will decide to opt out of your brand's emails. Every marketer understands the pain it feels to lose a hard-won customer. That is why learning how to write successful win-back emails is crucial to a successful email marketing strategy.
A win-back campaign, otherwise known as a re-engagement campaign, is a series of targeted and personalized emails sent to re-engage lapsed customers. It typically starts with a gentle "nudge" in the form of incentives and other value-driven content.
Why would I focus on re-engaging inactive customers?
It is estimated that businesses have a 60-70% chance of success to sell to a lapsed customer again but have only a 5-20% chance of selling to a new potential customer. You do the math! Actually, we'll do it for you: This means that you're 13 times more likely to sell to a previous customer than it is to a new one.
So while initially, it may seem unreasonable to focus your email marketing efforts on winning back customers that have expressed disinterest in your business, with stats like the ones above, it might just be worth your time. Additional research shows that re-engaging lapsed customers can be five times more cost-effective than acquiring new ones.
How do I identify and segment inactive customers?
There are two data-driven approaches we suggest using to identify inactive customers:
Analyzing purchase frequency
This approach involves identifying your average-customer purchase frequency and referencing this against your customers' purchase history.

Using RFM analysis
This technique analyzes time, frequency, and purchase amount as your evaluation. It measures the following variables and uses scores to segment customers according to their past-purchase behaviors:
Recency – time in months since their last order
Frequency – number of orders in the past year
Monetary Value – average order value (low/medium/high)
How can I get inactive customers to open win-back emails?
There are many win-back email examples that may work for you. First impressions are everything, and this is especially true of all win-back email subject lines. It's one of the first things a recipient will see when they receive your email campaigns; therefore, it must be attention-grabbing. To write a subject line worthy of your inactive customers' time, you'll need to consider the following:
Why have your subscribers become inactive?
How are you going to address the "why"?
How will you re-engage them and address their needs moving forward?
After considering the above, you'll also want to follow these best practices to craft your win-back campaign subject line effectively:
Keep it short and sweet
Personalize subject lines with merge tags
Make your subscribers feel important
Avoid using all caps
Never make false promises
Always A/B test your subject line
How frequently should I send win-back emails to my customers?
The number of win-back emails you will need to send to your lapsed customers is usually determined by where they fall in the customer lifecycle. Ideally, we recommend a win-back campaign strategy of sending three emails in your win-back series using email automation tools like DirectLync.
The first email should be sent around six months after a customer has gone inactive (i.e., hasn't purchased or opened an email). The second email should be sent two days after the first. The third email should then be sent two days after the second.
What content should I include in my win-back emails?
Most win-back campaigns use promotions to reengage and entice lapsed customers into making another purchase. They try to pique the customer's interest by targeting their unique pain points and reminding them of their missing value. Aside from coupons, other win-back campaign examples include:
Solutions to your customer's problems and pain points
Value-based information on products they've previously purchased
Updates on products and policies
A look into what's happened with your company lately
Surveys to learn of their wants, needs, interests, or frustrations
When should I start trying to win back a disinterested customer?
There's no one size fits all solution for the timing of your win-back messages; however, we recommend examining your products' sale cycle and contacting dormant shoppers when it makes the most sense.
Lastly, it's always best to plan your win-back email marketing strategy ahead of time and automate your re-engagement campaigns with tools like DirectLync.
Wrapping it up: Build a Winning Win-Back Campaign With These Common Tips
Segment your email list: Segmenting your email list will ensure that your win-back emails target the right audience with relevant and engaging content.

Remind them why they loved you in the first place: You can do this by simply demonstrating the value of your brands and products. You can also highlight what's new since their last purchase.

Send a series of win-back emails: Don't just send one email and expect to re-engage your inactive subscribers automatically. Develop a marketing strategy that involves re-engagement across multiple channels at various timeframes.

Personalize your emails: Leverage the customer data that you've gathered and use that to personalize your email marketing campaigns. Create personalized win-back emails that aim to cross-sell or upsell products or services based on customers' previous purchases.

Provide customization options: Give your customers/subscribers options on how frequently they want to receive communications from your brand.

Allow them the opportunity to give you feedback: Give your customers or subscribers a chance to tell you about their experiences and suggestions with your win-back series. Such provisions may yield valuable information that'll help improve your overall email marketing automation strategy.

Make them an offer they can't refuse: Win-back emails that include "$ off" discounts in the subject line and saving the last emails to offer the best deals are very effective at re-engaging and retaining lapsed customers.

Continuously test and optimize your win-back campaign: Regularly testing and optimizing your win-back campaigns will help you find what works. There are many things to analyze in a win-back email campaign, examples include opens, clicks, and conversions over time.