Back to Blog
DirectLync Insights
Make Your Work-Life Easier When You Automate Your Email Campaigns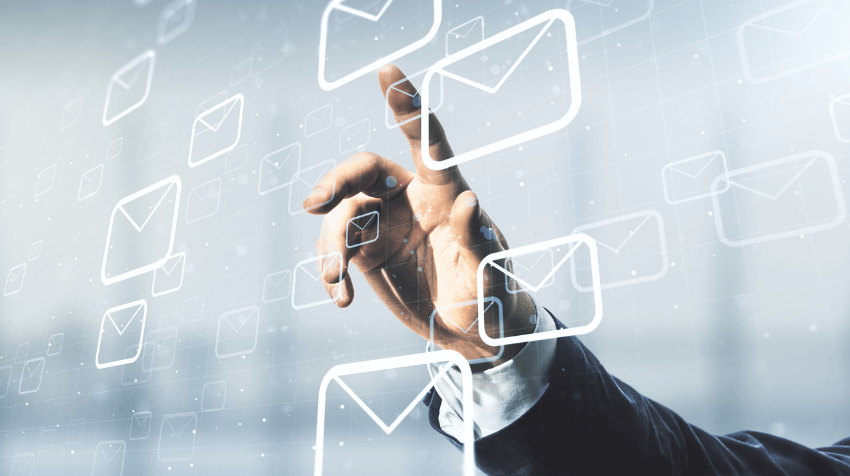 Remember the days when all social media posts, emails, and message responses had to be manually typed out? A vacation without Wi-Fi? No chance! Even a sick team member or a busy day could throw a wrench into the works when it came to your marketing efforts.
As technology has progressed, the ability to automate and schedule forms is a key element in communications and marketing strategies. It's a fairly new concept but despite that, automation has quickly become an integral part of a smart marketer's arsenal.
There are obvious benefits to customers; nobody wants to send a message and wait 48 hours for a reply, or wait a week for a social media update because the marketing manager is on leave. Equally, nobody is too keen on receiving (or sending) an email at 2.30 am because of time zone differences.
Aside from that though, automation can make your work-life balance significantly better. When it comes to email marketing specifically, the ability to "set it and forget it" has changed the way we operate. When it comes to small- and medium-sized businesses, lack of resources is a common challenge – and with that come difficulties with time management.
Whether you own a small business and want more control over your time or simply need to find a way to work more efficiently, automation can play a crucial role in helping you work smarter, not harder.
Automation can handle a vast amount of easy and repetitive tasks and can carry out emailing process with very little human intervention. Think of things like sending welcome emails, following up after a sale to ask for a review, or sending out order notifications. By making use of email automation software, marketing teams or professionals are spared from having to delve into time-consuming daily tasks like compiling mailing lists, writing similar emails over and over again, scheduling or pressing the send button, tracking responses, and monitoring contact forms.
Then there's the reduction in time spent error-checking and proofreading. You don't need to worry about making a typo or accidentally hitting send when you're only halfway through drafting a mail if you're using automation software. Simply make sure your copy, layout, and design are thoroughly checked and approved when you set up the initial campaign.
At the end of the day, this means more variety in your daily work, more time to focus on high-priority tasks which need your full attention, and the opportunity to use your creative juices on more deserving projects than writing your fourth thank you email before lunchtime!
What should you be automating in your email marketing?
Email marketing has progressed dramatically from the simple newsletters of yesteryear. From engaging welcome emails with embedded videos to personalized discount offers, codes, and flash sales, there are numerous different strategies to help build your brand and generate sales.
For entrepreneurs and SME's who are usually lacking in time, budget, or resources (or all of them!), it's often hard to know where to start. And it's even harder to make sure you're across everything and constantly engaging with your customers. Email automation can help reduce some of these pressures, allowing you to maintain a better balance by working on the more important things in life, and in business.
When it comes to your email marketing strategy, there are some areas that are clear candidates for automation. Usually, these are emails that don't benefit from being sent individually and which you can personalize in bulk (which is less of a contradiction than it sounds!). Of course, some emails will need to be sent individually. However, with the right tool, you can save time and build a formidable email marketing strategy.
Here's what you should consider automating on a day-to-day basis to improve your work-life balance and simplify your email marketing endeavors:
Welcome email/series which welcomes your subscriber to your email list, provides a discount code if applicable, and may also ask them to opt-in to something else (such as further communications).
Thank you email to thank your customer for placing an order, signing up, leaving a review, or similar. This may be part of your welcome series depending on your business model.
Transactional emails which send out order confirmations, invoices or summaries, tracking numbers and shipping information, details on purchases, and so on. This is particularly important for e-commerce businesses, of course.
Birthday or anniversary emails which send a personalized message congratulating a customer on a sign-up anniversary or birthday, sometimes with a special offer or code.
Lapsed, low activity or non-converted customers often receive an email with an incentive to purchase, such as a discount code or time-sensitive offer. This can be automated based on the time between purchases, open rates, abandoned carts, or any other criteria you feel is relevant.
Responses to forms that are sent when a user fills out a form on your website. This can be to thank them for contacting you, to confirm a sign-up, or thank them for RSVPing.
Renewal emails reminding a customer to sign up after a free trial, to renew a subscription, or remind them of an upcoming expiration date.
Feedback emails to ask customers to review their experience, rate you on social media, leave a testimonial, or similar.
Easy email automation with DirectLync's digital marketing tool
DirectLync offers a user-friendly, drag-and-drop email builder which allows you to build beautiful templates without technical knowledge. No need to spend hours coding or be a graphic design expert; simply use one of our customizable templates or drag and drop individual elements to create something which looks professional.
Naturally, our email marketing tool also allows you to automate to your heart's desire!
There are multiple ways you can automate your campaigns using DirectLync, including:
1. Time-based
Email marketing communications based on custom time-based events such as birthdays, anniversaries, time elapsed since last purchase, and more.
2. Drip campaigns
Build email sequences that automatically engage your contacts based on specified triggers or actions, like:
Email opens or non-opens
Clicks
3. A/B testing
Not sure which email subject line, layout, or time of day performs best? Set them both up and let DirectLync help you A/B test. Plus, there's no need to manually review – we'll automatically send the best-performing emails to your audience.
4. Autoresponders
Automatically respond to forms with emails that nurture leads, whether you want to send a simple "thanks, we'll get back to you" or build a longer conversation.
5. Resend to non-openers
Did a valuable potential customer miss your email?
Improve open rates by letting DirectLync automatically re-engage your email list and resend important email campaigns to users who haven't opened your message.
Start saving time now
On top of all this, DirectLync's email marketing software helps you automatically segment your audiences and review your performance through reports which show you actionable insights.
You may not be able to automate absolutely everything, but the right tools can help you be more efficient and save time. And when time is money, saving minutes every day can make a lasting impact on your work-life balance. Plus, adding variety to your working day by removing the need to repeat the same tasks over and over can help you feel fulfilled in your job.
If you want to nurture your audience and increase engagement while you work on other tasks, start by requesting a demo or signing up for a free trial with DirectLync.