Back to Blog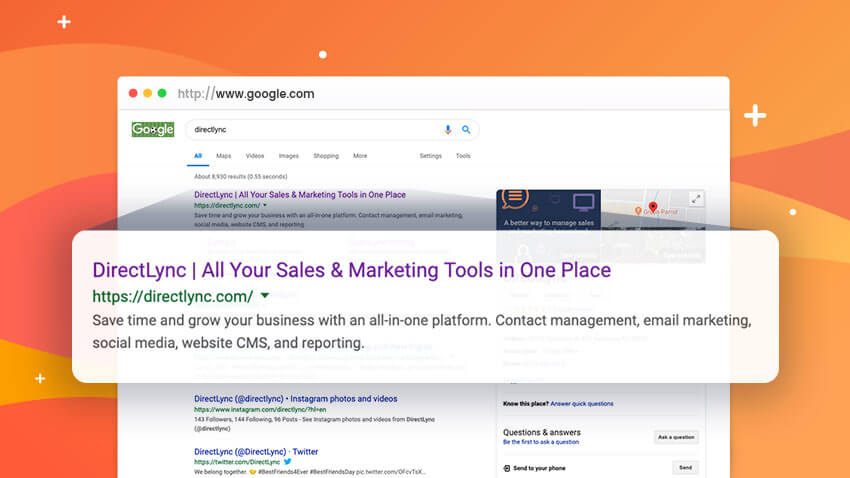 Getting people to your website is half the battle when it comes to converting leads into customers. While there are many paths a visitor can take to arrive at your website, the usual routes include:
Typing your website in a browser
Clicking on paid advertisements
Links in Social Media posts
Links in Marketing Emails
Clicking on organic (non-paid) search engine results
Let's talk about how leads arrive at your website from organic search engine results using Meta Tags.
When your website shows up organically in search engine results, the content people see is (usually) made up of information contained within the Title and Meta Description Tags for a specific website page.
You may hear, "Meta Tags" and think this is too techie for you. But Meta Tags are crucial for driving traffic and not that difficult to set up. You don't need to be a developer or "techie" to use Meta Tags.
What are Meta Tags?
Meta Tags are elements in website code that serve a variety of purposes. There are many different tags, but the two that are relative to what people see in search engine results are:
Meta Title
Meta Description
The information contained in these tags is what appears in organic search engine results.
These tags are relevant because they're what visitors first see before arriving at your site; it is their first impression of your company. When well-written with compelling calls to action, these tags help you stand out from the other search results and increase your chances of attracting new customers. On the other hand, poorly written title and description tags - or ones that are automatically generated by Google - stand out for the wrong reasons and are usually disregarded.
Will they increase my SEO?
You may have heard that Title and Meta Description Tags are essential factors that search engines consider when it comes to ranking your website. This may have been the case at one time, but they are no longer part of search engine ranking algorithms. Title and Meta Description Tags are purely informational elements used to describe the contents of a website page in search engine results.
Tips for writing Meta Tags
When writing content for your Meta Tags, keep the following in mind:
Every page of your website should have unique titles and descriptions
Make sure descriptions are well written and accurately describe each page
Keep titles under 60 characters
Keep descriptions under 160 characters
Write your descriptions with marketing and sales in mind
This SERP tool can help you visualize what your Tag and Description will look like on Google search results.
Test your website
To see how your title and Meta description tags look in search engine results, go to Google.com and enter site:your-website.com (make sure there's no space after 'site:'). The results will include every page within your website that Google has crawled. Here is an example of DirectLync's website results.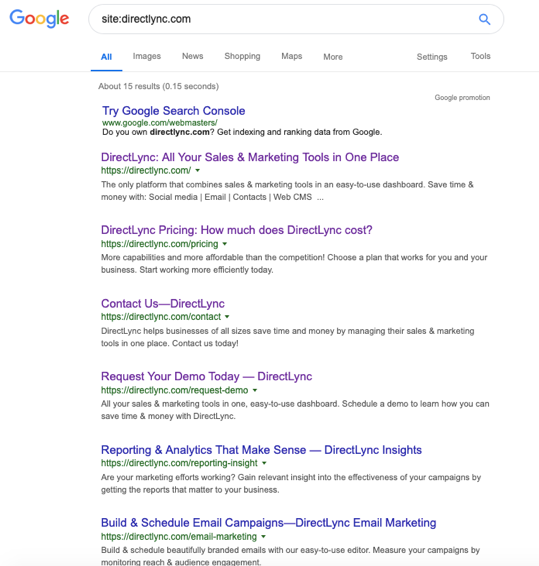 If you're not satisfied with the wording for any of the results, it's time to update. Your website design firm should be able to quickly create quality content that makes a strong first impression in search engine results. Or if you have a website CMS tool, like DirectLync, you are easily able to update your Tags and Descriptions within the backend site.