Back to Blog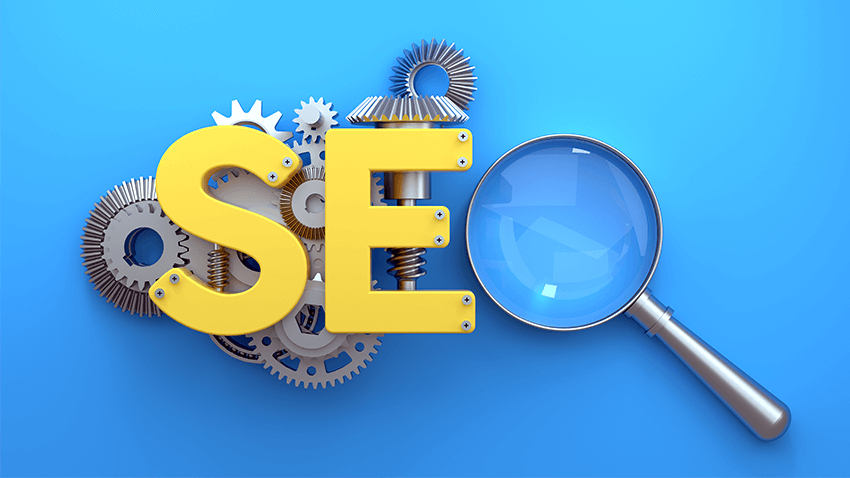 As a small business, competition is fierce. We understand that standing out in front of your audience isn't always the easiest, but it is a necessity to grow a business. Small businesses should be spending time on getting noticed by their local communities, but the struggle is knowing how to get noticed.
While being productive and creating a website and writing blogs will help build content, it is just as important that you are taking the time to optimize those pieces of content for search engines.
4 out of 5 consumers use search to find local information, which means if your business isn't optimized for local search, you could be missing out on 80% of your potential customers (Tweet quote).
Don't miss out on the opportunity to get in front of more of an audience because you aren't spending time on search engine optimization (SEO). In this blog, we will dive into what local SEO is and tips on why to use it for your business.
Free Comprehensive Guide on SEO
What is Local SEO?
Local search engine optimization (SEO) is a branch of SEO that focuses on optimizing a website to be found in local search results. Local SEO helps businesses rank higher on Google, Bing, or other search engines for their local community's specific searches. With the shift towards online research, it's better to invest in local SEO sooner rather than later. By doing so, your products and/or services can be found by local prospects and customers.
Think about it, when you google "pizza stores near me," all the local stores that sell pizza and have pizza as one of their keywords will show up in the search results.
Before we dive into the tips and tricks of optimizing your business for local SEO, you need to understand that many other factors help local SEO than just search. Spreading brand awareness locally can contribute to your SEO too. The more reviews and brand equity you have online, the better chance you have of being found.
And it's not magic.
SEO is a commitment, and it takes time until you fully reap the benefits. If you decide to build a local SEO strategy (which we fully recommend), you must be prepared to wait to see significant results.
This blog is meant to help you understand local SEO and guide you when creating a plan for your business. Here are 5 tips that will get you started and make an impact on your online presence.
5 Local SEO Tips
1. Optimize for Google My Business
Did you know that 46% of Google searches are local?
For relevant information to show up about your business in Google Search, you need to set up and optimize your Google My Business page.
Google My Business (GMB) is a free and easy-to-use tool for businesses and organizations to manage their online presence across Google, including Search and Maps. By optimizing your Google My Business account, you can curate many more searches and recognition towards your company.
To begin, you will want to create a verified GMB account if you don't have one already. Google My Business can improve your business' visibility through local SEO.
For instance, in your profile, add in your location, website, hours, and contact information. By adding these things to your account, it can help your audience find you when searching locally.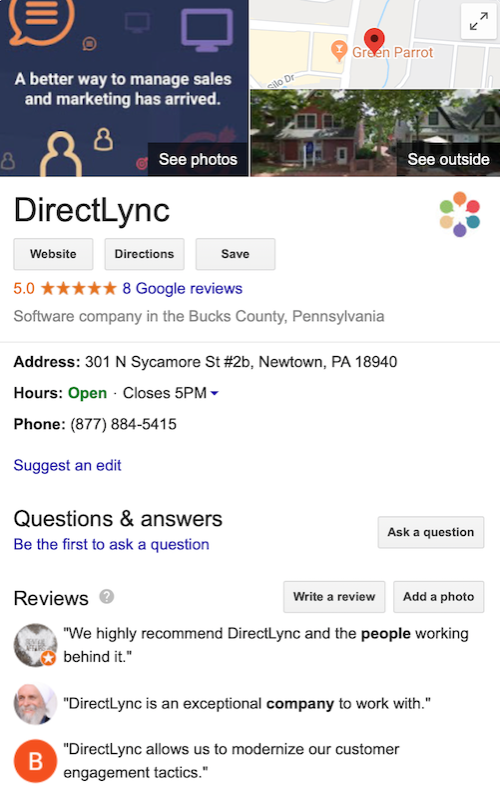 Another way to optimize your GMB account is by encouraging your customers to share reviews online. After a customer receives your product or service, you can use email marketing or time-based emails to send automated emails with a link to your Google review page. Be sure to respond to customer reviews – positive or negative – on your Google My Business page.
To learn more about using Google My Business, check out our article here.
2. Add links to internal pages
There are two types of linking in SEO – internal linking and external linking.
Strategic internal linking is an SEO power technique, especially for content marketing. Internal linking connects one page of a website to a different page on the same site.
External linking is the opposite. It is when you link to an external site or an external site links to you. This is popular for sourcing stats, definitions, or linking to a research paper.
Google uses a bot called 'Google Bot' to crawl websites for links, internal and external. The more links it finds going back to your website, the more authority (or value) Google gives your site. For example, the website's homepage has the most link value because it backlinks to every other page on your website.
This article by Yoast gives a great example of how to create more value in your internal links, especially with local SEO. For your newest blogs, create a backlink on a highly visited area like the sidebar or footer of your website. By doing this, the link will be on all pages of your site, increasing the link value and making it easier for people to find the page. With more traffic on the page and more backlinks, Google will quickly place more value on your page and place you higher in search results.
It is 100% highly recommended to link internally. When it comes to Local SEO, it helps support your website navigation, page value, and website hierarchy. If you need a new project to work on, put together a plan on how to increase the value of each of your website pages for your local SEO.
3. Update metadata on your website
Search engines are these crazy, huge sources that provide you with all kinds of information that you need. But, what a lot of people don't know is that search engines wouldn't know how to help you with your search without metadata or keywords.
Metadata means "data about data," and that's precisely what you are writing. It's information that's used to describe the data that's contained on something like a web page, document, or file.
With that said, metadata is the umbrella of all the types of meta – meta title, meta description, and URL. It is an essential element in optimizing a web page. It helps a website rank in the search engines and receives the highest number of visitors. Without metadata, Google, Bing, and other search engines won't be able to find your content and help the searcher with their request.
Elements of Metadata
Below is an example of what appears on Google when you search, "What is a balloon?" The purple title (meta title) and the balloon definition below the URL (meta description) are all a part of how search engines crawl pages and pull out the helpful pages.

Meta Title
A meta title, also referred to as the SEO title, is the blue underlined title shown on the search results. It is what visitors first see before arriving at your site. When well-written, it will help you stand out from the other search results and increase your chances of attracting new customers.
Meta Description
The meta description is a short summary of the content available on a particular webpage. Search engines display the meta description as text under the title. It should be unique and descriptive for every web page.
Meta URL
Your meta URL is the ending of the website URL that will bring searchers directly to your specific page. When writing a proper URL, it should be short and sweet.
We recommend using Google Ads Keyword Planner or Ubersuggest to find keywords to add to your URL, title, heading, meta description, and body in the content. Having keywords in your meta helps search engines, and even the searcher understands what the page is about and should compel them to click your page.
4. Local keyword optimization
Did you know that Google is continually crawling your web pages and content to see what keywords and topics you use? By doing so, it helps Google pull the right pieces of content for a specific query. By having specific keywords that you use for your business and location, it helps you rank higher in the Google search results.
For local SEO, organic keywords are essential when it comes to creating content. An organic keyword is a keyword used to attract free traffic through search engine optimization. For example, if you own a coffee shop, when it shows up on Google with queries that were entered, those keywords are your organic keywords. Organic search results for keywords are important because they can lead you to sales, signups, visits, page views, and leads.
In Google Analytics, you can find all the organic keywords that have been entered into Google to find your business. With the list of organic keywords that Google Analytics provides, you can add them to your content, so you rank higher in search results. To find your list of organic keywords:
1. Login into your Google Analytics account.
2. Select Acquisition.
3. Select Campaigns.
4. Select Organic Keywords.
5. You can change the date range on the top right corner to get a broader view of organic keywords.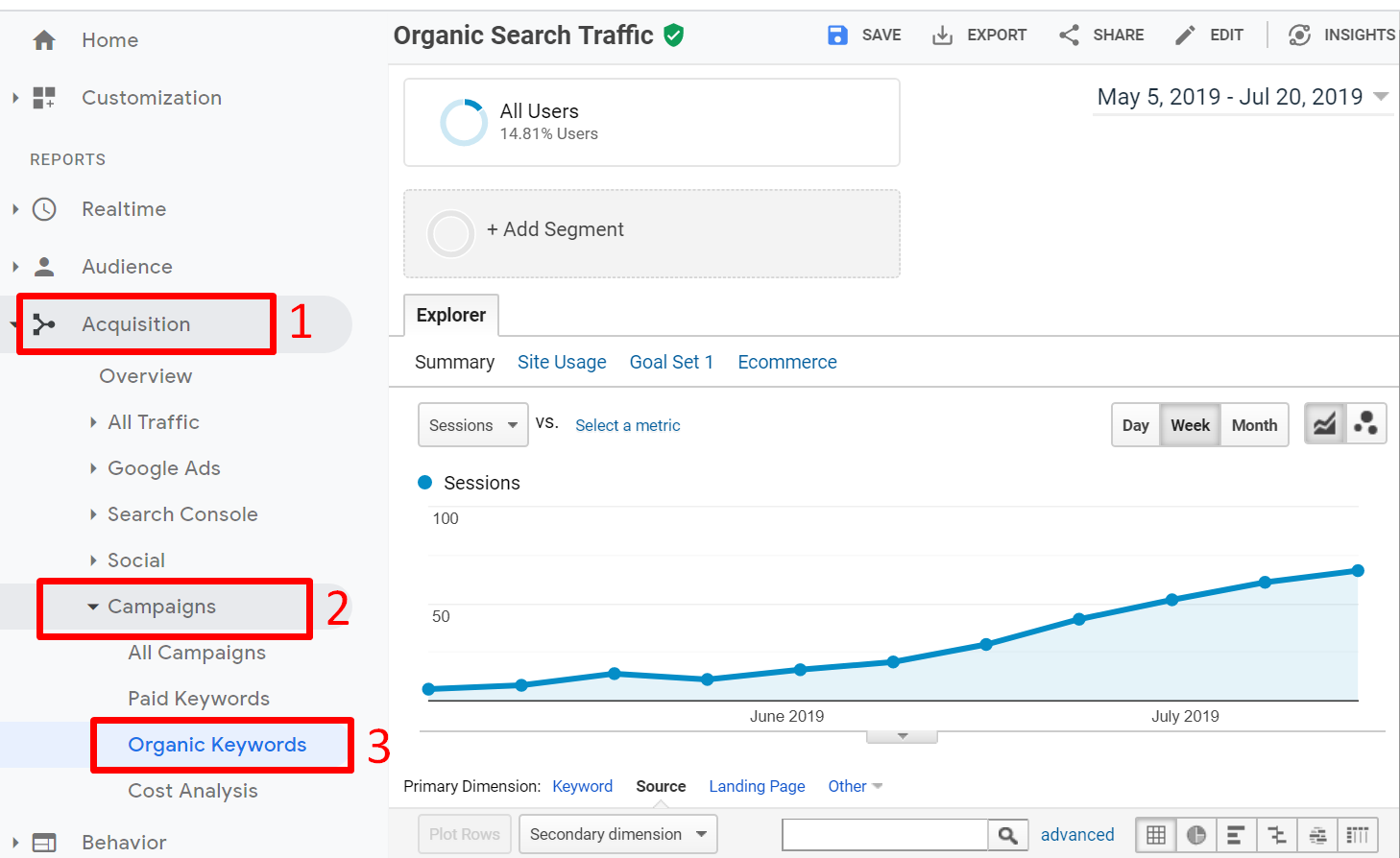 Since many small businesses have local audiences or particular target markets, using local keywords like your town name, local locations, addresses, and other landmarks or common words while writing content will help. Think of top-of-the-funnel content that goes beyond what your business sells. Add organic keywords to your website and content. Don't miss out on earning more business by not using the queries that your audience is using.
5. Add location landing pages on your website
No matter the size of your business, location landing pages are a must for one reason: to help customers find their nearest location on your brand website.
Location pages are vital on a website, especially if you have more than one brick-and-mortar or office location. On your location page, you can provide your website visitors with your name, address, store hours, phone number, and all other information that is needed or wanted.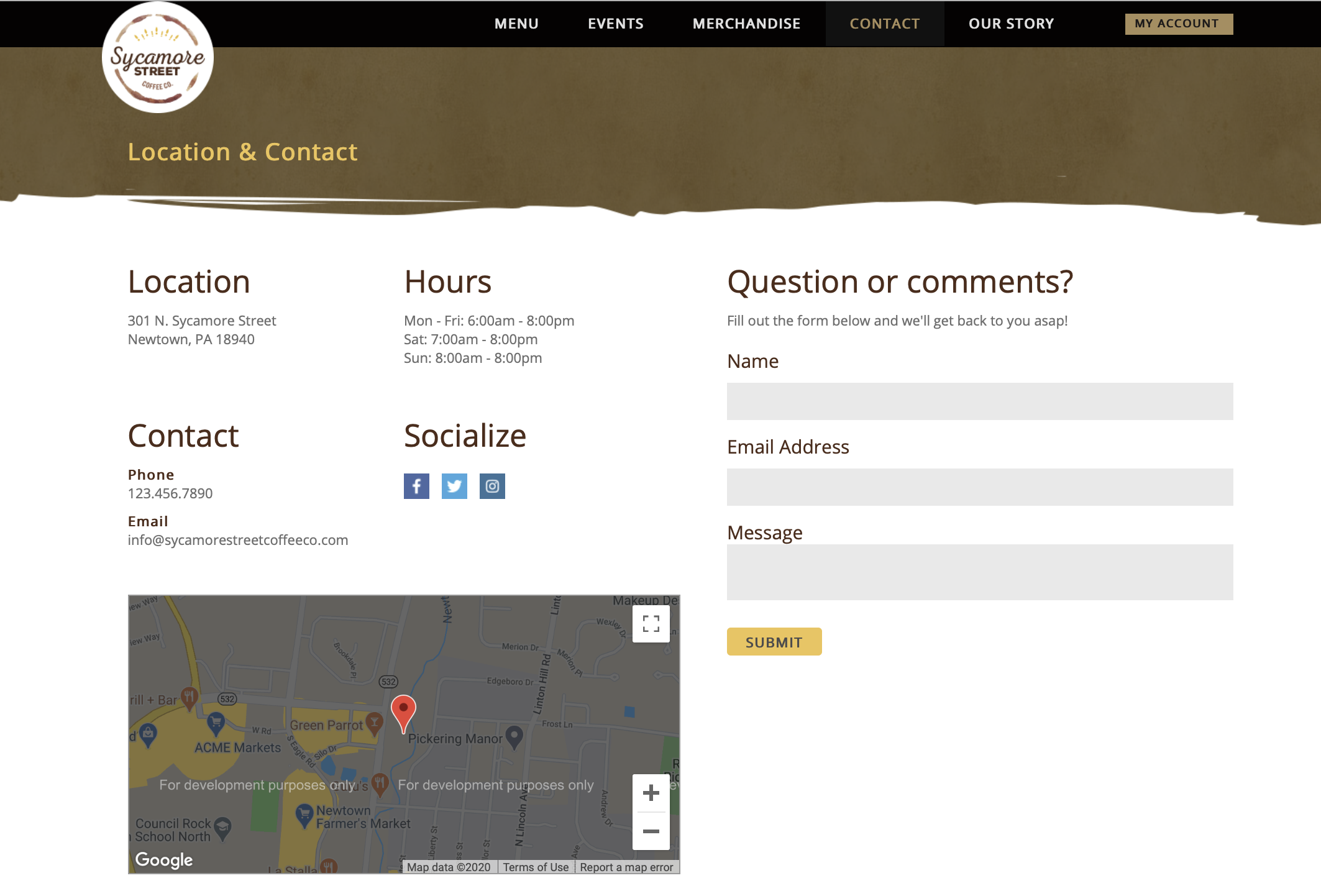 A page like this is important for SEO to pull keywords like local locations around you. Your on-page signals present on a location landing page are among the top three most important ranking factors for your local SEO – they have at least 14% of influence over overall visibility.
Bonus Tip: Focus time on local profiles in directories too! Check out this source for 55 of the largest local business directories in the US.
Get started on your local SEO research
It's never the wrong time to get started on researching keywords to help your business thrive. Start by finding out what organic keywords are currently leading people to your site and apply them to your strategy. Then, include local SEO keywords into your content and website pages. It's time to rank on Google!