Back to Blog
DirectLync Insights
12 Tips on How to Build a Brand on Instagram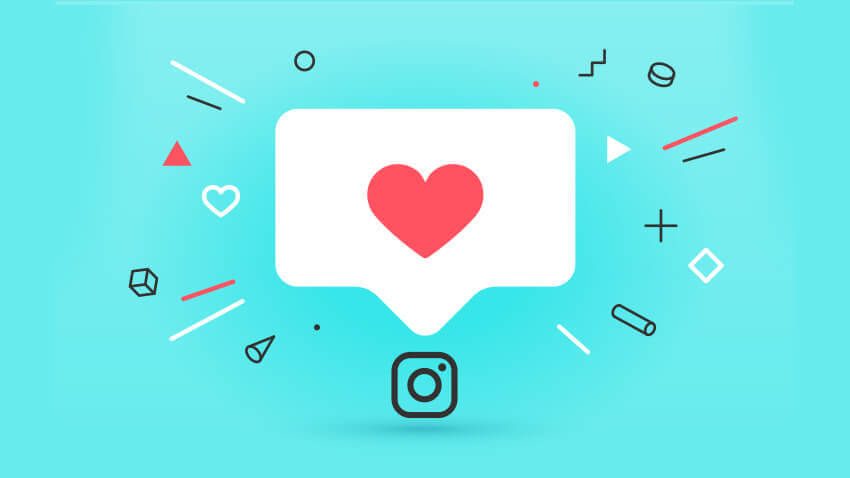 "Really, Instagram? You're telling me I should be marketing my small business on Instagram?"
The answer is yes, and it's going to keep being yes. Whether you are selling to other businesses or consumers, Instagram is an important way for businesses to communicate to their current and potential customers. Instagram has around one billion monthly users and nearly two out of every three adults between 18-29 use the platform. By having an active company profile, you have the ability to reach them all. Instagram has given you the opportunity to share photos, videos, livestreams, IGTV, and ads every single day with just some creativity and click of a few buttons.
How can small businesses use Instagram?
Instagram is a major tool when it comes to marketing. There are many reasons why businesses should use Instagram, even small ones, to grow their business. You can partner with influencers, engage with customers, create relatable content, and so much more.
If you are starting from scratch, here is a 12-step guide to building your brand on Instagram.
1. Create your Instagram Business profile
Time to set up your new marketing best friend! To create your Instagram Business profile, go to your profile icon and click edit profile. Once you are in edit profile, there will be a button that says Switch to Professional Account. This is where you will choose whether you are a creator or a business. Then you can connect a Facebook page, choose categories based on your industry, and review your contact information.
*We recommend connecting your business profile to your Facebook Business page. This will provide you with all the features available for business. Check out our blog with updates on all the newest Facebook tools for Business pages here.
2. Choose a recognizable profile image
When it comes to small businesses, you want to use a recognizable photo as your profile image. Don't use an image that hides representing who your company is. We recommend you use your full logo. Using Justin's as an example, they use their logo as their profile picture. If it was a profile picture of a product (the s'mores picture below), you would recognize the brand as Justin's. You want your audience to recognize your company within seconds.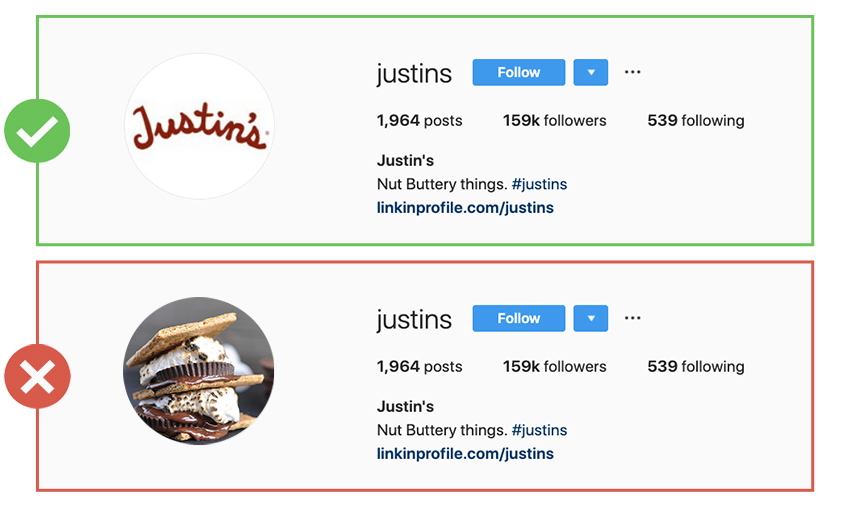 3. Write a catchy bio
When creating your profile, you want to make it friendly and inviting; and that is where the bio comes in. With a boring caption or no caption at all, trying at attract customers will be difficult. For example, "Bringing sweetness to the party with the original artisanal cotton candy puf! LA and beyond! Since 2012! Zagat Rated 30 under 30." This is Cloe – Bon Puf Cotton Candy's bio which is appealing and brings knowledge to all audiences.

Use your tagline or create a line that shows your value to a potential customer. Like I always say, don't hold back any creativity!
4. Choose a color palette
Before you start posting, think about what you want your page to look like. A color theme is important to having a consistent and cohesive look on your page. A lot of businesses try to keep their known business colors involved in their pictures. We here at DirectLync keep our six colors continually in our pictures.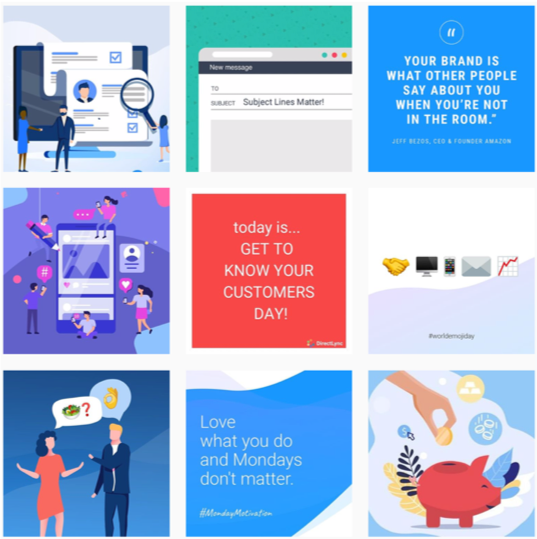 5. Be consistent with your fonts
Yes, a consistent font is important. No matter what you are writing or posting on your Instagram account, always keep the font the same in your image. Trust me, it will improve the look of your Instagram profile and create a brand look for your page.
*For steps 4 and 5, gather your marketing team and decide on a color palette and font that will go well with your brand. Or, if you already have one, make it work for Instagram too. Keep your brand the same on all platforms.
6. Make the most out of your captions
Creative captions are important on social media! When making a caption, there are a few steps you need to go through.
1. Brainstorm captions
2. Be informal and don't afraid to be funny
3. Show brand personality
4. Use emojis
5. Start your caption with a CTA
6. Encourage your audience to comment and like
7. Decide on hashtags
8. Finalize caption and post
An Instagram caption is all about creating intriguing content for your audience that partners with your image. This section of your Instagram deserves time and focus. Don't just throw words together and call it a day, put thought into it.
*An Instagram caption should be kept under 125 characters.
7. Post consistently
Post, but don't over post! We know posting is tricky and there are many questions to be answered about posting. For instance, when do you post?
Do I post when I have a new product or promotion? Yes!
Do I post when my co-worker fixed his chair? No!
The more frequently you post on Instagram, the more likes and engagement you will receive from your audience. On average, most major brands post 1.5 times per day. Feel out what is best for you and what content you are releasing.
8. Use Hashtags
It's like a google search, for you! Hashtags are a way to connect with other content using the same tag line or in this instance hashtags. On Instagram people search for specific hashtags like #motivationalquotes and you will see all the posts that have used the same hashtag.
Don't forget, use your business industry and specific companies hashtags as well. If you are a Marketer, you want to include #marketing #marketingtips #markertingagency, etc. While there are some popular hashtags for specific industries, definitely be sure to throw in some more specific hashtags that don't have a large following. You will have a better chance of being noticed when there aren't thousands of posts connected with that hashtag being posted every minute. Doing this will enable you to increase engagement and gain loyal followers.
*You should not use more than 20 hashtags.
9. Get followers
We understand gaining followers is difficult, but with the right technics, you can gain hundreds of followers after just joining Instagram. First, follow accounts that interest you and have to do with your industry. You will be provided with a few that Instagram has picked out for you specifically. Second, follow people you know; friends and family are your biggest supporters. Third, try to find and follow your customers and their followers. Next, promote your account on your website, emails, and brand hashtag. Lastly, engage in social conversations on other posts including the same industry, influencers, other businesses, your clients, etc.
10. Gather insights
With a business profile, you are able to view your insights from posts, stories, IGTV and more in the platform. Instagram has provided you with easy to understand insights on your post performance so you can analyze what is working and what is not. You should always be analyzing what is engaging your audience to influence your Instagram strategy. Use the insights tools in Instagram today!
11. Respond to your audience
Act like you're talking to your best friend! When posting on Instagram, people will comment on your posts. Comment back! It's important to always engage in the conversation.
To create even more conversations on Instagram and receive more followers, follow accounts and hashtags specific to your industry. Don't be shy! Be sure to comment on people's post as well. By doing this it allows your audience to see the real human, friendly side of your company and will draw more people back to your profile and ultimately your website and store.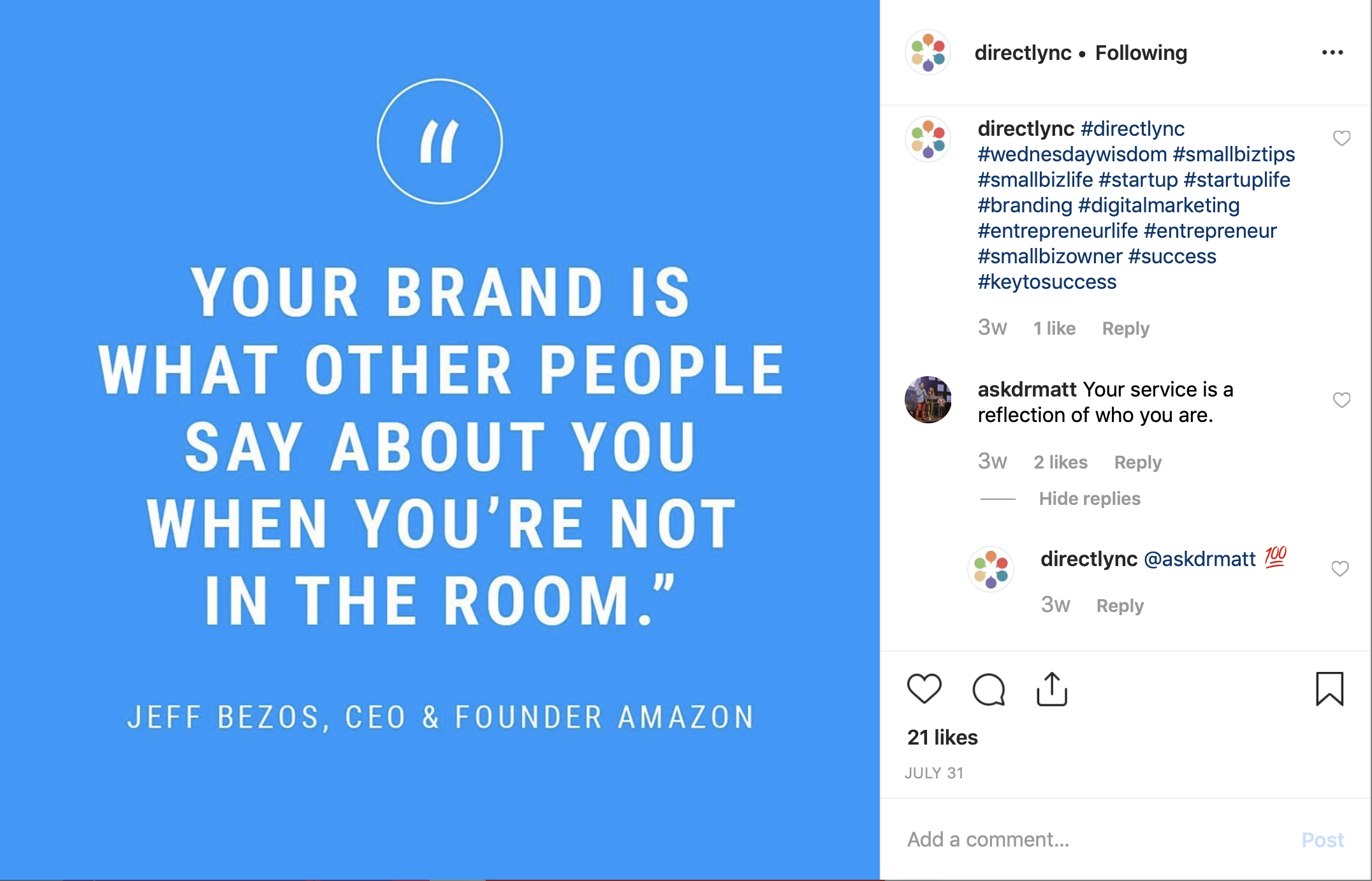 12. Stories and IGTV
Create live videos or even repurpose video you have already created to share on Instagram with your audience. Videos are always entertaining, and people love to watch them. In fact, on average, videos on Instagram receive 38% more engagement and over 2x more comments than image posts.
For stories, you are able to post live videos, old videos, pictures, create polls, ask questions, etc. There is an endless amount of content you can post to create engagement and increase views.
IGTV is "Instagram's answer to Youtube in that it's designed for the mobile optimized viewing of long-form videos." IGTV can be used for all types of content. We release monthly videos on IGTV about trending topics or updates about DirectLync. Think about different ways to use video or stories to connect with your audience. Instagram is a great place to post it!
Put your knowledge to work
With these steps of how to build a brand on Instagram, you are able to make changes, create content, and catch the eye of your audience. Instagram is a platform to express your brand in ways you usually wouldn't. Start experimenting and see what works for you!