Back to Blog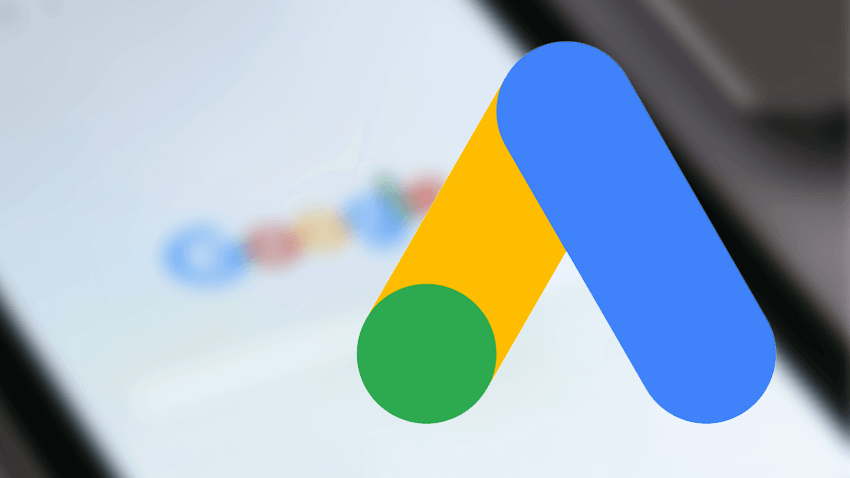 If you think Google is a mystery, you are not alone. Today, it's easier than ever to perform a search from virtually anywhere, but understanding exactly how their algorithm, RankBrain, works is another story.
Did you know that the first organic result on Google has an average CTR of 31.7%? With the increasing popularity of paid search, it is almost necessary for businesses that wish to leverage a strong online presence to explore Google Ads.
If you want to reach new customers online, then advertising with Google might be right for you.
In this blog, you'll learn what Google Ads are, how Google Ads work, how to set up your account, the benefits of using Google Ads, and the actionable reports you receive. Let's get started!
What is Google Advertising?
Google Ads is Google's online advertising program. Through Google Ads, you can create online ads to reach people exactly when they're interested in the products or services that you offer.
Google Ads is a form of Search Engine Marketing (SEM), which typically refers to paid search engine marketing. This is not to be confused with Search Engine Optimization (SEO), which strictly refers to organic search, not Google Ads.
This powerful tool is something that small businesses should regularly be leveraging. Ads help you get in front of your target customers on Google Search and Google Maps. With over 63,000 searches per second on any given day (yes, you read that right), Google is a channel that can't be left out of your marketing strategy.
Google Ads allow you to:
Target ads. Show your ads to reach people with specific interests.
Control costs. Have control over how you spend your money – per month, per day, per ad.
Measure success. Receive valuable data on – clicks, costs, purchases, calls, downloads.
Manage campaigns. Easily manage and monitor your accounts with My Client Center (MCC).
It is important to know that your Google My Business account is free, but Google Ads are not. The pay per click ads are worth it, but you can spend a lot of money very quickly. If you use Google Ads the right way and have a strong landing page, you can target your audience, drive conversions, and grow your business.
How does Google Advertising work?
Google Ads are the advertisements you see when you search on Google. They appear on the top or bottom of the page and pertain specifically to your search and interests. You have probably seen them a thousand times but may not have noticed that it was "sponsored content."
For example, when I search 'clothing stores,' I see ads on the top of the page for Stitch Fix and SHEIN. All of these retailers are bidding on the search term 'clothing stores' in Google Ads. Depending on their ad parameters and how much they are willing to spend indicates where they are ranked on the page. The first page should be your goal. Optimize your pages to get ranked higher.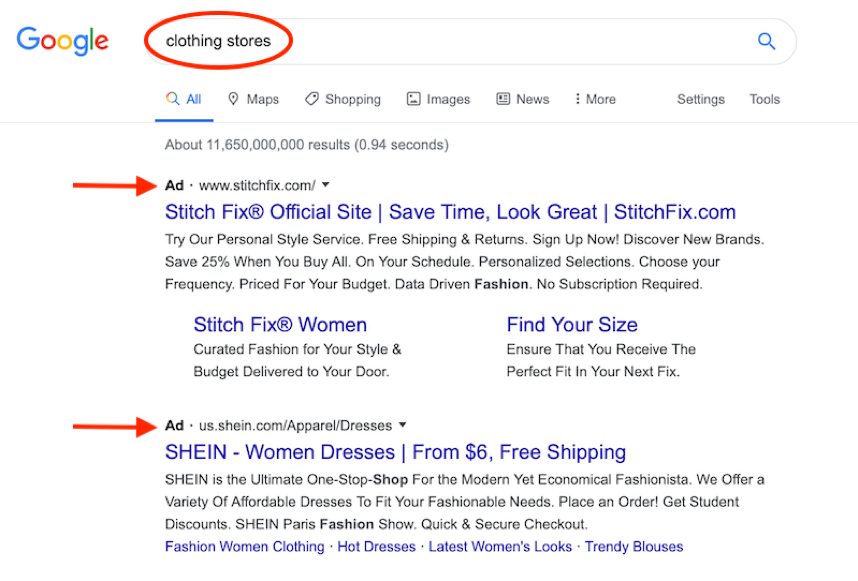 Ads like this one above, it not only allows you to get in front of your leads when they're searching for businesses like yours on Google Search and Maps but spreads more brand awareness. Plus, no money goes to waste when you only pay for results, like clicks to your website or calls to your business.
How do I set up my Google Ads account?
To make Google Ads easy for you, we have put together a checklist of steps that need to be accomplished to achieve all the benefits of a Google Ad.
Create a Google Ads account. Connect your email address and company website.
To make Google Ads easy for you, here is a checklist of steps that need to be accomplished to get started with Google Ads.
Create a keyword list. Build a list of keywords that trigger your audience's pain points or search terms.
Set up your first campaign. Don't forget to decide on your spend per day amount, choose an audience, set your bid, and write an ad.
Set up billing. You will only be charged after you accrue advertising costs.
Start advertising. Write your ad and set up your campaign settings – If you only operate locally, you can set a very specific location for your ads to show.
Review and confirm. Review your campaign, text ad, and billing information to finish the campaign.
When setting up your Google Ads, you need to remember to set up conversion tracking tags to be able to report on your campaign goals effectively. A conversion tracking tag tracks when someone who's clicked your ad goes to your website and completes an action that you've defined as valuable, as a purchase or sign-up. A conversion tracking tag is only available for those who have a company website. Through the conversion tracking tag, you can view valuable information such as:
Website traffic source
Website purchases
Phone calls
App downloads
Newsletter sign-ups and more
The first step to creating a conversion tracking tag in your Ads account is to identify a page or action you would like to track. Once that has been initiated, you will need to add the appropriate conversion tracking to your website. Two types of tags can be implemented – page load conversion or click conversion.
A page-load conversion is when a customer loads a new page, such as a form submission, thank you page, or purchase confirmation. A click conversion is when a user clicks a specified button or link. You can choose whichever conversion fits your goals for your Google Ad.
Once you have implemented the tracking tags on your campaign pages, you are ready to launch your campaign. And start seeing results! This is the exciting part. The best part about Google Ads is that you can test and learn. You will always be changing keywords and trying new text on your ads to see what options get the most clicks to your audience. Marketing is all about trial and error.
What are some useful reports from Google Ads?
Google Ad reports give you post-click performance metrics for users who clicked on your Google Ads. In your ad groups, you can view reports based on – basic details, time, conversions, labels, locations, extensions, display/video, and others. With all of these report options, you can narrow down specific details of your Google Ads ad to see what is working and what is not.
Each report option is important for its' own reason. For instance, a report for conversions may also show the bounce rate on it. If that bounce rate is high, you know a majority of the people who end up on your website page are leaving soon.
Step up your game
You know that customers searching on Google for a product or service are looking for you! Get ahead of your competitors who may not be using Google Ads and start a campaign for your business. Use your campaign to promote your product or services or even a specific piece of content. Remember, testing is a key to learning. Keep trying new keywords, text, and calls to action to see what works best for you!