Back to Blog
DirectLync Insights
Elon Musk's Twitter Takeover - What Could This Mean For The Future of Twitter?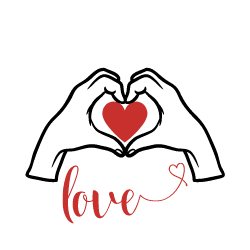 One of Twitter's most controversial users has now become its owner. In a move that's had everyone talking – and tweeting - the board of Twitter has agreed to a 44-billion-dollar takeover offer from billionaire and serial entrepreneur, Elon Musk. The speed at which the deal has gone through has left digital experts reeling and many of us wondering, "what will become of the social media giant in the future?".
Twitter initially rebuffed Musk's bid and even implemented a "poison pill" policy in an attempt to make it more difficult for Musk to obtain a large ownership stake in the company. But after significant funding was secured, the board unanimously approved the offer and will now ask shareholders to vote to approve the deal.
Here's a brief overview of the saga between Musk and Twitter:
Jan 31 - March 14: Musk accumulates a 5% stake in Twitter
Elon Musk reportedly started buying shares in Twitter in January 2022. By mid-March, he'd bought around 5% of the social media giant.
March 24 onwards: Musk slams Twitter in a series of tweets
Elon Musk criticized Twitter's content policies and algorithms for not adhering to the principle of free speech.
"Worried about de facto bias in the Twitter algorithm having a major effect on the public; Twitter algorithm should be open source," Musk tweeted on March 24.
April 4: Elon Musk increases ownership
Elon Musk acquired an even larger stake in Twitter, to the tune of 9.2%. Musk tweets asking if Twitter users want an edit button on the social media platform.
April 5-10: Elon Musk becomes a board member - supposedly
Just one day after confirming Musk's increased stakes in Twitter, the multi-billionaire is announced as a board member by CEO, Parag Agrawal.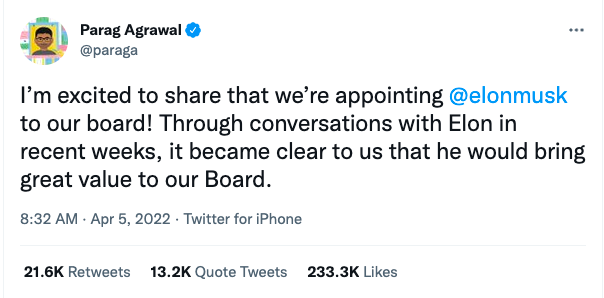 Image Source: Twitter
But on April 10, it transpired that Musk had rejected Twitter's offer to become a board member after all.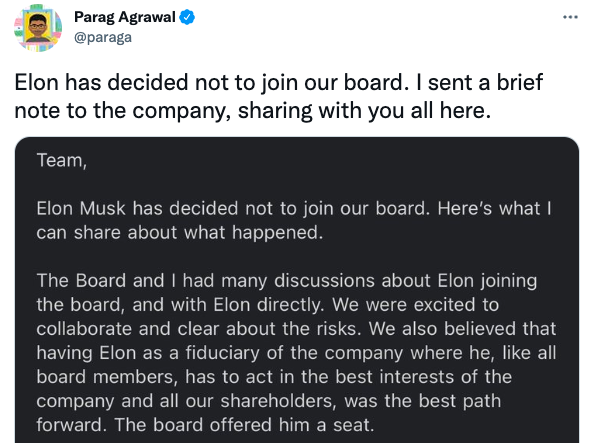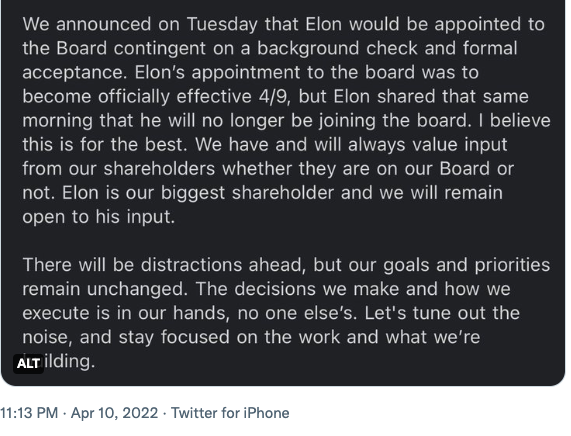 Image Source: Twitter
April 14: Musk offers $43 billion for Twitter
Musk offered $54.20 per share to buy the entirety of Twitter for just over $43 billion. In cash.
April 15: Twitter adopts "poison pill"
In the wake of Musk's offer, and with him already owning around 9% of the company, Twitter adopts a 'poison pill' in order to try and prevent a hostile takeover.
April 24: Twitter and Musk enter discussions
Despite the poison pill, the Twitter board and Musk enter discussions for him to buy the social media platform
April 25: Elon Musk buys Twitter
Elon Musk and Twitter seal one of the largest buyout offers of these times – a whopping $44 billion deal in which Musk obtains 100% ownership of Twitter.
Essentially, Musk has gone from buying shares in the media giant in January to presenting a huge shock bid to privatize it in only a few months, and said Twitter had "tremendous potential" – with his aim being to unlock it.
If scrolling Twitter is your way to unwind after a long day, or you use it to keep up with news or advertise your small business, will this buyout affect you?
What does the takeover mean for Twitter users?
If you're a regular Twitter user, will you even feel the effect of Elon Musk's takeover? Or will it continue to be much the same as ever? According to Musk, it'll be "better than ever."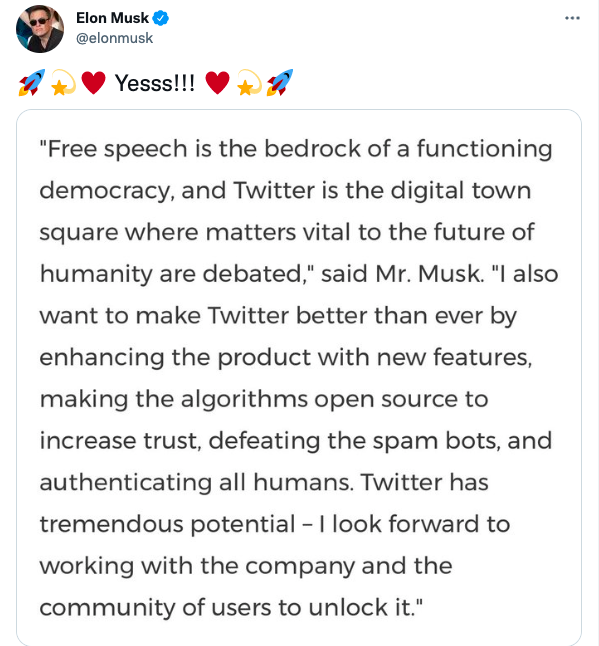 Image Source: Twitter
The company will be privatized, meaning Musk will have complete control over policies and features, within the constraints of the law. He has already made it clear that some changes will be implemented and he would like Twitter to become a "beacon of free speech".
So far, Musk has hinted at:
getting rid of automated "spambots" by "authenticating all humans"
making Twitter algorithms open to the public
increasing character limit on Tweets
relaxing content restrictions and implementing a much lighter moderation policy
moving away from advertising as Twitter's primary revenue channel
introducing the ability to edit Tweets after they have been published
Opinion is torn between the general public as to whether this is likely to result in an improved user experience for Twitter fans, and whether moral considerations are what should be informing their decision as to whether to remain on the platform.
Musk has described himself as a "free-speech absolutist" but despite that, has been called out multiple times in the past for blocking or lashing out at other Twitter users who disagree with his opinions.
Throughout history, it has been difficult to draw the line between free speech and hate speech, which often goes hand in hand with the incitement of hatred and violence. And with the rise of social media, the relative ease with which misinformation can be spread has come under scrutiny.
Twitter itself is no stranger to this when they were caught up in an intense debate after the banning of Donald Trump in 2021 due to the risk of incitement of violence. It seems that with looser restrictions in terms of allowed content, these types of bans would be less likely under Musk's ownership. Good or bad, this brings plenty of questions around the sanctioning of fake news and misinformation, as well as potential issues of misogyny, bigotry, racism, and sexism to the fore, regardless of where you stand within the debate.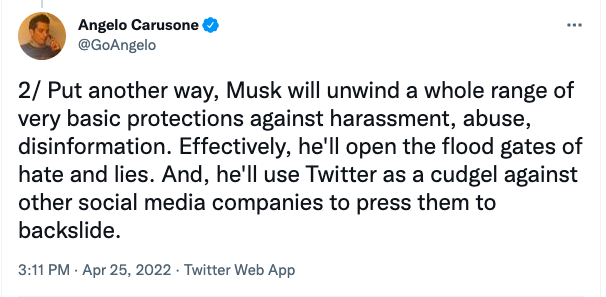 Image Source: Twitter
And the debate is already clear on Twitter itself. In response to the news, many users mentioned they were planning to quit the platform – with #ByeTwitter trending - if Musk took it over (to which he responded "I hope that even my worst critics remain") and have taken issue with the privatization of the platform as a whole: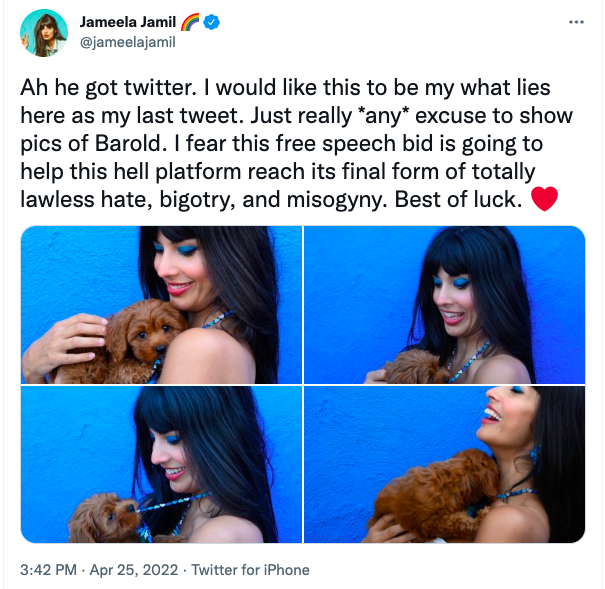 Image Source: Twitter
Others, especially those who lie on the Republican side of the political spectrum, have seemed staunchly in support of a Musk-led Twitter: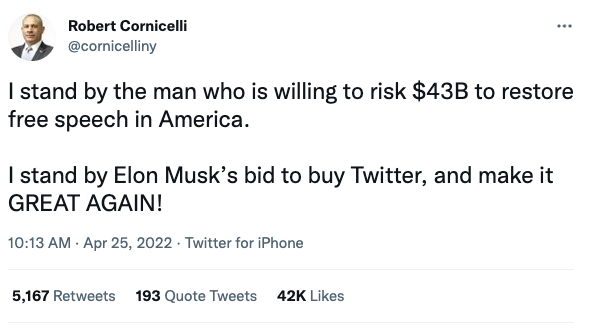 Image Source: Twitter
That said, when have Twitter users ever agreed upon anything? Perhaps that's one of the very things that keep people coming back for more.
Will Twitter survive?
Is there a possibility that a world without Twitter will exist in the near future? Or a world where Twitter is the long-forgotten social media channel of yesteryear, like MySpace? The future looks volatile, and social media fans will be in for a bit of a rollercoaster ride.
Twitter shares on Monday closed more than 5% higher after the deal was announced – but not as high as Musk's offer which equates to $54.20 per share. Whether he's overpaying or not is up for debate, but Musk says he doesn't care about the economics. And his move away from advertising revenue to a subscription-based model, which he is reportedly showing interest in, could be risky in an environment where most social media platforms are free.
Changes to features may mean people love the platform and use it more. It may result in them using the platform differently. Or it could be that users move away from the platform either due to changes in form and functionality or as a silent protest against Musk.
Moral of the story
We'll have to wait and see what unfolds here – but if Twitter is your primary source of advertising or content distribution, it may be worth considering other options. Twitter isn't likely to disappear into the void, but changes to the platform and its mission, values, and vision could see it alienating some users – and those specific users will likely migrate elsewhere.