Back to Blog
DirectLync Insights
Digital Marketing Trends To Anticipate In 2021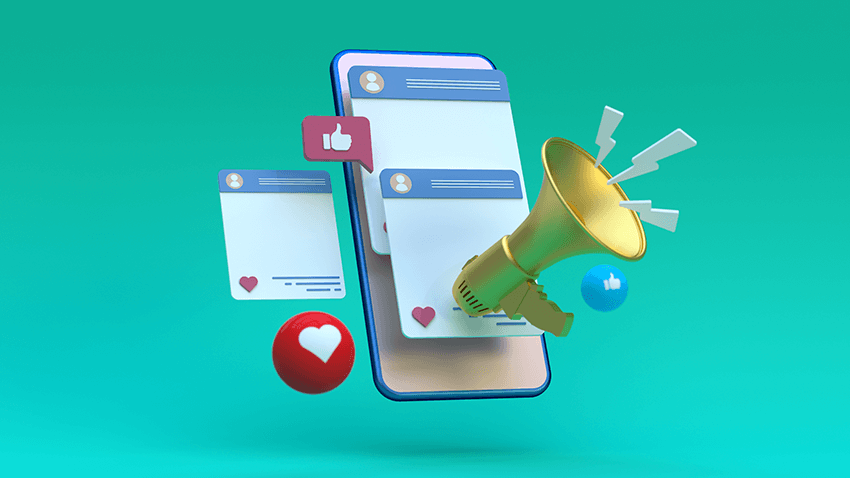 How has a chaotic year shaped many trends we're seeing today?

If there is one thing that we all can agree on, it's this: a LOT has happened in the last 365+ days. In fact, so much has happened in the last year that we're starting to question everything we thought we knew about time. Remember when the world went into a frenzy about that Peloton ad? That was just last year! Further adding to our suspicions is the hyper-acceleration of many of the trends we're seeing dominate the digital space today as a result of a global pandemic coinciding with a turbulent socio-political climate. These large societal shifts and our newly heightened dependability on technology have sparked somewhat of a digital revolution. On this page, we explore how a chaotic 2020 has accelerated the adoption of certain digital marketing trends in a few key areas:
Content and Platforms
Content Creation
Your Audience
Let's jump in!

Evolving Types of Content & Platforms
Can we be honest for a second? The last year has been rough. We're adapting to this new norm of a socially distanced lifestyle while also navigating the most polarizing socio-political climate that many of us have ever experienced. We're stressed, we're anxious, we're traumatized, and we're all just trying to cope the best we can right now.
The manner that we, as digital beings, are receiving and engaging with content looks different than it has in the past. Even the type of content we are open to receiving and engaging with is quickly expanding. After a year of extremely limited IRL connections, we're all craving new ways to fill our time and interact socially. Here are our top digital marketing content trends that have emerged as a result of our necessity for personal connectivity.
Don't Call It A Comeback
Audio communication has been here for years— approximately 150 if we want to get technical. With the rise of the internet and other forms of digital technology and communication, we haven't always given 'audio' the solo praise it deserves as a form of content. There has been a shift over the last few years with the increasing popularity of podcasts and audiobooks; however, in 2020, we saw accelerated growth in both industries which Deloitte predicts to be around 30% and 25% respectively.
Another place where we saw quick growth was the adoption of a new social networking app: Clubhouse. In December of 2020, Clubhouse had a total 600,000 registered users. Fast forward to now, about three months later, and registered users have skyrocketed to 6 million! Here's a quick breakdown from Backlinko of their growth over the last year:

Currently invite-only, Clubhouse peeked its head into the social platform arena just when we needed it most. It provided a new opportunity to connect and network with others in a different way than what we've recently been accustomed to. The audio-only platform allows members to join various "rooms" hosted by other users based on any topic of interest you can imagine. The content on the app is very minimal including only your profile picture, a bio, and your voice— that's it! Many are using Clubhouse to network, learn more about specific topics or careers, provide value to a new audience, or simply connect in this socially distant world. Other social platforms are exploring new opportunities in audio as content— most noticeably, Twitter who recently tested a similar feature (Spaces) that will directly compete with Clubhouse. This comes a few months after their introduction of audio tweets.
I'll Send Out The Zoom Link!
Let's give it up for 'livestream'! Seriously, if there is one form of content that saved the day, it's livestream. How else could you sit through that zoom call that could've been an email? Although live-streaming is not new, social distancing has forced live streaming to step up as the next best thing to IRL experiences. Take a look at these stats:
99% increase in live streaming last year (Alex Cattoni)

48% increase in daily live streams on YouTube in the first half of 2020 (YouTube)

56% of livestreamers agree that watching live streams can be just as good as being at an in person event (YouTube)
Live Streaming will continue to be a dominant force for the foreseeable future— especially as more businesses realize the ROI of remote work and virtual events. It also provides an increased opportunity for accessibility to new audiences. If you're already going live on any of your social platforms or Zoom, it wouldn't be a bad time to think about how you can start repurposing live streams into other areas of your digital marketing strategy. Pick out key moments or valuable pieces of content to use at a later time on social media, in your emails, or on your website!
Vine Walked So Tik Tok Can Run
There really is no escaping short form video right now. As content creation and consumption have become more accessible and with our attention spans quickly dwindling, these bite sized snippets of video are virtually everywhere.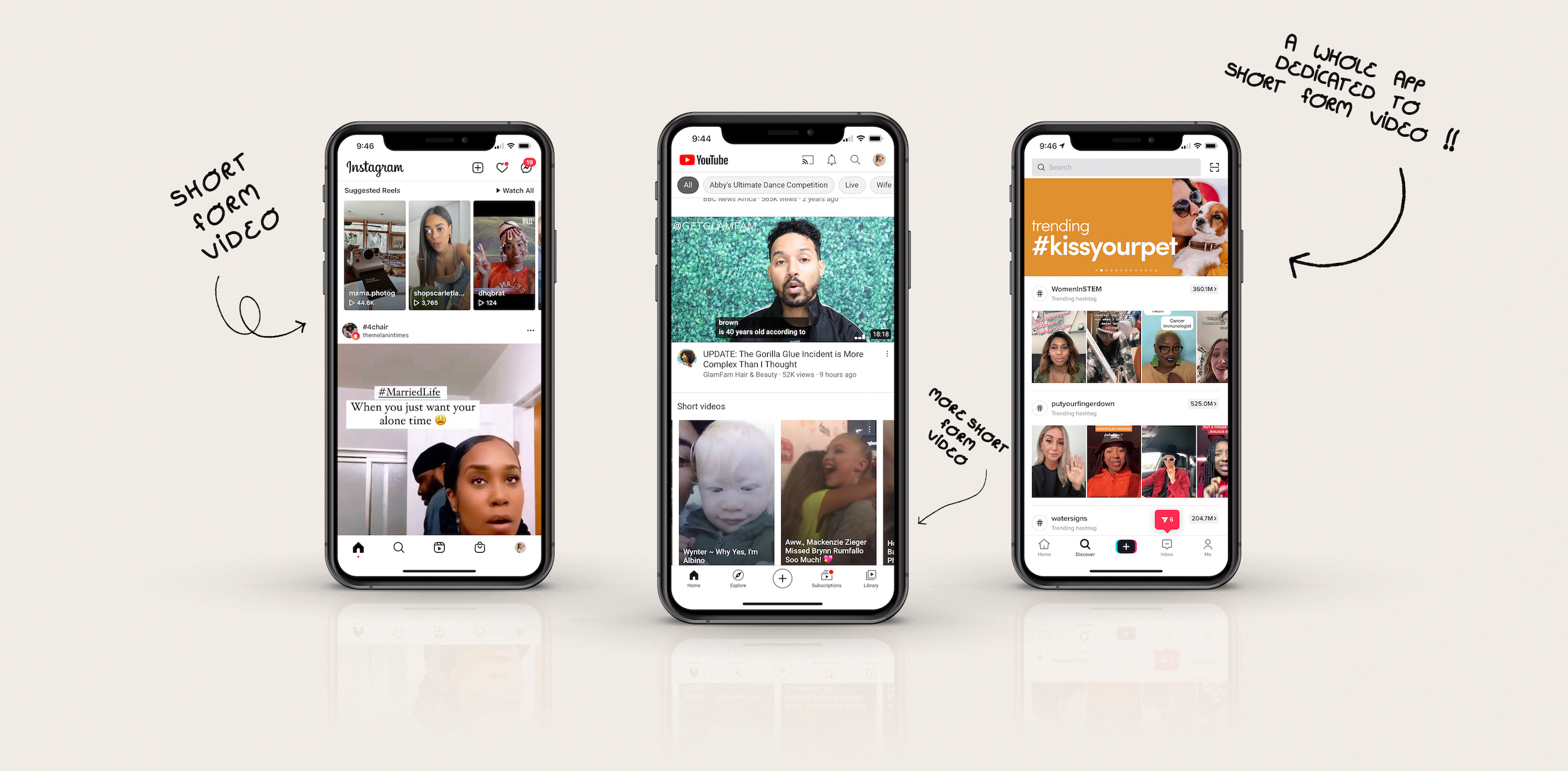 We saw short-form video's quick rise to fame with the introduction of Vine in 2012. Since then, we've seen various iterations from Snapchat all the way to Tik Tok. In a world of perfectly curated news feeds and grids, short form videos like stories, Tik Toks and Reels feel more open to imperfectly curated content. They're a quick, less formal way of engaging with your audience.
Thanks, I Got It From Instagram!
This is a safe zone. We promise we won't judge, but if you're reading this, we have one question: when is the last time you've impulsively bought something while scrolling social media? If you have, you're not alone! The social commerce industry is expected to grow by 34% by the end of 2021 as brands continue to decrease barriers to purchase while COVID-19 keeps us at home.
In the past, digital and content marketers have tried to stare their clients clear of the idea that sales are directly related to social media content. Up until now, social media has largely been a part of the discovery phase for shoppers in their purchase journey. Now, you can fully set up shop on your Instagram to sell products and services linked via your website. Your customer barely has to move a muscle, doesn't have to leave the app, and if she's tech savvy, she won't have to grab her wallet because Apple Pay is already set up!
Evolution of the Content Creator
Over the last few years, we've seen the adoption of a new member of the digital marketing community. 2015 gave rise to the Influencer and what we now call "influencer marketing"— an industry that's now worth $10 billion dollars in just a few short years. In 2019 alone, YouTube contributed approximately $16 billion to the US GDP. That's the equivalent of 345,000 full time jobs and more than 6x the amount of emergency medicine doctors currently employed in the United States (The Verge)
Let's take a quick look at how the marketing industry defines Influencer Marketing:
At a fundamental level, influencer marketing is a type of social media marketing that uses endorsements and product mentions from influencers–individuals who have a dedicated social following and are viewed as experts within their niche (Sprout Social).
For years, our collective idea of "the influencer" has been fairly cookie cutter: an instafamous blogger with tons of followers, super sociable, great style, on top of the trends— girls like Dionne & Cher! If these ladies had Instagram back in the 90s, they would probably be some of our favorite semi-problematic lifestyle influencers.
In the last 2-3 years, we've seen a shift from this reigning archetype of influencer (which, if we're being honest, has always felt hyper-exclusive) to a more inclusive world of content creators. Realistically, virtually anyone can create content and in 2021, we as consumers are hungry to consume it all. Our longing for human interaction in a socially distanced world, the collective newfound free time on our hands, and cries for social justice, have all resulted in an audience that is more open and diverse to stories and storytellers than ever before. We're now seeing the digital space open up to content creators and storytellers that are diverse in age, size, color, industry, etc.
For example, the iconic 80-year-old Dionne Warwick has taken Twitter by storm as one of the platform's funniest accounts of the year. Her tweets are quick witted and full of elderly wisdom. Most importantly, they feel authentic to what we'd expect from our 80-year-old grandmother.
My Foolishness PSA has made it to print. Thank you, @Twitter! Leave it in 2020, y'all. 🙏🏽❤️ https://t.co/SUzl7VP8Un
— Dionne Warwick (@dionnewarwick) December 21, 2020

Dionne's rise to Twitter fame highlights the real need for brands to adapt to the world's growing desire for diversity and inclusivity. If we take a look at age, there are currently 728 million people over the age of 65. In the next 30 years, this number will more than double (YouTube). Yes, you read that right. That's a lot of senior citizens. Brands need to think about how they will adapt to suit what will be required of a continuously evolving audience.
Influencers and creators are no longer one size fits all, so we challenge you to think about two things: 1) who is telling your story 2) who is your story being told to. The story you're telling and who's telling it are just as important, if not more, than the audience consuming it.
Evolving Relationship Between Brands & Their Audience
The nature of the relationship between businesses and their audience is rapidly changing. Today's customers are smarter, they can smell BS a mile away, and most importantly, they demand authenticity. If 2021 has taught us anything about consumer behavior, it's that informed shoppers want to spend their money with informed, empathetic, customer centric brands with clearly aligned values. We're all curious to see how brands will navigate in an ongoing pandemic amidst turbulent social, political, and economic crises.
The demand for transparency doesn't stop there. By now, consumers are well aware of the amount of data that brands and advertisers collect. It seems that all we have to do is think of some product or service, and it's not long before we're seeing ads across all our digital devices. As we all grow weary of the idea of robots tracking our every want and desire, we're seeing a shift away from third party data collection like cookies. Consumers want to know who they are giving their precious information to and just how it's planned to be used.
The theme that has stuck out to us the most among all of our research is the paramount importance of authentic interactions with your audience. 2020 has shown just how quickly our norms and habits can change, so we challenge you to take a step back from some of the rigidity that we often see in standard digital marketing practices. It's time to refocus that energy on the things that will remain consistent: your brand's story, your brand's values, and as a result, your brand's audience.