Back to Blog
DirectLync Insights
Content Marketing Defined in 200 Words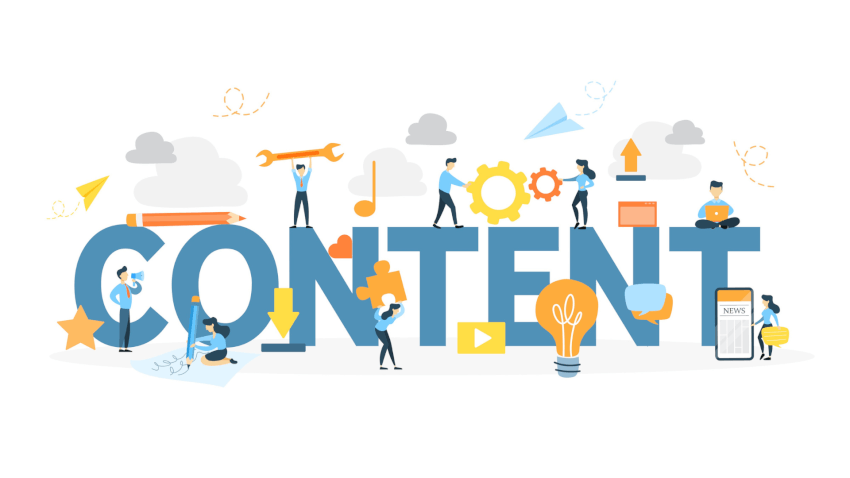 There seems to be a lot of buzzwords thrown around by marketing professionals these days. From "CX" and "bounce rate" to "A/B testing" and "customer journey," it can be tough for savvy marketers to keep up with the ever-evolving industry lingo.
However, one phrase you definitely need to know is "content marketing". If you've ever heard this term in a meeting and were too embarrassed to ask what it meant, well, don't sweat it!
Here, we'll explain what content marketing is within 200 words. We'll also give you a brief rundown of the types of content you should be using in your campaigns.
While content marketing may sound scary, it's really quite simple. If you've ever shared a post about your products or services on social media, you've already done some content marketing of your own!
What is content marketing?
At its most basic level, content marketing is the process of creating and sharing relevant, valuable content. Its goal is to attract, obtain, and retain your target audience. This includes videos, images, and blogs on your business website, social platforms, and other outlets to persuade consumers to take action. For example, a post on Facebook could showcase the unique benefits of a particular product and prompt a reader to click a link to a product landing page to learn more.
When it comes to content marketing, the operative word is "valuable." This is what sets this strategy apart from more traditional methods of marketing and advertising. Content marketing is all about educating your prospects and leads about the benefits of your business. This deepens brand loyalty, nurtures relationships, builds community, and ultimately boosts conversions.
Today's consumers want to learn about your products or services. In fact, 78% of brands believe that their content marketing efforts were successful in 2021. And 66% of marketers plan to increase their content marketing budget this year.
If your brand hasn't hopped on the content marketing bandwagon yet, now is definitely the time to do it.
Benefits of content marketing
Now that you know what content marketing is, let's explore why your company should be using it.
One content marketing success story that really stands out to us is the conversational marketing platform Drift. Just six years ago, nobody knew what the Drift brand was all about. In October 2016, the company had a meager monthly blog readership of just 198. But just eight months later, that number catapulted to over 27,300 readers per month. Drift attributed its overnight success to its content marketing efforts. Today, Drift is one of the fastest-growing software companies out there, serving powerhouses like Grubhub and Oracle.
Content marketing doesn't just start a dialogue with your customers. It keeps the conversation going while delivering exceptional results.
The proof is in the pudding:
Brands that use content marketing capture 7.8X more organic traffic than companies that don't
Content marketing increases lead generation by 3X while costing 62% less than other digital marketing strategies
Marketers who regularly post content to their blog experience 13X greater ROI than those who don't
So, how can you harness the power of content marketing to set your brand up for success? Here are six types of content you can start using in your marketing efforts today.
Six types of content all marketers should be using
Here are six common types of content you can easily integrate into your existing strategies.
1. Blog posts
Educate customers about your company and its offerings through informative, engaging blog posts. Stick to a consistent blogging schedule and ensure your articles are optimized for SEO. You can then share your blogs on your social media channels, emails, and other marketing avenues to attract more readers.
2. Videos
Videos are the leading format marketers use in their content marketing efforts. Quality video content can effectively engage and educate customers while getting your brand in front of more eyeballs.
3. Infographics
Infographics, whether posted to your blog or social platforms, deliver valuable content to readers in an extremely digestible format. When using infographics, try to avoid using too much text and let the colors and images tell the story.
4. eBooks
While some marketers may assume an eBook is a beast to create, this content provides invaluable information to your prospects. Encourage customers to take action by offering them a free eBook in return.
5. Slide decks
Slide decks are another fantastic format for breaking down complex ideas in an easy and comprehensible way. Keep each slide as simple as possible and use minimal copy and imagery so as not to overwhelm the reader.
6. Case studies
Case studies, or customer success stories, are real stories about how your brand helped real customers solve a problem. Always include data and numbers in your case studies and focus on the results, not your business.
Content marketing made easy with DirectLync
Content marketing campaigns include many moving parts. This can make it tough for small teams to stay on top of all their content. DirectLync's innovative suite of digital marketing tools allows your business to grow its audience and drive profits. Whether you want to streamline your social media campaigns or automate essential marketing tasks, we've got you covered.
To experience DirectLync for yourself, sign up for a free trial today.