Back to Blog
DirectLync Insights
Back To The Basics: Breaking Down Instagram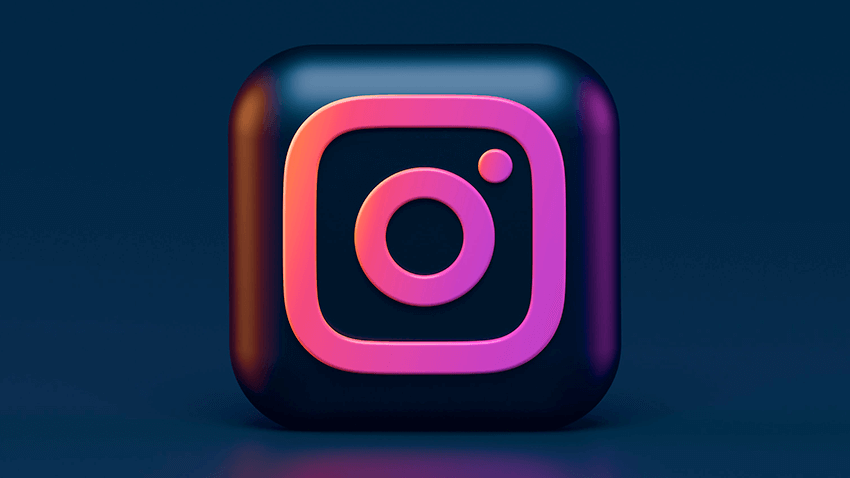 Today, we're taking it back to the basics and breaking down the latest version of Instagram for you! If you're looking for specific information on scheduling your Instagram posts with DirectLync, click here.
Let's jump in!

The basics
Here's a brief rundown updated Instagram app (as of May, 2021):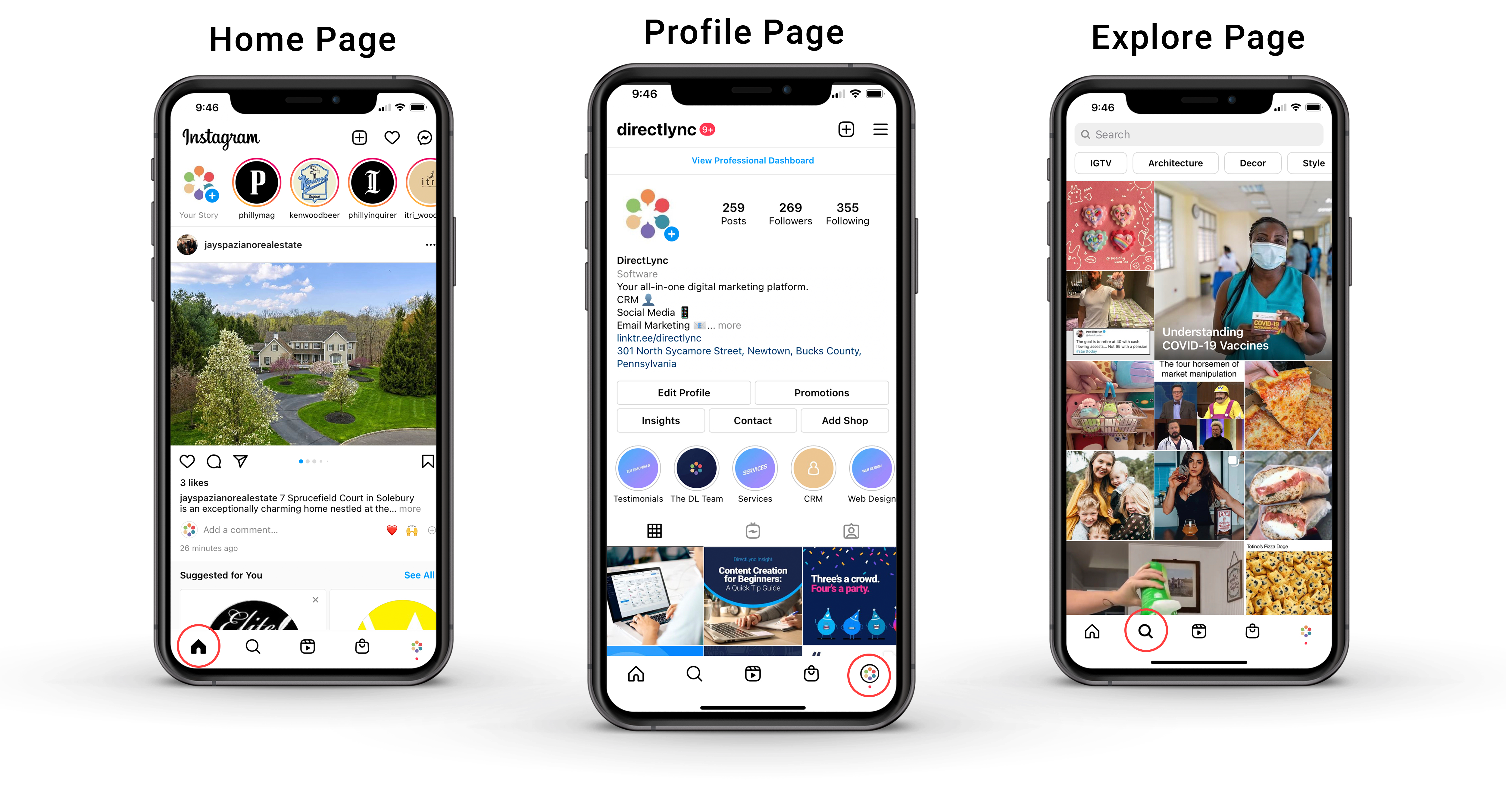 Homepage: Your homepage contains posts (feed, reels, & stories) from all the people that you follow, targeted ads, your notifications, and your inbox.

Notifications: This is where all your contents' likes, comments, and handle mentions appear.

Direct Messages: Where any messages (aka DMs) sent to your profile or story replies will appear

Explore Page: An endless selection of posts that Instagram's AI has curated for you based on content and accounts that you like & engage with

Reels: This is essentially Instagram's own little version of Tik Tok built directly into the app. Similarly, to your explore page, it is an infinite scroll of curated content, but this time, it's specifically short form videos up to 30 seconds long. For more on reels, keep reading!

Instagram Shppping: A few months ago, Instagram pulled a fast one on all of us and replaced the original notifications button with a shopping page— an endless feed of shoppable products from Instagram accounts and brands you may be interested in.

Profile: Your profile is what people see when they first come to your page. It contains your profile photo, bio, story / story highlights, feed posts, reels, IG TV's, and tagged posts. If you have a business profile, users can see certain other call to actions at the top of your page like your shop and contact information. On your end, you can see your insights, promotions, options to edit your profile and a plethora of other settings.

The Channels
One feature we skipped over was the small + button that can be seen from your homepage and profile page. This is your post button and it's driving the ship of your Instagram channels' strategy. This button gives you access to post to the following IG channels:
Feed: A post to your feed will appear on your follower's home page as well as semi-permanently on your profile page unless you decide to delete or archive it. You can post images and videos up to 60 seconds to your feed.

Story: Story posts are images/carousels, videos (in 15 second intervals), or text posts posted to your… well your story, and they remain visible for 24 hours. If you would like your story to remain visible on your page for longer than 24 hours, you can add it to your story highlights!

Story Highlight: Story highlights are personalized, customizable collections of your saved stories that appear across the top of your profile when someone visits.

Reels: If you're familiar with Tik Tok, then you're familiar with Reels! Like we mentioned above, Reels are 15-30 second short form videos that can be about whatever you want (within Instagram's terms & conditions of course!). Pro KPI Tip: Reels are AMAZING for reach and impressions.

IG TV: If Reels are Instagram's version of Tik Tok, then IGTV is Instagram's version of YouTube (but not nearly as good. Sorry, Instagram!). IGTV videos can be between 15 seconds and 10 minutes long; however, if your account is verified or you have a large following, you can post videos up to 60 minutes long.

Guides: Instagram guides are a new feature that is a cross between carousel posts and a blog.

Best Practices

Aspect Ratio
The following aspect ratios are best suited for Instagram:
1:1; 1080 x 1080 (square)
4:5; 1080 x 1350
9:16; 1080 x 1920
Here's a cheat sheet courtesy of Michael Murphy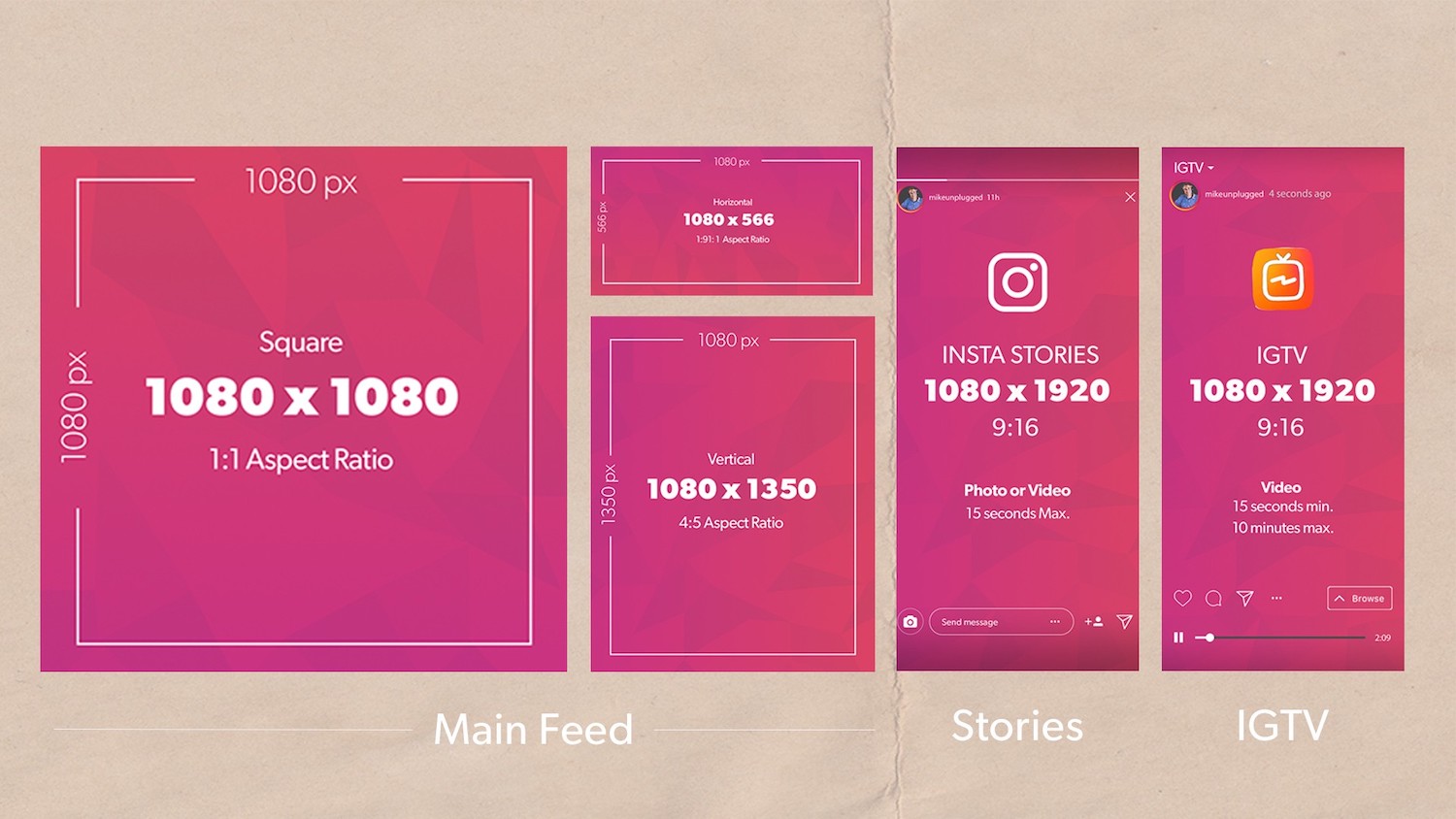 Hashtags
Hashtags are a string of letters, numbers, and/or emojis that form keywords or short phrases that you can add to your photos. Instagram uses them to categorize and organize posts in a way that allows other users to find them. You can use up to 30 hashtags per post and they can be included in your caption or in your personal comments. Here are our best tips for hashtag usage on Instagram:
Only use hashtags that are relevant to the content that you are sharing as well as your brand
Don't use too many hashtags with high volumes because your content is more likely to be lost among the clutter
Place the majority of your hashtags as your first comment + use 5 periods. It will help keep your posts' appearance nice and neat. Ex.: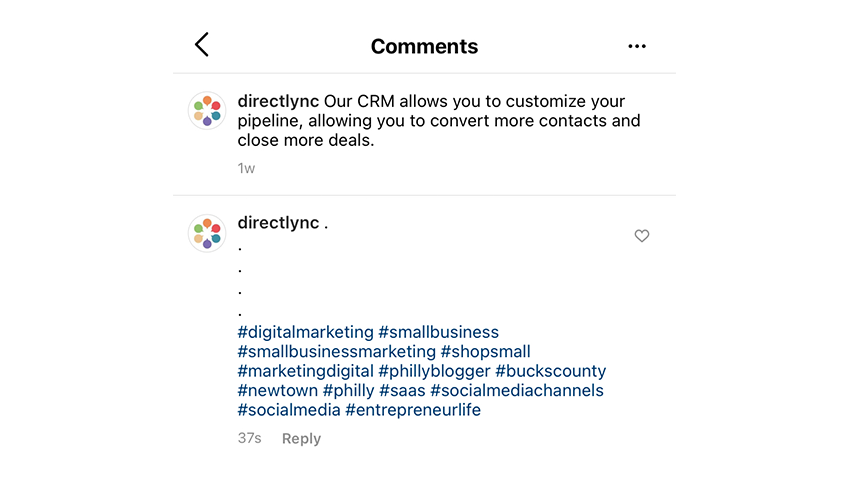 Frequency
The frequency that you post can vary for a variety of reasons - industry, availability of content, your free time, and so on; but at the end of the day, we always suggest quality of post over quantity of posts! It's imperative that you provide your community with valuable content that resonates with them. At the least, we suggest trying to get an initial rhythm down of 3-5 feed & story posts per week.

Engagement
It's called social media for a reason! Be social. Engage with the people you follow, your followers, your industry, and hashtags you frequent. Engaging will allow you to cultivate your community and organically grow your following.

Frequently Asked Questions

How can I schedule my Instagram posts with DirectLync?

What's the difference between a personal account, a business account, and a creator account?
A personal account:

If you're not interested in strategy, insights, automatically scheduling your content, or any of the other bells and whistles, a personal account might be for you. Personal accounts can be set to public or private and have all of the basic features that an Instagram user should need. There are, however, some limitations to personal accounts such as lack of insights / analytics and inability to monetize as well as a few other missing features.

If you're looking to use Instagram solely for fun and don't care about growth strategy, go with a personal account!

Business Account:

A business account is the most robust out of the three types of accounts Instagram has to offer. In addition to all of your basic features, business accounts allow you to review insights and analytics relating to your content, audience, and activity. You will also have access to branded content & promotion tools, the ability to sell from your website through Instagram (social commerce), as well as a slew of other business specific features like quick replies and ability to run ads. *Note: In order to schedule content to Instagram using third party apps like DirectLync, HootSuite, Sprout, etc., you must be set up as a business account. Click here to learn how to switch to a business account.

Creator Account:

Creator accounts fall somewhere in between personal and business accounts. It has many of the features of a business account most noticeably missing a few analytics and Instagram Shopping. Creator accounts are ideal for influencers and content creators that are looking to monetize and manage relationships with brands.

When is the best time to post?
The "best time to post" is constantly changing. Our habits are constantly changing (notice how pre-pandemic, the best time to post was 8am. Over the last 1+ year, we've seen the best time creep a little later to 10 to 11am on certain days. Here's our take on it: post at whatever time makes you and your audience happy! You'll start to pick up on what times your content performs the best. At the end of the day, social media is one big experiment. You try things and if it doesn't; work, that's ok! Post when you want because if the content is worth it, your community will find it.

What can I post on Instagram?
You can upload image files (JPEG & PNG) as well as video files (.MOV & .mp4) to Instagram; however, for now from DirectLync and other social media schedulers, you can only schedule JPEG files. As for video files, the length of what you can post will depend on which Instagram channel you are trying to upload your video to. Please reference the channels section above for video lengths.

Resources
Here are a few resources to help you flourish on Instagram: