Back to Blog
DirectLync Insights
5 Ways To Empower Your Creative Side as a Digital Marketer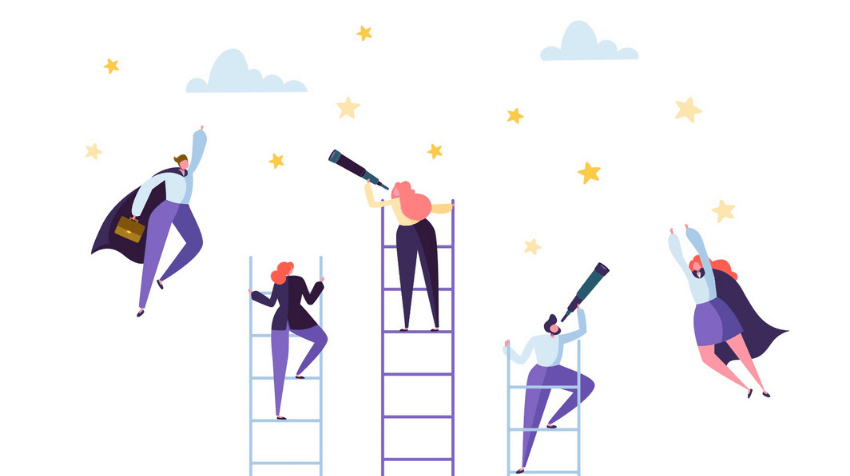 Have you ever spent an unspeakable amount of time looking at a blank document hoping something will click?
Because same (and I am not even embarrassed to admit it).
Coming up with ideas is hard and what's harder is to feel good and confident about your ideas.
Imposter syndrome might creep up and tell you that you don't know anything. Your confidence in your own talent and skills might waver if you don't see the expected results or your campaign doesn't perform as you expected it to.
So, how can you empower your inner marketer to unlock your creativity and tap into your potential? We asked five marketers what they do to keep the creative juices flowing and how they remain confident and empowered.
1. Switch things up
Routine can be good. It helps you maintain healthy habits and self-care practices. But sometimes, stepping out of that routine not only makes you energized but also inspires your mind to think differently.
Natalie Furness, CEO RevOps Automated, said, "A change of environment can get your creative juices following. You approach things differently, get creative ideas in your mind, and get the confidence to step out of your comfort zone."
According to Natalie, you should also play as many sports as possible. It doesn't only keep you active but also challenges you to be more creative towards problem-solving in different ways.
2. Make a success folder
We have all been there — constantly questioning whether we are up to the job or whether the campaign we are running is on the right track.
Lindsay Miles, Executive Director of Marketing at Emory University, talks about her own process of building self-confidence saying, "I have a 'success' folder that I drag projects I'm proud of into as well as words of encouragement and kudos I receive from others. This is especially important to review when I'm feeling a bit down and out with my contributions to my organization."
So, if you are feeling like your self-confidence is fluctuating and the imposter syndrome is trying to creep in, open up your success folder and see yourself rock!
3. Keep learning and exploring
The minute you think you know everything there is to know about marketing, you make a huge mistake.
Marketing is ever-evolving and you have to constantly be learning and perfecting your craft.
According to Dan Moyle, HubSpot Advisor, you should always keep time in your schedule for books and podcasts to keep learning new things. He says, "Look for inspiration everywhere — from big brands to local events. You will find ideas all around you so you should never stop learning and getting inspired."
4. Connect with other marketers
No matter what field you're in, you need to have a community by your side to share your wins and losses and to learn and grow as a professional.
Chantelle Marcelle, a Growth Marketing Strategist, talks about the importance of connecting to other marketers with varying levels of experience. She says, "One of the best things I have done for my career in the past two years is focusing on adding smart, supportive, kind people to my professional network. It makes all the difference when you're able to tap into this sense of connection to find confidence and passion for your work."
5. Get started
If you are feeling stuck or uninspired, the best thing you can do is just get started. Often, we let imposter syndrome or our fear of failure prevent us from trying new things or experimenting with new campaign ideas.
Sierra Carter Gordon, Marketing Manager at DirectLync, suggests that you just get started. According to Sierra, "Most aspects of marketing are about trial & error. Confidence comes from simply getting started, seeing what works and what doesn't work, learning from that, and applying those lessons in your continued work."
Empower your inner digital marketer!
Digital marketing may seem scary at first. There are so many avenues to explore and no right answers. So, how can you become the most confident version of yourself as a marketer and unleash your creativity and passion without any self-doubt? Start by following the tips mentioned in the article above and empower your inner digital marketer today! If you need more resources to help you with your marketing journey, sign up for our newsletter here.