Back to Blog
DirectLync Insights
5 Creative Ways to Adapt Your Business During COVID-19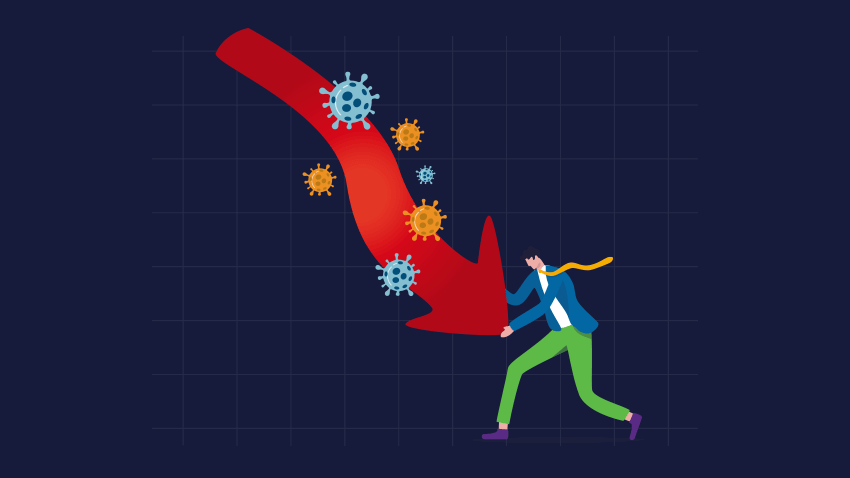 Businesses are facing challenges like never before, especially the small business community. 54% of all small businesses in the U.S report they are closed or could close within the coming weeks. The Coronavirus is making a significant impact on small businesses everywhere, in fact:
More than 8 in 10 small businesses are concerned about the impact of COVID-19 on their business. *
59% feel comfortable with their current cash flow compared to 80% in Q1. *
*Source: U.S. Chamber of Commerce: Special report on Coronavirus and Small Business (April 3, 2020) ​
While this time is stressful and uncertain, it has also shown the true entrepreneurial spirit of small businesses and sparked a lot of creativity and innovation. New business ideas and additional revenue streams have surfaced that are keeping businesses running and open.
In this blog, we are going to highlight some of the ways our clients and other local small businesses are adapting to continue serving customers during COVID-19 (and beyond).
New small business opportunities
Your small business is not alone in facing the challenges COVID-19 has thrown at us. This scary time has forced us all to think outside the box. Small businesses have always been extremely resilient, creative, and determined. This mindset has led to some pretty incredible and new opportunities for businesses. Below we've identified five different ways that small businesses have shifted their business model due to COVID-19.
1. Taking your business digital
As a small business, COVID-19 has forced having a digital presence amongst all of us, whether it be to serve the customer or to just communicate with them. Whether your business has a digital presence currently or hasn't started using digital platforms yet, now is the time you need to rely on them.
Not all businesses will use digital tools in the same way. Each will have a different route, depending on your business. For instance, if you usually meet with clients face-to-face, you can have Zoom meetings instead. If you own a boutique, you can build a website so people can still shop, just online. It's all about creativity and keeping businesses coming in the doors.
A local business that has made a big adjustment to their business is Khalsa Healing Arts and Yoga Center. They offer in-person yoga classes and teacher trainings at their studio. Knowing that this is a stressful time for everyone, they still wanted to provide their yoga classes even though their studio is closed. They decided to invest in a video streaming platform to build an online site for members and newcomers to access both live and on-demand classes. With their digital business, users can pay per class or purchase a subscription and have access to all their videos. Not only does this create a new channel to access their classes, but the on-demand feature allows for people to take their classes in their home, at their own convenience, which wasn't an option before. Khalsa sees this as not just an investment for now, but also an additional service they can continue to offer in the future.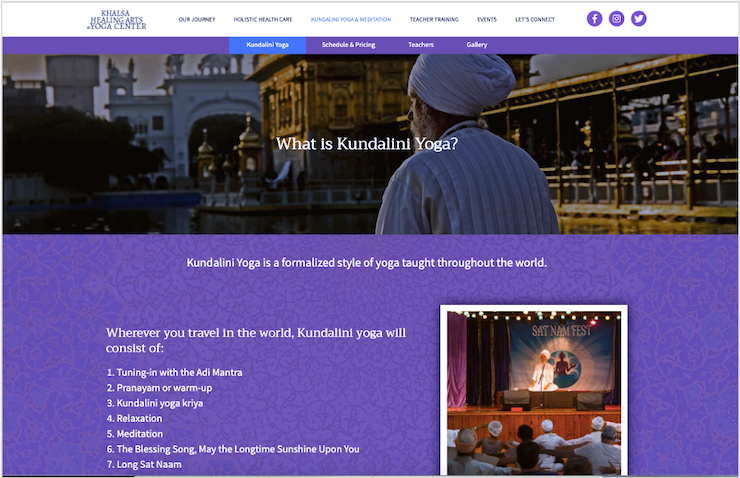 Another way businesses can change the way they do business to digital is by doing video call appointments. One of our local businesses, Caramenico Counseling Group, has had to change from only doing face-to-face meetings. Caramenico Counseling Group is a local psychologist group. Since they're unable to meet in person with their clients, they've converted their business to a digital format by using an audio-video platform that is commonly used in the healthcare industry.
So, what's unique about what they're doing? The specific platform they're using abides by HIPAA regulations and continues to be private and confidential. The beneficial part about it is that most insurance companies accept the platform so their patients are comfortable using it too. Caramencio Counseling Group's clients have found this way of communication very appealing and trustworthy. This simple shift to a digital business has helped the business strive and operate during COVID-19.
Another example of a business that went digital is Showstoppers Plus. Showstoppers Plus is an event and party planning company whose business was solely reliant upon face-to-face contact. Over the past few weeks, people have turned to virtual conferencing to gather not only professionally, but socially as well.
Side note, if you haven't had a Zoom party, you should try it!
Showstoppers Plus came up with a cool way to turn their business digital; they are helping people throw virtual parties. For instance, if you have a child's birthday coming up, Showstoppers Plus will help you organize an interactive online party and even drop off supplies at your home. They'll also supply you with a party host to ensure the event runs according to plan. Showstoppers Plus has shared a great way to lift people's spirits and focus on the positive things during this tough time.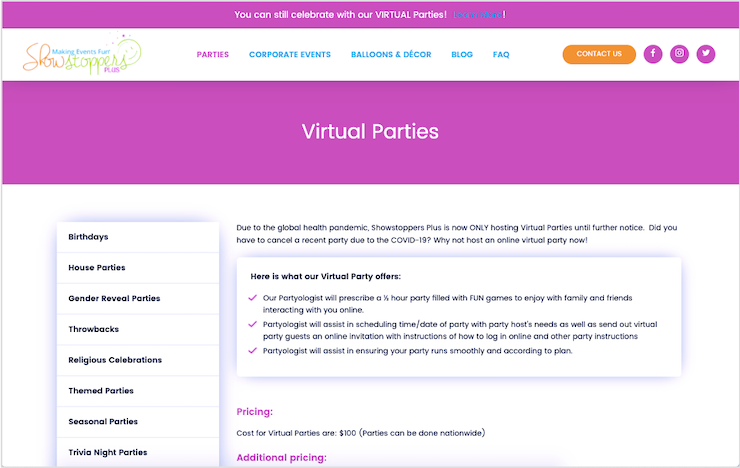 It's your turn to go digital. Strategize a way that you can turn your business into a digital one, like Khalsa Healing Arts and Yoga Center, and keep it continuing for the future. How can you go digital with your business?
2. Finding new ways to share your offering
I'm sure everyone reading this is frustrated about not being able to get haircuts or any other services that they need. And trust me, your service providers are feeling the same. Every business that offers a face-to-face service has been putting their thinking cap on and coming up with new and creative ways to still provide their service even in quarantine.
One local business that has been doing an excellent job of this is Chuck's BBQ. Chuck's BBQ is a food truck that converted its commissary into a brick and mortar takeout location with online ordering and delivery. They've converted their catering kitchen to accommodate takeout orders. Since we built their website, we quickly added the ability for customers to place orders online and then head to the location for pickup. Chuck's also is offering delivery to a reasonably broad area.
What Chuck's BBQ is also doing is offering a discount to police, emergency, and healthcare workers. They are also donating meals to local hospital workers. By doing this generous deed, it has increased their exposure and has expanded their organic growth and engagement on social media. Consumers now have a desire to support small businesses, especially small businesses like Chuck's, who are lending a helping hand in the community.
The next example is my absolute favorite, and I think the most creative I have seen so far. Folino Estate Winery is a local winery and restaurant that turned their wine tastings into a virtual wine tasting experience. For $99, you get 3 bottles of wine, tasting glasses, corkers, and a zoom invite link. Folino Estate will hold a virtual wine tasting class with you. This offers you a different type of experience as well as something new to do instead of puzzles and cleaning.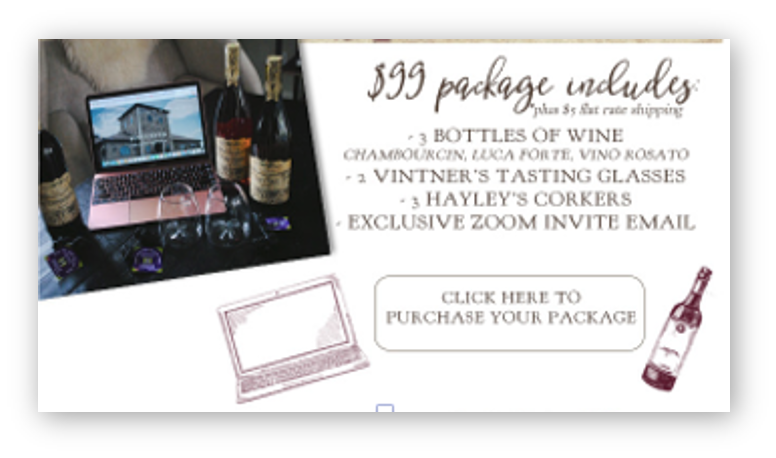 Chuck's BBQ and Folino Estate Winery has shown us some great ideas of ways to still connect with customers. If you are still able to be open, think of ways that you can make customers feel safe and comfortable when shopping with you.
3. Using virtual tours to replace in-person experiences
Have you ever wished you had the opportunity to view or experience a place before you actually went there? Well, museums, schools, zoos, and so many more sites have created virtual tours for a time like this. Virtual tours allow you to experience the environment of what you would see in person, just virtually. It is an excellent way for your small business to market themselves during these uncertain times.
For example, Spring Village at Pocono and All Systems Go AV have partnered together uniquely. Spring Village is a senior care facility that used to rely heavily on face-to-face visits and tours to fill their unoccupied rooms. With the help of All Systems Go AV, they put together an entire virtual tour, which really gives people an inside look and educated experience on their grounds. It has really helped their business and is a tool that will continue to be used once business operations return to normal.
Another example of a business that has created virtual tours is Jay Spaziano Real Estate. The housing market has turned to a strictly digital platform mostly because open houses aren't a viable option to display homes right now. To advertise their homes, Spaziano developed high-end virtual tours that walk viewers through a property from the ground up. This service has kept their business striving and further cements them as a leader in the real estate market in our region.
Jay Spaziano Real Estate and Spring Village at Pocono are just two examples of how virtual tours have replaced the in-person experience. Virtual tours are an excellent way to keep your audience engaged with your content and stay on your website. If a virtual tour can be a good piece of content for your website, figure out a way to use it for your business, and promote it.
4. Focusing on creating products that make a difference now
During these uncertain times, it is not just important to help your own business but focus on creating products that make a difference in the current times. The most creative ideas that we have seen are businesses using the materials they have on hand to create products that are in demand currently or can help others. A few questions to ask yourself are:
What do people need right now? Are there shortages in the market for their needs?
Do I have the materials to make something that would help alleviate this shortage?
If not, can I create something that will help others and still help my business?
A great example of a company that is making a difference is Jetty Apparel. Jetty Apparel created the Rising Tides Initiative, which supports local businesses in the retail industry. Jetty has sold its apparel in a lot of coastal retail shops, and when you purchase one of their branded t-shirts, 100% of the profits go to the retail shop of your choosing. How amazing is that!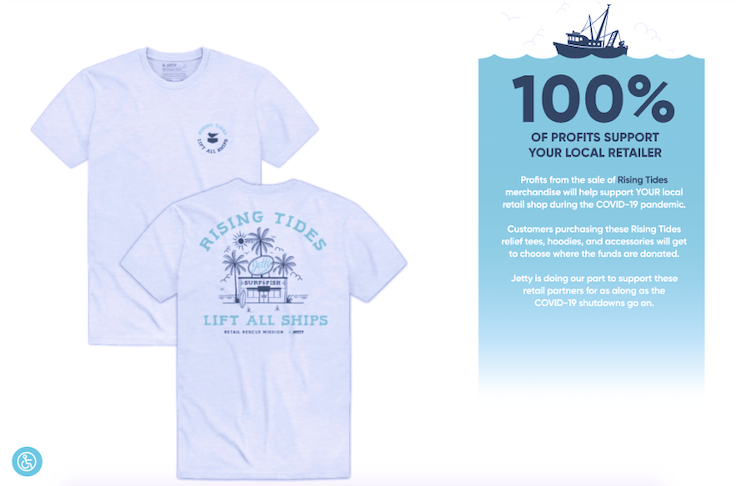 Another great example of focusing on creating products to make a difference is distilleries. Many distilleries have been making hand sanitizer for distribution to both individuals and hospitals. While distilleries are still able to make and sell their regular products, these distilleries realized that hand sanitizer was in high demand and low supply. With all the ingredients you need to make hand sanitizer in stock, they quickly shifted to start making something that was needed to keep everyone safe and healthy during this time. With this small shift in their focus and production, many distilleries were able to give their customers what they needed in a different way.
Changing up your company's focus a little and creating something that can make a difference not only alleviates some of the need for hand sanitizer but associates your brands with meaning. For example, if your local distillery helped out local families and hospitals by handing out hand sanitizer, next time you decide to go pick up alcohol, you will remember who helped out your local community. This may make you more likely to purchase their products over another brand.
At DirectLync, we recommend spending time strategizing a way to refocus your product or service to make a difference. Use supplies you already have and make a bigger name for your company by helping out when your local community is in need.

5. Building deeper connections with customers
Building relationships with customers is like building a friendship – it doesn't happen overnight, but it grows over time. During these uncertain times, it may be a perfect opportunity to develop deeper connections with customers, especially for companies that are closed but still need to stay connected.
One institution that is building deeper connections with its customers is Conwell-Egan Catholic High School. If you have kids, you know very well that schools have been heavily impacted during this tough time. The way schools communicate with students and parents has changed, especially the way teachers have to teach. Conwell-Egan has continued to interact with its students through videos and virtual conferences and classes. It's proven to not only be beneficial for its current students, but it is a great recruiting tool that showcases the school as one of the best in the region.
Another business that's communicating well with their customers is Fuze Barber Shop in Newtown, PA. Since they are a business that is unfortunately closed, they can't rely on any sort of alternative means to their business right now. They're constantly communicating with their customers as they usually would and are making sure that their customers keep them in the forefront of their minds. What they have been doing is pushing the sale of gift cards for future use as a way to support their business currently. One thing that I believe is a good strategy is how they are emotionally connecting with their customers. They are expressing that the buying of gift cards helps them through the immediate financial strain.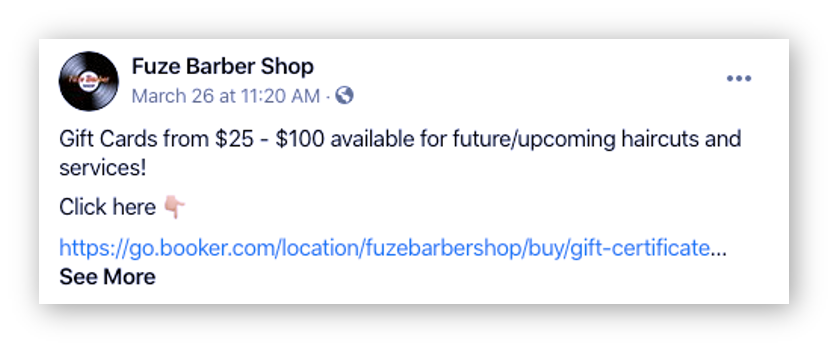 If you are a customer of a small business reading this blog, connect with those businesses, and buy a gift card or purchase an item. Any little bit helps and provides an optimistic view for the end of these times.
To learn more about how to adapt your business during COVID-19, watch the video here.
Get inspired to find new opportunities
We hope this blog inspires you, gives you creative ideas, and perhaps some hope in getting through these uncertain times. Create new offerings that can keep your business running. As a restaurant, offer take out. We are all facing these challenges in different ways. Our promise is that we are here to help any way that we can.