Back to Blog
DirectLync Insights
5 Considerations for Pivoting Your Sales and Marketing Strategies for COVID-19 & Beyond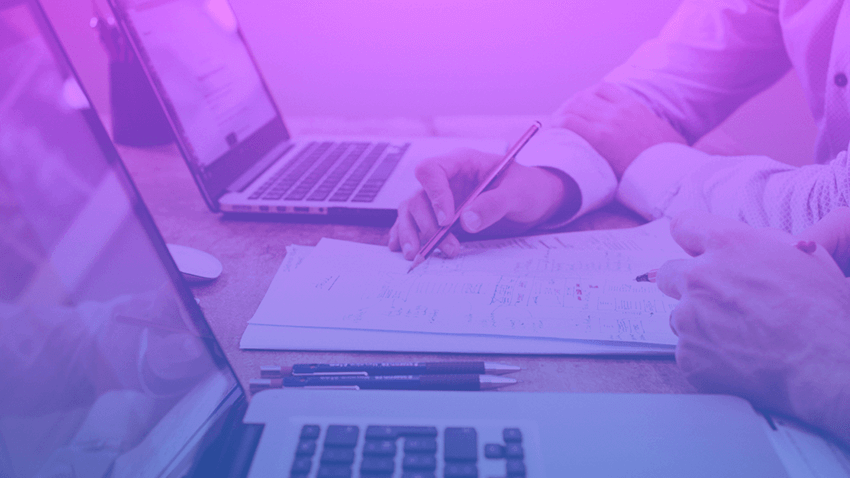 It's now almost three months into the COVID-19 pandemic in the U.S., and businesses are starting to reopen with caution. I am sure you are thinking about what it will be like to open your business in this "new" world.
These unprecedented times call for changes in how we operate and communicate as a business, but the scariest part of all of this is that nothing will be the same for a long time.
We know there is a lot of uncertainty in how to navigate through this time period. That's why we put together some strategies and key steps to use in your small business that will help you build your plan for this new phase.
Let's first reflect on your journey through COVID-19 so far before we dive into how to prepare for reopening. How has your marketing and messaging changed?
We all began in the same spot, preparing our businesses for COVID-19. Now a lot of this was preparing to work from home or close doors, but once lockdown hit, we started to really understand the impact it would make on our businesses, customers, and shopping behaviors. With this long-term change, we had to come up with new ways to service our customers, and that brings us to where we are today.
While the future is a bit unknown, we still need to prepare and build a plan for the next phase. We are giving you 5 considerations that can help guide you as you start to develop your strategy and help make it a success.
5 Considerations for Pivoting Your Marketing Plan Post COVID-19
1. Pause, Pivot, and Prioritize
As you are building out your plan for reopening, start by analyzing what you had planned before the pandemic began. Are your campaigns still appropriate to start, or should you pivot?
It's time to reconsider any plans you had in place for the future to fit best with the current mindset of your customers. While things are changing, it doesn't mean you should stop marketing. Yes, it's hard to predict what will happen, but if you follow these three strategies below, you have a better chance of being successful.
Be empathetic
Everyone is experiencing the effects of the pandemic, and you must re-evaluate the message your brand is trying to convey. You will want to use a sensitive and empathetic tone when writing content. Be sure to consider this with the visuals you use on social media and in any marketing materials. Try not to show people in large crowds. Be considerate of people that are social distancing.
As stores reopen, they are taking a customer-first mindset. For instance, before they opened, they looked at their target audience's wants and needs, and how their products and services could offer them value. We have seen from the open businesses that they had this process of thinking before they opened. Trust me, by doing this before you open, you will be on customers' minds, and they will remember you put their health and safety first.
Build relationships
Not only are businesses stressed, anxious, and fearful for the future, but so are customers. If your business is a retail store, a customer comes to you for enjoyment and relaxation. That's why it's called retail therapy! The biggest mistake you can do is capitalize on the crisis. Be there and build trust and set a foundation for stronger relationships, don't try to sell to them right away.
But seriously, a business can quickly cause stress and get on the wrong side of a customer if they try to rush "normality" or "business as usual." Make sure you are there for your customers and check in with them regularly. Whether that is creating an Instagram Story for your customers with questions to understand how they are doing or what they want you to post or creating an email that connects you with your customers. Being empathetic, valuable, and relevant, will set a solid foundation for business relationships that will continue to grow.
Put customers first
Start by asking yourself, "How can our business offer value to our customers?"
People are looking for support right now, and they will need your assistance in the future. When the economy opens back up, businesses will be opening up, but in a very different way. As a retail store or salon, you need to know boundaries and set new guidelines and rules. For instance, my hair salon, Privé Salon and Style Bar sent out an email that informed their customers of what new updates will be happening in their salons. The salon has not determined a reopening date yet, but they have already put in place these new protocols for sanitation in place and updated their customers.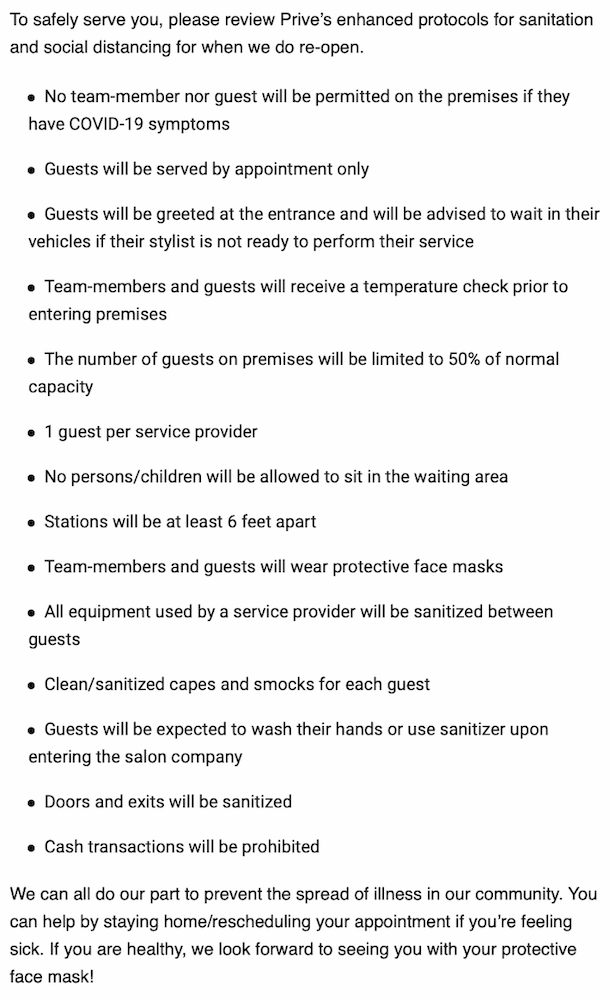 Get ahead of the game and start thinking of how you can run your business smoothly with your customers' expectations and safety in mind.
2. Gather Customer Insights to Determine Your Plan
Understanding the shift in your customer's behavior is key to pivoting your plan successfully. Your customers' needs and wants right now, and in the next few months, are very different from before the pandemic. Instead of guessing how your customers feel, it's crucial that you truly understand them. And that is the information you should be gathering from them now.
We recommend using one or all of these strategies to better understand your customers.

Start by analyzing your data. Talk to your sales and service teams, pull data from social media and your website. All of that information can be used to identify changes in buying behavior and engagement with your business, product, or service.
Next, start looking into your market.
How are your competitors altering their message?
How are people interacting with your customers on social media?
Can you see any similarities or differences?
Once you have this data, you can start to make some inferences. Then, it's time to start reaching out to your customers. Your sales or service team can make some phone calls to talk to customers and try to understand their current mindset. What's keeping them up at night? How are they looking at businesses reopening? What help do they need to feel comfortable?
An example of this that we have seen a few times is businesses sending out a survey to their customers. This is a great way to reach your customers with minimal effort. Be strategic about your questions and make sure they focus on identifying a change in mindset.
3. Reaching your audience with social media advertising
Whether on Facebook or TikTok, social media advertising is used to create brand awareness to drive people to purchase your product or service. Businesses, especially small businesses, should be putting social media advertising as one of their top priorities for marketing. With the ad spend significantly down since COVID-19 and the number of people on social platforms increasing, you have the perfect opportunity to get in front of your audience for less. Now we understand that not every business may have the budget for social media advertising. Still, for those that do, it is definitely a marketing technique to invest in right now.
Since the pandemic began, we have seen businesses pausing social media campaigns and re-assessing their marketing budget. With a drop in demand for social media advertising, it's a good time for you to use social ads to spread brand awareness for your business. Your ad spend is more likely to reach a wider audience for the same cost, without having to complete as much with other businesses.
For example, because of COVID-19, Instagram is going to see the most significant and robust growth out of all the socials that we use. eMarketer says that it will grow by nearly 14%. And let's not forget about Facebook, which is continuously increasing and has already shown a growth of 4.3%. This growth is important for your business to have an opportunity to reach more than just a portion of their audience. With social platforms like Facebook and Instagram rapidly growing, you can target your audience, but get more and more specific about who your target is. Now is a great time to test new ads and build relationships with interested people. So, create an ad and get in front of more people for less money and a shorter time.
4. Take an agile approach to your marketing plan
In this "new" world, things are changing rapidly. Small businesses are feeling overwhelmed with building new plans due to the uncertainty. While we understand your stress and struggle, we recommend taking an agile approach to your marketing plan.
Agile Marketing is a tactical marketing approach in which teams use sprints (shorts, finite periods of intensive work) to complete projects cooperatively. After each sprint, they measure the project's impact and then continuously and incrementally improve the results over time.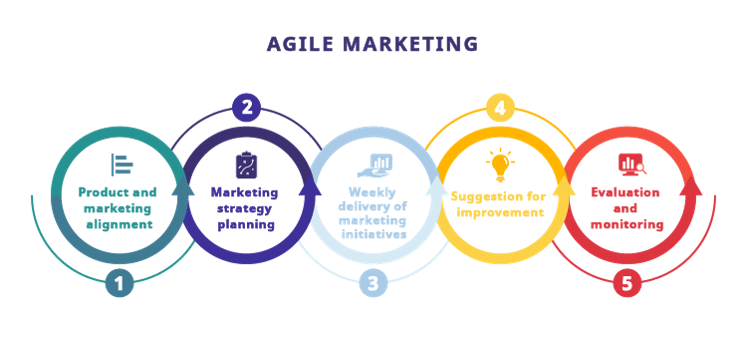 Image Source: Ricksoft
As a small business, there are many benefits you can gain from taking an agile marketing approach. Especially when you are marketing in a time of uncertainty. Agile marketing allows you to:
1. Respond quickly to changes in the market.
2. Test and optimize campaigns and messages over time.
3. Try many ideas and repeat the ones that succeed.
4. Collective input from the sales and service department.
5. Make decisions based on data, not gut.
To make this approach successful, we have three key things you need to do. First, create a clear and measurable goal. Make sure you communicate your goal with any members of our team that will be executing the plan, providing feedback, or is customer-facing.
Second, you have to have a way to capture and analyze data. To make an impact with the incremental changes you are going to make, you need to capture and analyze your data. You will only know if you're meeting your goal and if your plan is working, if you have data.
Lastly, you need to make sure you have the right technology to execute and measure your plan. We recommend having technology that connects all your needs together. For instance, if you need to connect an email with a landing page and social posts, they all need to work together.
It's crucial for you to have an all-in-one marketing platform to easily have access to all your data and tools in one place.
5. Evaluate your current technology
The last step to prepare yourself for pivoting your strategy is to evaluate your current technology. Start by asking yourself, "How are you connecting with customers and building your brand via digital channels?"
If there is one thing we learned from the pandemic, it's that having a way to connect with your customers and sell your products or services digitally is crucial.
There aren't many times in your business that you have the time to stop, evaluate, and adjust your business and technology strategy. Use this time to look at your reopening plan to evaluate and possibly invest in new technology that will help your business become more digital. When you are evaluating your technology, there are 4 steps to follow.
1. Evaluate your digital presence – How are you connecting with customers and building your brand via digital presence?
2. Identify areas of opportunity – Where can you increase your digital presence?
3. Understand your needs – What type of technology do I have, and what do I need to execute, manage, and measure my new digital opportunities?
4. Perform research – What types of technology will fulfill my needs?
While these are questions you should be asking yourself about what type of technology to purchase, you need to ask yourself specific questions about the technology. For instance, do you have to integrate any platforms? Can you get all your reports and insights in one place? Is it going to be easy to use? And most of all, will it save you time in the end?
If you are looking to utilize multiple different marketing features such as email marketing, social media, contact management, and analytics, we recommend you invest an all-inclusive marketing platform.
All-inclusive marketing platforms typically offer several digital marketing and sales features and functions, as an integrated software, instead of purchasing separately.
While an all-inclusive marketing platform has everything you need to be productive, there are many more benefits such as:
No Hassel Integration - Spend more time on what makes your business grow and less time managing multiple platforms.
More Effective Communication - Send the right message, at the right time, when all your data is in one place.
Ease of Use - Built specifically for you - easy to use with all the tools you need for digital marketing
Insights at Your Fingertips - Make faster, more informed decisions with all your sales & marketing data at your fingertips.
Ready for an all-inclusive marketing platform?
Schedule a demo today!
It's time to pivot!
As businesses large and small put together their strategies on how to market and face the world when they are allowed to reopen, it's time to put together yours. There are five steps you need to do when it comes time for you to reopen. Whether that has happened already, or you are projected to open soon, set up a plan. Use this opportunity to present your business to the "new" world, in a new way.