Back to Blog
DirectLync Insights
4 Ways for Professional Service Companies to Monetize Their Marketing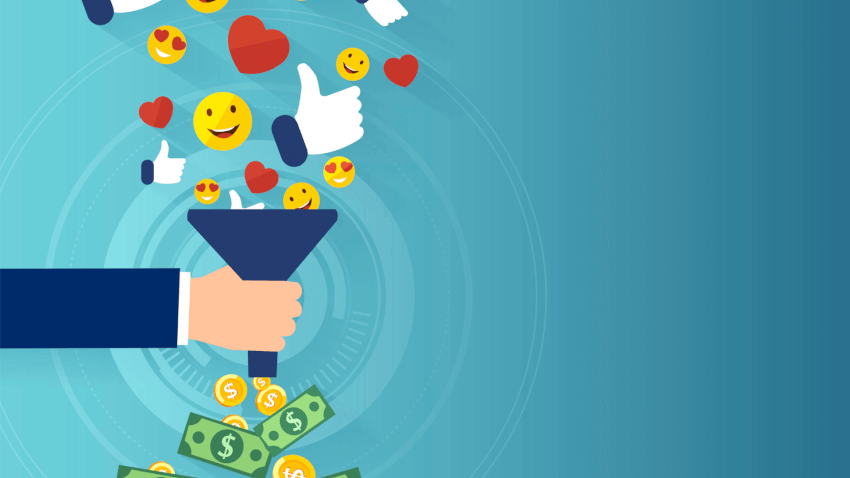 The professional services landscape is changing. While clients once looked up the number of a business in the phonebook or walked through a firm's front door, they're now finding professional service providers on the web. Now, instead of big, bold billboards or print ads, professional service companies are relying on digital marketing tactics to attract clients.
However, some professional service businesses are facing enormous challenges when it comes to marketing their solutions online. For years, accountants, consultants, attorneys, and architects have relied on word-of-mouth and deep personal connections to find and obtain new clients. But how can they translate that trust online?
Luckily, the right digital marketing strategies can showcase a professional service company's quality and dependability and deliver fantastic results.
Here's why digital marketing matters to professional service business owners and four ways they can monetize their marketing efforts.
Why Does Digital Marketing Matter to Professional Service Companies?
Nowadays, clients are finding businesses online, including through:
Organic search results (SEO): This helps your webpage rank higher on Google when a customer searches for your services.
Google Ads or pay-per-click ads (PPC): These ads appear at the top of the search results on Google.
Social media, including Facebook ads
Online review websites, such as Yelp
Google Business Profile listings
If you're not putting your best foot forward on these different digital marketing channels, you'll rub potential new clients the wrong way. In fact, about two-thirds of customers will judge a business's credibility based on the appearance of its website.
Your messaging matters. A strong digital marketing strategy is a high-level blueprint of how your business positions itself in the marketplace and the key messages it shares with audiences. Digital marketing, also called online marketing, encompasses all of your brand's marketing efforts across the internet. Professional service companies that leverage SEO, social media, PPC ads, and email can connect with clients already searching for their services. Delivering these messages in a digestible, aesthetic manner will build credibility and client trust.
Now that you know why digital marketing matters, let's look at four ways it can make you money.
1. Lead Generation
In digital marketing, lead generation is identifying, attracting, and converting online audiences into business prospects. You can use social media ads, Google ads, and email campaigns to generate more leads.
Unlike a person getting a random cold call from a sales rep, leads will generally hear from businesses after opening communication, including signing up for a newsletter or submitting personal information for a free consultation.
Leads are crucial for your professional service business because they've already shown an interest in your services. This makes the transition from stranger to loyal customer more effortless.
The lead generation process typically works like this:
A person finds your company through SEO, social media, or a PPC ad.
After clicking on the call-to-action—the image or button that encourages the person to take action—they'll come to a landing page. This is a designated webpage for capturing important information about the lead in exchange for something of value, such as a free eBook.
The person will fill out a form to get the offer, including their name and contact information.
Then voila! Your business can follow up with the lead and hopefully convert them into a client.
With DirectLync's custom forms, businesses can easily turn website visitors into returning clients. You can design a form that embodies your brand, efficiently segment your leads, and set up autoresponders for streamlined communication.
2. Niche Targeting
Did you ever hear the old adage, "If you're talking to everyone, you're talking to no one?" This is especially true for professional service businesses. Mass-marketing campaigns that are targeting just about everyone on the internet can have very little return on investments (ROI) for your brand.
Instead of casting a wide net to capture tons of tiny fish, niche targeting, or niche marketing, ensures your spearing one massive Alaskan salmon. This digital marketing strategy is designed to target and attract a super specific segment of the overall market. Namely, the clients who want or need your professional services the most.
You can find a niche market by looking at client demographics (gender, age, marital status), income bracket, location, job role, and interests.
But how can your firm find its niche? Firstly, you should drill down one specific problem that your clients are looking to resolve. Are you an attorney who specializes in personal injury accidents? Then focus on people who suffered a slip and fall or employees injured at work. What if you're an accountant who focuses on tax services for private foundations? Then hone in on philanthropic families or private charities that are having trouble with IRS Form 990-PF forms.
It's no secret that people love personalization. Niche marketing can make your potential clients feel seen. However, it's important to create content that caters to these specific groups. You need to understand how to speak to them in a way that deeply resonates.
3. Showcase You're Subject Matter Experts
To build credibility online, it's imperative that your firm is continuously showcasing its subject matter experts (SMEs). Visible experts are prominent figures in their industry who drive big ideas and attract new clients simply through the power their name holds.
Visible experts can generate more leads, close more sales, and boost profits. That's because people trust their expertise.
Does your professional service company have a subject matter expert whose innovations wow crowds? If so, they need to have a platform to nurture an online following. Creating a subsection on your business webpage that's a dedicated blog for your SMEs is a great way to spotlight their knowledge and experience. Some other strong channels to use include LinkedIn articles, eBooks, webinars, or a podcast.
Be sure to spread the word about your SMEs. Retweet them, post their blogs or videos to your social media pages, and include snippets from their content in your email newsletters.
Speaking of email newsletters, DirectLync can help your professional service firm craft engaging emails that convert leads into clients. Effortlessly create your email with our intuitive drag and drop editor, send now or schedule your campaigns for later, and gain valuable insight with robust analytics.
4. Authority-Building Articles
Have you been neglecting your business blog? If you haven't published any new content since 2018, now's the time to start doing so.
Blogs are a powerful tool for demonstrating your industry expertise. Your articles can also be used to answer clients' questions or show how your services can help them overcome obstacles. An active blog will also boost your business's digital footprint. The more content you put out on the web, the more leads you're likely to attract.
On the other hand, you could be writing articles for other leading publications within your niche. This expands your reach and attracts more clients.
By educating your audience, you can establish credibility and position yourself as an industry expert.
Harness the Power of Digital Marketing with DirectLync
Ready to turbocharge your firm's digital marketing efforts? DirectLync can help. We provide the tools to set your professional service business up for success. With our all-in-one digital marketing platform, you can save time and grow your profits.
To see how DirectLync can enhance your marketing efforts, sign up for your free 14-day trial now.