Back to Blog
DirectLync Insights
2023 Digital Marketing Trends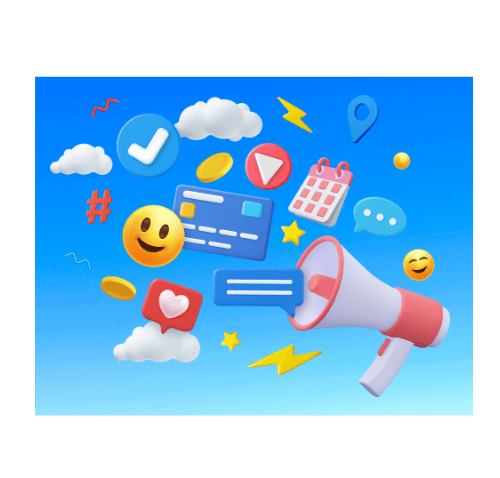 It feels like everything has developed quickly this year; politics are in turmoil, social media networks are changing in front of our eyes, and the remote working landscape continues to evolve. Digital marketing has been no different. Opportunities to build your brand, generate leads, and capture the minds and hearts of your target market have never been both so up-for-the-taking and also so fleeting.
The benefit of small businesses is that they're agile and able to adapt more quickly than large corporate entities. What might have worked in 2022 could be different in 2023, and the businesses who succeed in digital marketing will be the ones who respond to the shifts in a changing landscape.
The good news? There are definitely opportunities to be found, even for entrepreneurs and businesses with limited resources. The bad news? The sheer pace at which new trends are born, grow, and die out can be overwhelming and difficult to keep up with.
So, what to watch out for after those fireworks are over and the New Year has been rung in?
1. The fall of Twitter
If you've relied on Twitter as a brand and/or advertising tool until now, it might be time to jump ship. With Elon Musk's takeover causing a lot of users to leave the platform while rules and values change, the future looks uncertain for the social media giant. A report from Media Matters says at least half of Twitter's top 100 advertisers are no longer using the site.
In an attempt to win back advertising dollars, Twitter has launched new direct-reponse ad formats and pricing structures. But it may well be a case of too little, too late as public opinion of Musk continues to worsen.
Ultimately, the decision whether or not to remain on Twitter will depend on your brand. The platform's user-base seems to be undergoing a shift towards more conservative, Republican users. Using any kind of polarising advertising platform or messaging, however, is a strategy which should be used with abundant caution.
2. The creator economy continues to grow
The shape and impact of the creator economy is swiftly evolving. Not only have social media platforms themselves put effort into new creator tools and funding, but organizations have jumped on the bandwagon too. From businesses paying creators directly to commission-based partnerships, right through to agencies specializing in creator videos and endorsements, it's clear that experienced creators are becoming highly valued in the world of digital marketing.
In response, creators have upped the ante. They're now producing more video content than ever before which has had a domino effect in driving fundamental changes to social media platforms, who now almost universally prioritize short form video over everything else.
In 2023, you can rely on the fact that the creator economy and influencer marketing will firmly retain its spot as a mainstay of digital marketing for brands who want to form an authentic connection with their audience. Work alongside creators on social media to increase brand awareness – and who knows, maybe you'll even go viral.
You might consider TikTok to be the gold standard as far as video platforms go, and while it's definitely cemented its place as a platform for viral videos, Instagram remains the more popular platform for both brands and creators. With the pace at which social media changes though, that might not be the case for much longer.
Adjacent to the creator economy is the concept of user generated content. It's a broad term, and UGC is really anything which is created by people who are not related to your business. Whether that's an Instagram reel, a photo someone took of your restaurant, a review, a podcast, an article where you're mentioned, or anything else. If your brand is involved and nobody who works for you or is paid to promote you created it, it's user generated content.
According to TurnTo Networks, 90% of consumers say UGC is more likely to influence them to buy something search engine results. TikTok has even changed their algorithm to favor features like stitching and duets. Prioritizing UGC can reap rewards, even if this is as simple as resharing reels, stories, photos, and reviews to your page.
3. Live streaming
Video has taken over digital marketing in the last decade, and it shows no signs of slowing down. As we've just mentioned, creator content is taking off at warp speed and is focused almost entirely on video. More than that, most social media budgets are heavily skewed towards video content – and with good reason, given that social media platforms' algorithms tend to push video to the top of your feed. Like all things digital though, video does show signs of evolving. Though live streaming has been around for a while, it's only recently started gaining huge traction. It has become a popular trend in digital marketing as it allows businesses to connect with their audience in a more authentic and engaging way.
Live streaming can be used to showcase products or services, host Q&A sessions, conduct interviews, and more. Live streaming is also proving to be an effective marketing trend. According to one report, consumers spent around 548 billion hours streaming through mobile devices in 2021, representing a staggering year-on-year increase of 25%. When paired with influencer marketing, live streaming allows potential customers to engage with influencers familiar with the product, talk about the product, and make the purchase all while watching the stream.
Should you ditch normal video? Absolutely not. Should you consider adding live streaming to your repertoire of video content? Absolutely.
4. Purpose and social responsibility will become even more integral to success
With the influence that Gen Z are having on advertising, it's unsurprising that there's a growing expectation for brands to be vocal about their stance on social responsibility and their purpose. In fact, Sprout Social reports that over 70% of people say it's important that brands raise awareness and take a stand on stand on social issues.
Ethical supply chains, proper treatment of employees, social justice, environmental concerns, and sustainability should all remain top of mind for brands who want to connect with their target market. Of course, these should remain a priority regardless – but you may well find that your commitment to being socially conscious pays off as far as marketing and brand awareness goes too. Reportedly, 66% of US consumers are willing to pay more for goods from brands that demonstrate social commitment. More and more people are now considering values and purpose in their purchasing decisions. The takeaway? Consumers are becoming increasingly socially conscious, and brands need to champion responsibility and purpose too.
5. Automation and AI
Automation and AI will be essential for digital marketing in 2023. We've already seen the interest generated by Chat GPT's latest chat bot, as well as the influx of AI art on social media – and this translates to business marketing too.
Automation and AI will allow businesses to stay ahead of their competitors and make sure they are able to keep up with the latest trends. Automation and AI tools help businesses to quickly process and analyze data, such as customer behavior and website analytics, in order to better understand their target audience and optimize campaigns for maximum efficiency. Automation and AI can also be used to automate mundane tasks such as email campaigns, social media scheduling, and website optimization, freeing up resources for more creative tasks.
But it isn't just the attractive time savings that really matter. The correct tools not only help you streamline digital marketing, but also help make it more relevant, personal, and customized. Used together, AI and automation can help you identify customer preferences and actions, allowing you to create customized campaigns and personalized messaging. AI can also be used to identify patterns in user behaviour, which can be used to create more effective campaigns, as well as to identify new opportunities for growth.
If you're not jumping on the bandwagon of automation and AI for marketing and data collection, you'll be left behind.
How DirectLync can help you make waves in 2023
Digital marketing in 2023 will look very different to what we've seen in the last year. Though nobody can entirely predict the future (we certainly didn't see the events of 2020 coming!), prioritizing automation, the creator economy, and video content could help you stay relevant in a rapidly changing environment. In order to succeed, businesses need to be agile and ready to pivot as and when new trends emerge.
DirectLync offers an all-in-one marketing tool designed specifically for small businesses. The all-in-one solution which offers social media management, automations, and real time data and analytics helps to save you time and eliminates the need for multiple teams and tools. Instead, we help make your marketing efforts work more efficiently for you. Sign up for a free trial or schedule a demo to see how we can save you money and revamp your digital marketing strategy.