Back to Blog
DirectLync Insights
10 Types of Email Campaigns You Need to Be Sending Today [and Why]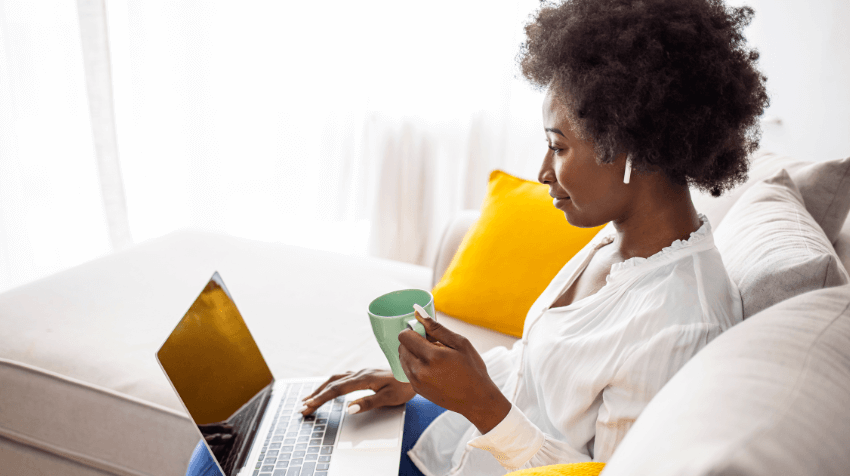 Let me start this article by sharing a common statistic — for every $1 invested in email marketing, companies get an ROI of $36.
But that's not all.
According to Statista, the email marketing revenue was $7.5 billion in 2020 and is expected to cross $10 billion by 2023.
With such a huge ROI, it's no wonder that email marketing is one of the most widely used mediums by marketers worldwide.
Email Marketing Campaigns You Need to Start Sending Today
64% of small businesses use email marketing to reach customers. So, how do you stand apart from your competitors?
Well, it doesn't matter if you are a small business or a huge enterprise; the goal of your email marketing campaigns is to reach your customers directly in their inbox and build a strong relationship with them.
You might be wondering, what type of content can you send your audience?
Well, I have got you covered.
In this article, I will go through the different types of email marketing campaigns you can send to your audience.
Welcome Emails
Welcome emails are perhaps the most commonly recognized type of email for a customer. With more than eight out of 10 people opening a welcome email, the open rate is four times higher, and the click-through rate is 10 times higher than other email types.
Everybody loves to receive a warm welcome to your company. When you send a welcome email to someone who just subscribed to your list, you are letting them know that they are important and appreciated.
These emails can also be a casual way to introduce them to what your company is all about in a non-pitchy way. You can also present your vision statements and list the products and services you offer. The basic goal is to greet your customer and thank them for choosing you, even if they haven't purchased anything yet.
You can make a great first impression by sending a welcome email that has unique characteristics — their name, a personal note, and maybe a small list of products specifically recommended for them.
Image Source: Really Good Emails
Newsletters
Do you run a blog that talks about industry news and shares valuable resources for your audience? You might want to send those blogs as a newsletter to your audience.
Newsletters are a tale as old as time. According to Content Marketing Institute, 31% of B2B marketers say email newsletters are the best way to nurture leads.
Many companies want their customers to always be involved with them, and this is where newsletters really shine. A newsletter may consist of:
Company updates
Resources and articles
Product updates
Photographs from a recent event
Upcoming launches
A letter from the leadership in which they can speak to their customers
An amazing way to create incredible newsletters is to make sure your content is original and full of personality.
One thing to remember, though, is not to bombard your customers with newsletters every day or more than once a week. Nothing makes someone click the unsubscribe button more than their cluttered email inbox.
Oh, and did you know we at DirectLync have a newsletter too? Yeah, it's called Small Talk, and you can subscribe to it here.
Image Source: DirectLync
Product or Service Updates/Launch
Another fun way to grab a customer's attention is to email them information about a new product or service you are launching or an existing product update, especially if you share it exclusively with your mailing list first. They are bound to feel like part of a special club, increasing customer loyalty.
Even if they are not exclusive, product launch emails are an excellent way to let your customers know what they can expect from you.
Image Source: Really Good Emails
Promotional Emails
There are no two words more captivating to a customer than ''discount'' and ''promo''.
Your customers want to know about special discounts and sales, which is also one reason they don't unsubscribe from your emails. So, make sure to send some kind of discount offer every once in a while to keep them coming back for more.
Your promotional email comes in many shapes and sizes — discounts, flash sales, coupons, special occasions, or holiday sales.
You don't always have to give discounts when doing promotional campaigns. You can do offers like free shipping, get one free on the purchase of two products, or something else.
Image Source: Really Good Emails
Abandoned Cart Emails
Abandoned cart emails are an essential part of email marketing strategy for eCommerce businesses.
With the right tracking tools on your site, you know when customers abandon their cart and exit the store.
With a good cart abandonment email, you remind them to come back and get all the benefits of the product they intended to buy.
With an average open rate of 41% and revenue per recipient of $5.81, abandoned cart emails are a great way to increase sales and get back lost customers.
Image Source: Really Good Emails
Transactional Emails
Transactional emails are sent when your customers trigger a specific action like signing up for an event or buying something from your store or if the item they purchased has shipped.
The purpose of transactional emails is to let your customers know about the actions they have taken on your site.
The key to these emails is keeping them simple. Let them know what they ordered or signed up for and share any additional information they should know.
With a high open rate of 80 to 85%, you can take advantage of transactional emails by adding a call-to-action or P.S. to share an additional incentive.
Image Source: Really Good Emails
Survey Emails
Your goal with an email campaign should be engagement with your audience. If it feels more like a monologue, you might not be doing a great job of it.
And one of the ways you can turn your email campaigns into a dialogue is by asking them for their input. It's important to hear their input and feedback on your product or service.
With survey emails, you can send a short form and ask your audience for some feedback. With this information in hand, you can double down on making your product better and your marketing efforts more in tune with what your audience wants.
The average response rate for survey emails is 30% which shows that customers love to get involved in the feedback process.
Image Source: Really Good Emails
Thank You Emails
Thank you emails are an example of transactional emails as these are triggered when your customers make a purchase from you.
These emails are simple, and their goal is to let your customer know that their purchase was successful and that you are grateful they chose your business.
Have a look at this thank you email from Audible — it's simple, straightforward, and also entices customers to look at other books that might catch their eye.
Image Source: Really Good Emails
Feedback Emails
Feedback emails also emphasize the audience's input and encourage them to share their opinions on your product or service.
After they have received the product or service they purchased, it's time to get their thoughts on it. You should wait at least two to three weeks before asking them for a review, so they have had plenty of time to test the product or service first.
You can request a short review or testimonial or send them a rating system to rate their purchase.
Why is this email campaign important? Because more than 90% of consumers read online reviews before making purchase decisions.
Image Source: Really Good Emails
Re-engagement Emails
The last email campaign I am discussing is the re-engagement email.
After all the effort you have put into your email campaigns, it's possible that you still have some inactive subscribers. These are the contacts who might have changed their emails, are not interested in your business anymore, or have just forgotten about your brand.
It's okay. That happens.
What can you do about it? Send them a re-engagement email.
Add some sort of incentive in the email to spark their interest again. You want them to come back to your business again, so the goal of these emails is more about branding and less about making sales.
Image Source: Milled
Nail Your Email Marketing Campaigns with DirectLync!
No one can deny that email marketing is one of the most effective ways to interact with your customers.
With the email campaigns listed in the article, you are well on your way to building highly engaging and valuable emails that get your customers to open, read, and engage with them. Remember that regardless of which type of email campaign you choose, your priority should always be to provide value to your customers.
And if you need help building your email campaigns, sign up to DirectLync and start sending mobile-optimized and engaging emails. Get your 14-day free trial here.