Back to Blog
DirectLync Insights
Don't Get Caught Making These 10 Subject Line Mishaps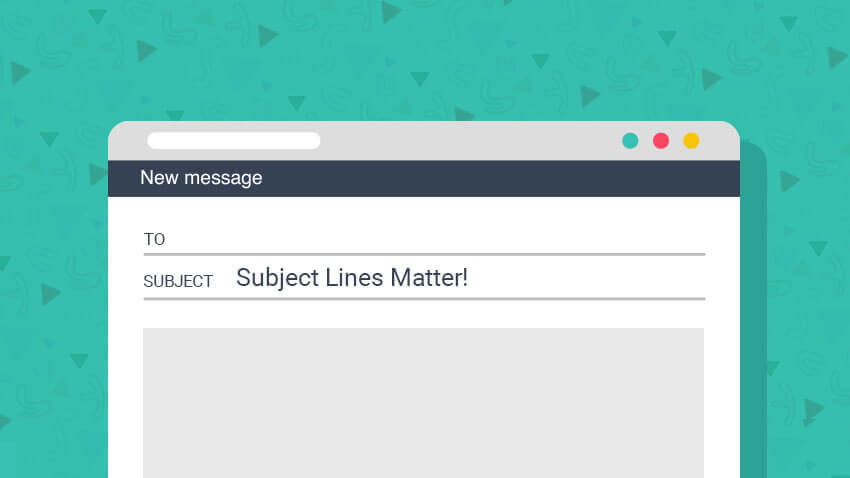 "Hello There" "Last Day" "Don't Miss Out!!!!" "Weekly News Report"
Email subject lines like the above are boring and generic; don't be afraid to be flashy. The first words your email recipient will see is the subject line. You could write a fantastic email, but a boring subject line won't get people to open and read it. Why not make it captivating, so they want to open and read it? It's time to capture your audience's eyes and make catchy subject lines intriguing your audience to open your email.
Email marketing is increasing at a fast pace, but are you doing it right? The subject line is essential because it is the first sentence or phrase read by the receiver. Think about when you email a friend. I'm sure you didn't make the subject line boring or extremely professional. It might have been something like, "This shirt would look great on you," "Boom Shakalaka! Check this out" or "Hey 👋🏼." There's nothing wrong with adding some fun into your subject lines.
The art of an actionable subject line
We love Jon Youshaei's equation for creating great headlines, and we use that for our subject lines. When creating your subject line, use his equation - identify a result + solve the problem + include a time period. This equation will help you reach your audience and address the issues they are facing. It also allows you to speak to them on an emotional level. Start by addressing a result, one that your audience wants. Include a problem, and why can't they reach that result. Add in a time period that correlates with the solution for the problem. For example, your audience wants to get over 1 million followers on Instagram, but they don't know-how. Their goal is to get these followers in about 5 months. So, write an article on strategies to help get more IG followers and email it to your audience. You could make your subject line something like "How to get 1M IG followers in 5 months" or "10 steps on how to get 1M IG followers." By using this combination of result + problem + time period, you will create an actionable subject line.
Writing a catchy subject line isn't easy and takes a lot of brainstorming. It is tricky, we know. There are many strategies when it comes to writing a great subject line. Here are 10 subject line mishaps for you to avoid…the worst of the worst.
Don't be these email subject lines
1. Mr. Boringgg
Mr. Boring subject lines are those people who write a generic subject line blankly stating what the email is about. If there is no effort or thought put into the subject line, the receiver will do the same in return when it is time to take action, respond, etc.

Boring's opposite is lively. So why not send a lively message to your audience with the subject line of your email. Instead of titling your email "Email Marketing tips," why not title it "🚫Friend Zoned Email Style." A subject line like this will make your readers curiosity so intense that they'll want to open the email. However, you still want it to relate to your content. How does the phrase friend zone connect with email marketing tips? The phrase friend zone is when two people don't have a committed relationship with one another and decide to keep it solely friendly. Within email marketing, you want to build that relationship and make it a committed one with your customers. You do not want to "friend zone" this relationship.
2. Copycat
Never copy an email subject line you have used before. I repeat, never copy an email subject line you have used before. See what I did there? Being a copycat is no fun!
If you decide to send an email out, don't use the same subject line that you have previously used before. That won't catch any reader's attention. If a receiver gets an email with the same subject line, they may think it's an old email, or the same one accidentally sent again. Add some flare into your subject line. No idea is a bad idea!
3. THE SCREAMER
Stop screaming at your readers; it won't make them read your email any faster or even read it at all. Instead of using an all cap-subject line, or 5 exclamation points, try something a little more subtle. We understand the importance of trying to get a message across, but that could be done with a simple exclamation point or the same message but not in caps.
4. The "Free" Spammer
Are you one who adds "free" in the subject line because you believe that it will entice the reader to open your email? Well, did you know that if you add "free" into your subject line, it is automatically marked as spam? 🤦🏻‍♀️
If you absolutely need to add the word free into your subject line, there are many other ways to do it. For instance, you could use the emoji 🆓, add free into the pre-header, or even try something like F.R.E.E. It's up to you, just don't get sent to spam!

5. False Alarmers
There are times when you need your readers to know that the information in your email is important, we understand. But those times are rare and ringing a false alarm is annoying to the recipient. Giving readers false hope is not the way you want to go about getting customers. Don't use words like "Urgent!" or "Congratulations" in the subject line if it's not urgent or they didn't win anything. You can put them in the pre-header or use better subject lines like "📢Announcing" or "Listen up 🎧."
6. The… Punctuation… Addict!!!!
Please don't abuse punctuation. By using more than one period like "…" or exclamation point "!!!" either tells your audience, you are terrible at grammar or that you want to attack the reader before they even open the email. Try backing away from overusing the punctations. I promise your point will still get across.
7. Pre-header Topic Repeater
Please, oh please, do not use the same text for your pre-header as your subject line. That is just the definition of lazy. Check out the Vida & Co subject line and preheader. Their subject line is well written and actionable. However, the preheader repeats the 25% off message. Instead, they could use this space to name specific items on sale.

Put in the work to come up with something creative and add a twist on the wording. If you come up with a long subject line, then cut it down and add the rest to your pre-header.

For example, the Morning Brew subject line and pre-header was most likely a sentence or two, created for the subject line, but they turned the pre-header into great content. Since you don't want your subject line past 41 characters or 7 words, practice making short, catchy phrases and write them down. Having a few on the side will always come in handy, even if they are so "out of this world."
8. Got Grammarly?
For those who send out emails with grammar mistakes or spelling errors, get yourself a best friend; a best friend whose name is Grammarly. Or send it to your co-worker for another set of eyes on the content. This is one of the biggest turnoffs when receiving an email. To fix this, be extra careful with what you are writing and always check over your work multiple times.
9. I'm Crazy for Emojis
🙄These people need to stop 🛑! Have you ever opened your email and seen a subject line full of emojis? I have, unfortunately. For example, "Having a good summer❓🤔🕶🐳🌸🌊🍹" Yes, these emojis go along with summer, but there is no reason to have seven different emojis. Using emojis is an excellent way to relate to your customers and portray a human relationship, but there is such a thing as overkill. 🤦‍♂️ Try adding an emoji that goes along with what the email 📧is about or what the subject line is saying. Keep it simple and not dramatic 👍.
Ticketmaster used the use of emojis perfectly in this subject line below. They did not go crazy with adding too many sun emojis or summer emojis, but they used two that went perfectly with their message and came across in a gentle, but appealing way.

10. No Reply🚫
Even though this may not be a subject line, your recipients will be more likely not to open the email if your sender name or reply email address contains no reply. If you are using no reply in any of your email content, I recommend you immediately change them. No reply emails have some of the lowest open rates, and there is no reason to use them!

Companies that send emails with [no reply] tend to say it's a system that sends out the emails — for example, getting one for a reminder of a doctor's appointment. If you can customize it, do so immediately. Instead of having the sender name be [no reply], change it to your company name.
Toss Out the Old Habits
Old habits die hard, but if you are a culprit of these subject line mishaps, it's time to make a change.
Subject lines are the key to increasing open rates, click-through rates, converting customers, and so much more. Great subject lines can help your company get more opens and in turn, more leads. Don't be boring, don't be too aggressive, don't make spelling errors, and always test different options. The best piece of advice I received is to take the time to create your subject line before you write the email content. So often, the subject line is an after-thought instead of the highlight. Start making your subject line the highlight.