Back to Blog
DirectLync Insights
10 Accounts To Follow To Ensure Your Work-Life Balance Is Actually Balanced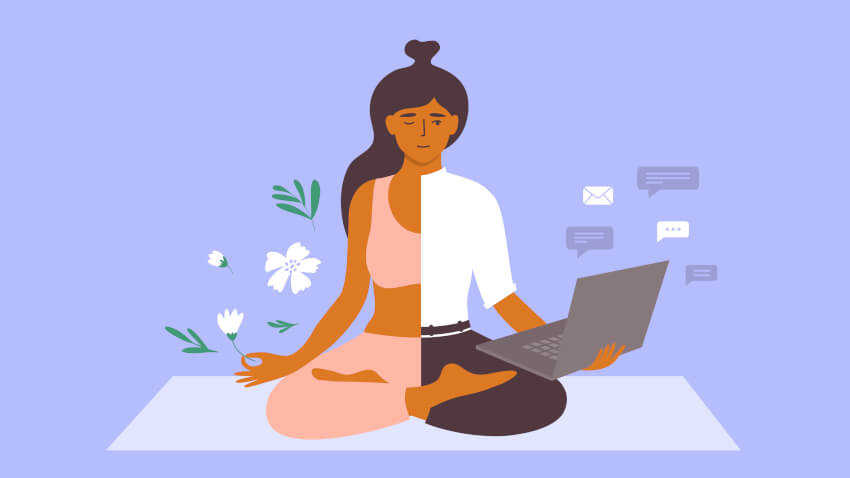 The last two years have been hard on everybody.
People felt stressed out and were scared of all the unexpected developments thanks to the multiple variants of COVID-19.
Working from home left people with the inability to switch off from work, and that led to increased burnout, anxiety, and fatigue.
According to World Health Organization (WHO), depression and anxiety increased by 25% globally in the first year of the pandemic.
For this year's Mental Health Awareness Month, we are focusing on achieving work-life balance as some of us go back to the office, some switch to freelancing, and some reassess where we stand in terms of our self-care and prioritizing our mental health.
We have put together a list (in no particular order) of people and accounts to follow who talk about work-life balance, the importance of mental health in the workplace, and destigmatizing mental health.
Let's dig in!
1. Dr. Emily Anhalt
Dr. Emily Anhalt is the co-founder and Chief Clinical Officer of Coa, a mental health gym. She is also a clinical psychologist and emotional fitness expert.
She works towards building a bridge between psychology and business and helps companies increase productivity, boost employee morale, improve team dynamics, and foster successful work-life harmony.
Dr. Emily tweets about work-life balance, emotional intelligence in the workplace, therapy and its importance, and self-awareness. You can also follow her on Instagram, where she shares tips and tricks on leading a more mentally healthy life.
Image Source: Twitter
2. Latesha Byrd
Latesha Byrd is the CEO of Perfeqta, a Talent Development Agency transforming company cultures. She also serves as an advisor to executives looking to create and nurture a remarkable culture within their organizations and invest in their talent.
Latesha is a Certified Career Coach, a lifelong advocate of creating safe spaces, building equitable communities and cultures, and a huge advocate of work-life balance.
In addition to discussing creating inclusive company culture, Latesha speaks on work-life balance and steps to avoid burnout. She was recently selected as a 2022 LinkedIn Top Voice for Company Culture!
Her Instagram is full of amazing advice to advance your career and achieve a healthy balance with your work.
Image Source: Twitter
3. Adam Grant
Adam Grant is an organizational psychologist and professor at Wharton. He is a leading expert on how we can find motivation and meaning in our work while living more generous and creative lives.
Adam also hosts WorkLife, a podcast dedicated to making work not suck, and he is the #1 NYT bestselling author of Think Again as well.
Adam tweets about finding meaning in your work, toxic workplace cultures, and how to achieve work-life balance.
Image Source: Twitter
4. Career Contessa
Career Contessa is an Instagram account dedicated to tips and tricks for being more fulfilled, healthy and successful at work.
The account regularly posts guides on how to achieve work-life balance, signs of a toxic workplace, and how to successfully ask for a raise.
Career Contessa also has a YouTube channel dedicated to tips and resources for setting healthy boundaries at work, answers to common interview questions, and staying motivated during work from home.
Image Source: Instagram
5. Self-care is a priority
As the name states, this Instagram account is dedicated to all things self-care. Their motto is simple — you have to prioritize taking care of yourself.
With daily affirmations and reminders to put self-care on the top of your to-do list, this account ensures you achieve a healthy work-life balance and don't get lost in the daily grind.
We all need a reminder to take a break, appreciate the little things more, and reclaim our peace of mind. This page guides you towards achieving a healthy balance in your life, identifying signs of burnout, and dealing with anxiety and depression.
Image Source: Instagram
6. Amber Rae
Amber Rae is the bestselling author of Choose Wonder Over Worry and The Answers are Within You. She is also an artist and a speaker and speaks about relatable insights into the human experience.
Her Instagram account is filled with journaling prompts, affirmations to prioritize your mental health, and reminders to take care of yourself.
She implores her followers to find joy in the little things and focuses on self-awareness to avoid burnout and stress.
Image Source: Instagram
7. The Everygirl
The Everygirl is an online magazine dedicated to providing women with a daily dose of inspiration and guidance.
They share detailed in-depth features, career profiles, relatable first-hand accounts, and how-to guides to show women how they can achieve a well-rounded and balanced life.
The Everygirl Instagram account is dedicated to timely reminders to unplug from work, journal prompts, and tips and tricks to combat burnout and work fatigue.
Image Source: Instagram
8. Adam Karpiak
Adam Karpiak is a recruiter and President of Karpiak Consulting. He has strong views on remote work, work-life balance, and company benefits.
Adam encourages employees to speak up during the interview process and doesn't hold back his opinions on toxic company cultures that prevent employees from having a work-life balance.
On a personal note, his tweets encouraged me to quit my full-time job because they didn't give me the option of working from home.
Follow Adam on Twitter and LinkedIn as he shares tips and tricks on negotiating for a better salary, prioritizing work-life balance, and leaving toxic jobs.
Image Source: Twitter
9. Carlos Silva
Carlos Silva is a Senior Content Writer at SEMRush and a huge advocate for remote work (LinkedIn Top Voices in Remote Work 2022).
Carlos tweets about how remote work has helped him balance his work and personal life and how he prioritizes working remotely and spending time with his family.
As a huge advocate for work-life balance, or as Carlos likes to call it, life-work balance, he sends regular reminders to prioritize self-care, recharge on the weekends, and spend your nights hanging out with family and friends.
Carlos also has a newsletter, Hello Remote, where he shares remote jobs with his own input about the company, its culture, and benefits.
Image Source: Twitter
10. Nicole Tabak
Nicole Tabak is a freelance writer, content creator, and social media strategist. She tweets about self-care, mental health, and wellness.
Nicole also has a newsletter, Your Social Media Detox, where she shares self-care tips and tricks. She also shares positive affirmations and prompts to help deal with anxiety and burnout.
Image Source: Twitter
Start prioritizing work-life balance today!
Hustle culture can be extremely damaging to your mental health and can increase your chances of burnout.
Achieving a healthy work-life balance is not a myth. You can love your work and be passionate about it, but at the same time, you have to make time for yourself and prioritize your self-care.
With consistent work and strong boundaries, you can learn to completely unplug after work hours and spend time doing something you love to recharge for another day.
Follow DirectLync on Twitter to get more resources on how to combat burnout, achieve work-life balance, and prioritize self-care as a small business owner or marketer.