Are you looking for CRM software?
Finding the right CRM can be challenging, especially if you've never used one before, and you don't want to waste your money on something that isn't right for you.
How do you know which CRM software is the best for your business and offers you what you need? We are here to help! We're breaking down the top 10 CRM platforms for small businesses to help you determine which one is best for your company. Our comparison focuses on features, quality, pricing, customer reviews, and overall small business focus. We hope for you to read this comparison and narrow down the right CRM platform for you.
What is CRM, and why do you need it?
CRM stands for Customer Relationship Management made to increase sales by improving business relationships. A CRM software enhances customer relationship through managing customer interactions, tracking leads, streamlining processes, and identifying sales opportunities. Each CRM offers similar features, but they all work differently. Being able to easily use the software, understand it, and make an impact on your business is important.
If your company has faced any pain points like unorganized customer data, wasted time doing manual updates, or trouble finding & retaining valuable customers, CRM software is right for you.
A few benefits of customer relationship management are:
Increased revenue and profitability. With the ability to communicate more consistently with customers, you can build stronger relationships that help improve profitability. 91% of businesses (10 employees or more) that use CRM have reported that the average return on their technology investment is $8.71 for each dollar spent.
Improved efficiency in serving clients. The more you know about your clients, the better you can help them. 74% of users said their CRM system gave them improved access to customers' information. With everyone using the CRM to record interactions, you will be able to serve customers with knowledge of what was previously discussed.
Increase team collaboration. 80% of sales, 46% of marketing, 45% customer service, and 21% of IT use CRM. The ability to have multiple teams working together in the CRM provides consistent communication across your organization.
How do I choose the best CRM software for my business?
Choosing the right CRM software, that aligns with your needs and wants, is important. You must put in extensive research to determine what software is best for your company. Many software offers similar features, but the user experience, integration, and packages are different. Here are a few of the key terms you may come across in your research.
With an understanding of what CRM is, why it is essential, and how to choose the best CRM for your business, let's check out some of the top CRM software platforms. Like we said earlier, this comparison focuses on features, quality, pricing, customer reviews, and overall small business focus.
*All information you will retain from this blog was taken from review sources, the actual platform website, and customers; none of this is my personal opinion.
10 CRM software platforms
Zoho
Salesforce
DirectLync
Freshsales
HubSpot
Pipedrive
Keap
Marketing360
SugarCRM
Thryv

Zoho CRM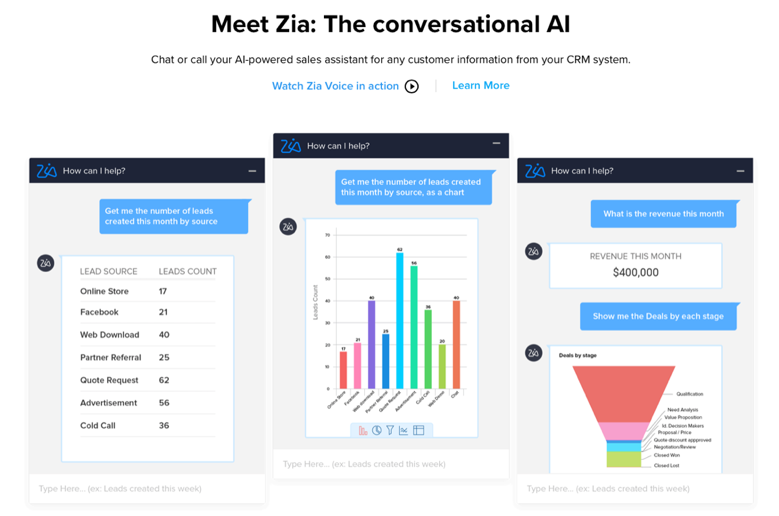 (Source: Zoho)
Pros: Zoho is best for organizations that are looking to use AI to build their sales process. With the conversational AI and real-time sales, Zoho allows sales teams to identify the opportunities that will be most likely to convert.
Cons: If you are a small business, you may want to start with a simpler solution. Zoho CRM can be too sophisticated for some teams. Based on customer reviews, the design of the CRM is not simple to use and may appear chunky to a new CRM user.
Pricing: Free edition for 3 users. With more users, $12 per user a month billed annually, and so on. If you want to add Zoho Marketing, that is an additional cost.
Salesforce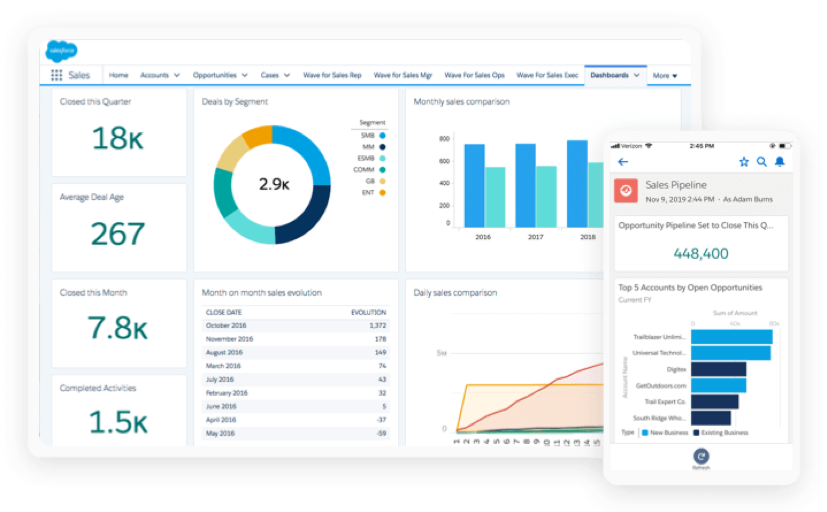 (Source: Salesforce)
Pros: Salesforce is best for companies that need a lot of customization to their platform. The platform is known for its "Click, not code" motto, which allows anyone to make customizations without being a developer. They also have a vast library of tutorials, certifications, and help.
Cons: Salesforce is built for enterprise companies. While they recently rolled out small business options, previous users say it can be a bit overwhelming with features that are not necessary for small businesses.
Pricing: With many different pricing packages, you can choose one based on the number of users that will use the CRM and what features you will need. The basic plan is $25 per user a month but billed annually. This is only up to 10 users, and then the price increases.
DirectLync
Pros: DirectLync is best for small businesses that are looking to align their sales and marketing teams. The platform includes email marketing, social media, and analytics on top of CRM. The CRM allows your team to build and foster stronger relationships with potential and existing customers, close more deals, and reach the target audience faster.
Cons: DirectLync isn't a stand-alone CRM. With DirectLync you also have email marketing, social media management, and analytics. If you're looking for a stand-alone CRM, DirectLync may not be for you. The power of DirectLync is the integration between your sales and marketing tools.
Pricing: DirectLync's pricing is transparent and easy to understand. You create a custom package based on your specific needs. Adding CRM to DirectLync would be $25 per user per month.
Website: directlync.com
Freshsales
Pros: Freshsales is similar to Zoho with its focus on AI and machine learning. You can have AI-based lead scoring, built-in phone, email, activity capture, and more.
Cons: Customer reviews mention… Freshsales should make their look more appealing and organizing, as well as work on the functionality of their dashboard. Depending on the business looking for a CRM, this may be too high-tech. Freshsales usually works for mid to large companies.
Pricing: Depending on users per month, a basic package would be $12 per user a month billed annually or $19 per user a month billed monthly.
HubSpot CRM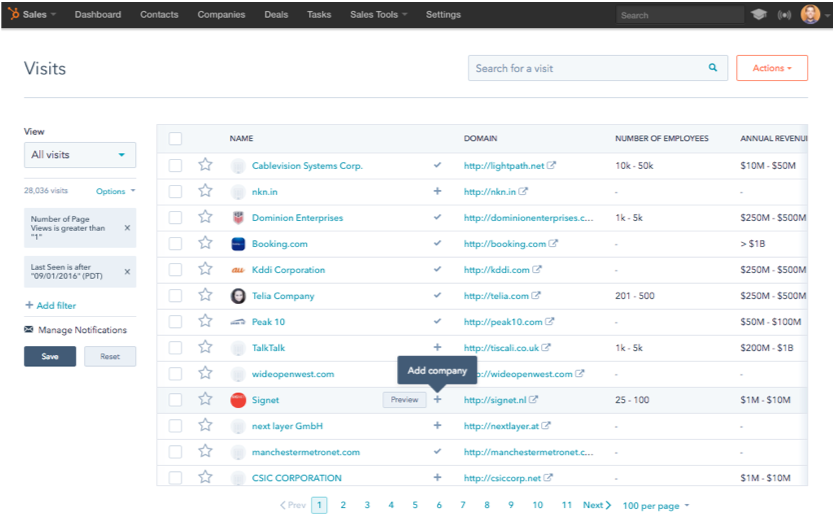 (Source: HubSpot)
Pros: Hubspot is an all-in-one platform that brings together sales, service, and marketing features for mid to large businesses.
Cons: Pricing could be high for small businesses. If you start with the free CRM and end up growing your business, you will need to purchase the other hubs and the price racks up quickly.
Pricing: It comes free with unlimited users. The fees start applying once you add more contacts or need to access additional features.
Pipedrive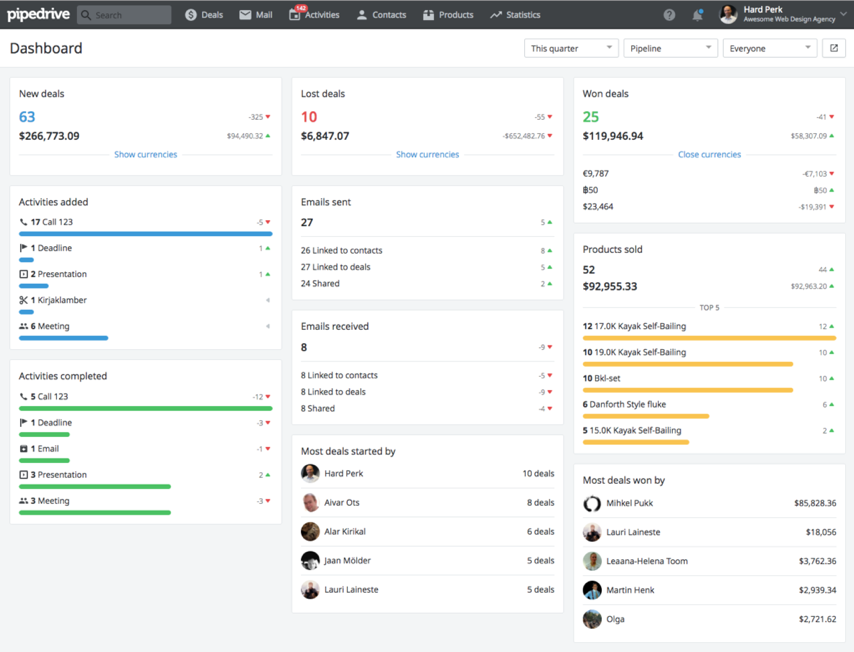 (Source: Pipedrive)
Pros: While Pipedrive is best for businesses that need a stand-alone CRM; it helps businesses of any size be able to access their best opportunities through their tools and features.
Cons: They focus on feature depth rather than the ease of use on the platform. They recently added new email service provider integrations and customer reviews noted there are a lot of issues. Unfortunately, it seems like their customer service team doesn't have the answers on how to fix integration issues.
Pricing: Their prices are based on the number of users a month and billed annually. Their packages start at $12.50 per user a month and go up to $99 per user a month with additional features added.
Keap (previously Infusionsoft)
Pros: Keap, formerly known as Infusionsoft, is best for small businesses that want to implement an easily trackable and repeated follow-up system for their leads. The CRM works well with Keap's email automation feature.
Cons: Customers have mentioned that the learning curve for the software is substantial, and you need to know the ins and outs of the software to use it effectively. For a solopreneur, their time is mostly spent running the business and figuring out the digital process, so Keap is likely to be too overpowered and cumbersome.
Pricing: With each package, you get more features. It begins at $79 a month for one user, plus a one-time service fee for new user onboarding that starts at $199, which is not included in that monthly quote. Any additional users are $29 a month.
Marketing 360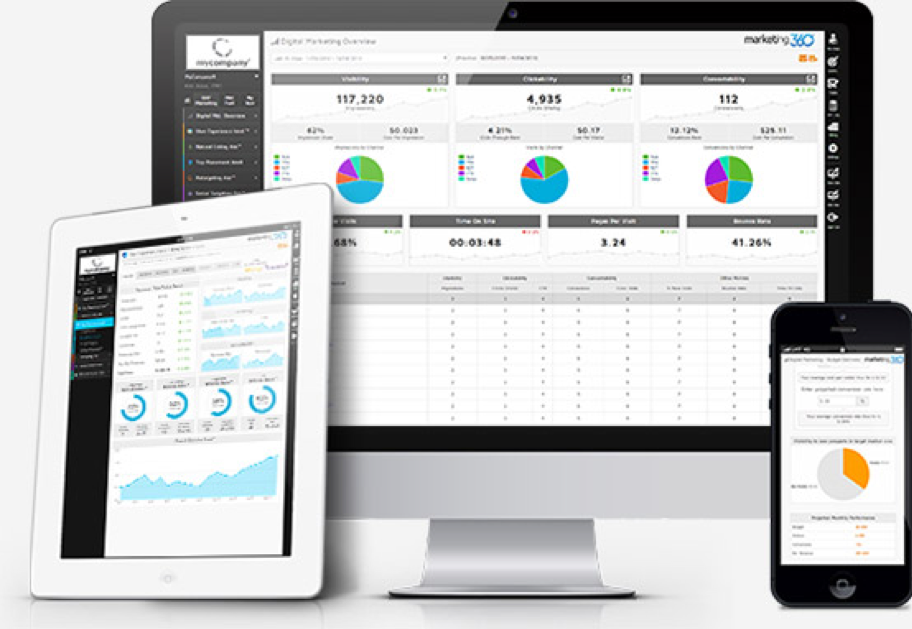 (Source: Marketing360)
Pros: Marketing 360 is best for companies that want an agency to manage their platform and services. The platform is also geared to be industry-specific, so if you need a platform for your industry, check out Marketing 360.
Cons: User's said that the product requires a lot of training because there are so many different features available.
Pricing: Marketing360 pricing is not published on its website. Customers have to contact services to receive a quote. According to a third-party site, their software alone costs $395 per month and comes with unlimited marketing consultations.
SugarCRM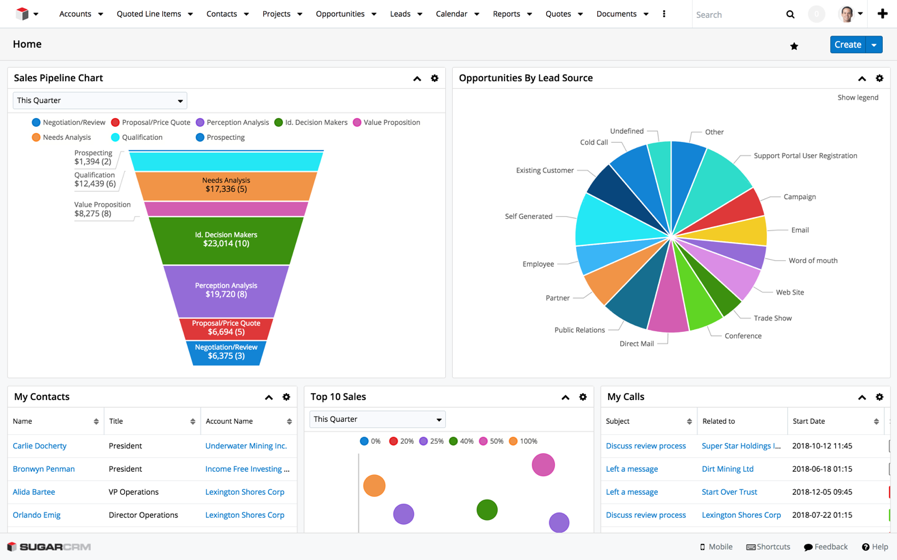 (Source: SugarCRM)
Pros: SugarCRM is similar to Pipedrive. It is best for small businesses that are only looking for a CRM platform and no other marketing features. Their platform aggregates the millions of different data points on your customers to find trends and predictions.
Cons: SugarCRM's design is known to be a little clunky, and customers have been vocal that they are looking for some improvements. Previous customer reviews talk about limited contact segmentation.
Pricing: Whether you want something simple or complex, SugarCRM has all the options. You can either purchase their separate platforms of Serve, Sell, and Market, or buy their 5-Seat Edition platform that includes all at $45 per user with 5 users max.
Thryv
(Source: Thryv)
Pros: Thryv is best for companies looking for front and back-office integrations. Back office includes invoicing, quotes, and estimates. They highlight that you can manage your appointments, communicate with clients, and get paid all with this platform.
Cons: Thryv's previous customers have said it to be a bit expensive for small businesses because of its "one size fits all" mentality for front and back office. Also, Thryv emails have been having trouble with being blocked by AOL, AT&T, Yahoo, and Gmail.
Pricing: Thryv pricing is not published on its website. Customers have to contact services to receive a quote.
Which CRM fits your business best?
Like I said before, deciding on a CRM software for your business can be challenging and confusing, but hopefully, I have helped you understand the market a bit better. Each company is focusing on the same features, but they are all different and offer a twist to their software and pricing. Do your research, get on a free trial, and decide (as a team) what CRM software will work for your business.
If you need to learn more about CRM, check out our buzzword breakdown article, which talks more about what CRM is and why you need it in your organization.
Want to learn more about DirectLync's CRM or pricing, book a demo with our sales team, or sign up for a free trial and test it out! With everything you need in one place, you won't need to look any further. DirectLync was built for you.